"Blaming and shaming" people who test positive for Covid-19 may lead to fewer people presenting for testing, the Economic and Social Research Institute has warned.
Speaking on RTÉ's Today with Sarah McInerney, Pete Lunn, Head of the ESRI's Behavioural Research Unit, said in a recent survey just over 70% of respondents said that people who tested positive for the virus had been "reckless or careless".
He also said that a substantial minority of respondents said that people who test positive have themselves to blame.
Mr Lunn said the research was carried out after the behavioural change subgroup of NPHET, of which he is a member, had heard anecdotally from GPs that there was a reluctance among some people, particularly younger people, to get tested.
He said people were reportedly worried that others would blame them or suggest that their behaviour had not been "up to scratch".
Mr Lunn said that while it is true that an individual's behaviour can make a big difference to their risk of catching Covid-19, it remains the case that ultimately whether people catch the disease or not will depend on luck.
"Some people who pick up the disease will have been completely unlucky," he said.
"They'll have been following the guidelines and doing everything they could to reduce their risk. There is nothing you can do to 100% insulate yourself from this disease.
"You can lower your risk by how you behave ... but it still remains the case that people catch this disease through no fault of their own," Mr Lunn added.
He also said that younger people in particular are worried that they will be identified as the cause of an outbreak and so may not go forward for testing.
"The danger is by blaming and shaming people who do test positive, we actually disincentivise people to come forward and get tested," he said.
Mr Lunn said that if we want to contain the disease we need people to come forward for testing at the first sign of symptoms.
Putting a "social penalty" in place for testing positive will discourage this, he added, before saying that people need to have a "degree of tolerance for people who test positive".
---
---
The latest figures from the European Centre for Disease Prevention and Control show that there are 18.4 cases per 100,000 people in Ireland. The data is based on a 14-day cumulative number of Covid-19 cases.
Luxembourg has the highest number of cases per 100,000 at 122.5, Spain has 110.6 per 100,000. The UK is currently at 17.3.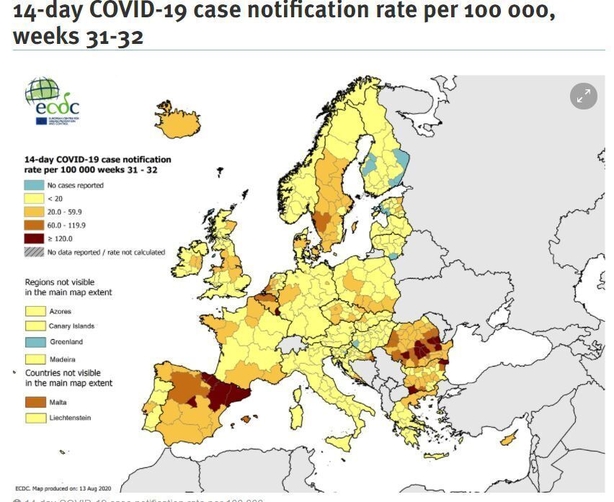 This evening, the Department of Health has been notified of 67 additional cases of Covid-19 and no new deaths.
The World Health Organization says data to date suggests 80% of Covid-19 infections are mild or asymptomatic, 15% are severe infection, requiring oxygen and 5% are critical, requiring ventilation. 
Generally, you need to be 15 minutes or more in the vicinity of an infected person and within two metres of them, to be considered at-risk, or a close contact.