More than 2,500 new coronavirus cases were registered in France in 24 hours in the sharpest increase since May, according to government data.
The latest figures come as officials said indicators were "clearly worsening".
Of 600,000 tests over the past week, more than 11,600 were positive, the health ministry's DGS public health division said.
At 2.2%, the weekly rate of positives was up from 1.6% the week before, confirming "increased viral circulation", it added.
"Indicators used for tracking the epidemic on French territory have clearly worsened in recent days," the DGS said.
With August traditionally a month when many French people take weeks of summer holiday, "it's imperative that we keep up our efforts to avoid the epidemic picking up again, individually and collectively, everywhere and at all times", the DGS said.
Health officials identified 18 new virus clusters in the past 24 hours, bringing the total to 896 nationwide.
But the number of patients in intensive care dropped slightly to 379, a level relatively steady since late July.
Almost 30,400 people have died of coronavirus in France since the epidemic began, the third-heaviest toll in Europe after Britain and Italy.
Norway to quarantine more travellers as Covid-19 rises
Norway is reimposing quarantine on more travellers from foreign countries, the government said, and reiterated its advice that Norwegians should avoid travelling abroad amid a jump in the number of new coronavirus cases.
Norway diagnosed 357 people with Covid-19 last week, the highest since April, but still well below the record 1,733 cases found in a single week in late March, data from the Norwegian Institute of Public Health showed.
"We're doing this now so that everyone as soon as possible will be able to live their lives as freely as possible," Prime Minister Erna Solberg told a news conference.
"All foreign travel is associated with a risk of infection," Ms Solberg said.
Norway last week put on hold a plan to further reopen society and urged its citizens to refrain from foreign travel amid the faster spread of the virus.
While not a member of the European Union, Norway belongs to the passport-free Schengen travel zone. It had some of the strictest travel restrictions in Europe in the early phase of the pandemic before gradually lifting them from June.
It will now reimpose ten-day quarantines from Saturday for all travellers from Poland, Malta, Iceland, Cyprus and the Netherlands, as well as the Faroe Islands and some Danish and Swedish regions.
Norway has already reintroduced similar constraints for Spain, France, Switzerland and several others, and has put on hold a plan to permit leisure travel from some non-European countries, which has been banned since March.
---
Latest coronavirus stories
NZ probes if outbreak linked to cool store, election may be delayed
---
Australia's worst-hit state 'flattening' virus curve
Australia's worst-hit state of Victoria appears to be curbing a virus outbreak after a week of tougher restrictions, authorities said, with new cases falling in recent days even as fatalities topped records.
Victoria state Premier Daniel Andrews announced 410 new cases and 21 fatalities, marking Australia's deadliest day so far, but said the state "certainly" seemed to be flattening the curve.
"If you look at the average over the last seven days, we are seeing (numbers) come down," he told a press conference.
The state has reported around or below 400 new daily cases for four consecutive days, raising hopes that an outbreak centred on Melbourne has been contained after numbers soared above 700 in recent weeks.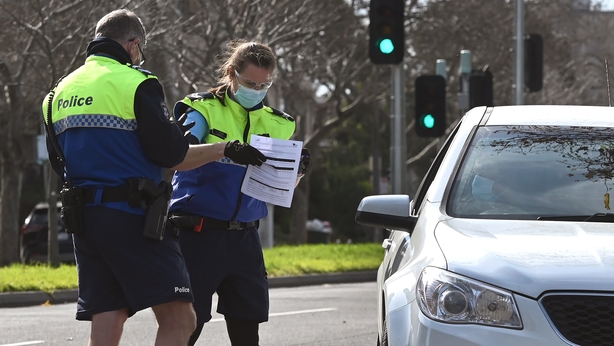 Authorities last week introduced an overnight curfew and shut down non-essential businesses in Australia's second-biggest city until at least 13 September, the toughest rules imposed in the country since the pandemic began.
Mr Andrews cautioned that cases could again rise.
"But with compliance up ... and these measures in place, our experts remain firm in the view that this will drive the numbers down," he said.
He said success would depend on people respecting the lockdown rules, adding: "That's what's terribly, terribly challenging."
The virus hit Victoria's aged care homes badly, with more than 100 residents dying since early August and almost 2,000 active infections linked to the facilities.
Elsewhere in Australia, most regions are enjoying relaxed restrictions as they continue to report few or zero new cases of Covid-19.
Only New South Wales state has been consistently detecting significant numbers of cases since an outbreak emerged in mid-July after an infected Melbourne man visited a packed Sydney pub.
Premier Gladys Berejiklian said the country's most populous region remained "on high alert" due to small, but persistent numbers of cases that could not be traced to any known source.
"Whilst numbers have remained stable in New South Wales for the past month, we can't be assured of that moving forward," she told reporters in Sydney.
Ms Berejiklian urged people to wear masks in public to prevent the spread of Covid-19, hinting face coverings could become mandatory if voluntary take-up did not improve.
Australia has recorded just over 22,000 cases of coronavirus to date, with 352 deaths from the virus.
Spain again grapples with Europe's worst virus infection rate
Just seven weeks after bringing its first coronavirus wave under control, experts say Spain is once again in a "critical" situation with the worst infection rate in Western Europe.
The country reported an average of 4,923 new daily cases of the respiratory disease during the last seven days, a higher amount than that of Britain, France, Germany and Italy combined, according to a tally compiled by AFP based on official figures.
Spain counts 95 Covid-19 cases per 100,000 people, compared to 24 in France, 17 in Britain, 13 in Germany and just eight in Italy, the first country outside of China to be hit hard by the pandemic.
The spike has led a growing list of countries to impose restrictions on travel to Spain, which has nearly 323,000 confirmed cases of the disease, the highest number in Western Europe and 11th highest in the world.
More than 20.34 million people have been reported to be infected by the novel coronavirus globally and 741,097 have died, according to a Reuters tally.