The Licensed Vintners Association (LVA) and the Vintners Federation of Ireland (VFI) have accused the Government of abandoning smaller pubs across Ireland following the announcement that pubs will not reopen next Monday as planned.
Pubs will not reopen until 31 August at the earliest and the decision will be reviewed in three weeks' time.
Taoiseach Micheál Martin also said that pubs serving food and restaurants will have to close by 11pm.
However, he said he would not use the word "curfew".
Tánaiste Leo Varadkar said all customers would have to be off these premises by 11pm but staff could stay to clean up and he said they could stay open for takeaways and deliveries.
He said they want to stop any restaurants that may have been operating almost as pubs.
"Customers should off the premises by 11. What we want to stop is what was kind of happening which was restaurants were kind of operating almost as pubs, and that's a risk," Tánaiste @LeoVaradkar says | https://t.co/FfF3Pet6Td pic.twitter.com/EQhajsUCmm

— RTÉ News (@rtenews) August 4, 2020
Reacting to the delayed reopening, the LVA and the VFI said that 3,500 pubs across Ireland had been expecting to reopen next week but must now remain closed.
They said the majority of pubs across Ireland are still closed and they will now have to keep their doors shut for a minimum of 168 days, which represents 46% of the year.
We need your consent to load this rte-player contentWe use rte-player to manage extra content that can set cookies on your device and collect data about your activity. Please review their details and accept them to load the content.Manage Preferences
At a post-Cabinet press briefing, the Taoiseach said: "I know that this will come as a blow to pub owners and I want them to know I have enormous sympathy for their plight.
"This virus is taking away their ability to earn a living, to provide a key service in the heart of many communities," Mr Martin said.
"But we are doing what we are doing to save lives and to give our society and economy the best chance we can to open safely and sustainably," he said.
However, he said international evidence shows that pubs and nightclubs opening too early leads to community transmission and he said that is the worst thing that could happen here.
Taoiseach @MichealMartinTD says "pubs, bars, hotel bars, night clubs and casinos will remain closed. Also the current restrictions on numbers attended indoor and outdoor gatherings will remain unchanged." It will be reviewed in three weeks | #Covid19 blog: https://t.co/FfF3Pet6Td pic.twitter.com/OZfIHKMx6n

— RTÉ News (@rtenews) August 4, 2020
He said the Government will examine further additional supports for sectors, including pubs, particularly affected by the virus.
Congregated indoor settings are locations where the virus spreads more rapidly, he added.
He reiterated that opening the schools and the resumption of non Covid-19 health procedures in a safe way was essential.
LVA Chief Executive Donall O'Keeffe said the decision to delay the reopening of pubs "will be met with both fury and despair across the entire sector".
He said: "It is creating intolerable pressure on those pubs still closed, their 25,000 staff, suppliers to the industry and all their families.
"The Government can't keep stringing the entire sector along like this."
VFIChief Executive Padraig Cribben said: "This is Groundhog Day for the trade as twice now the reopening of pubs has been postponed.
"The new Government's decision has caused grave alarm within the trade as publicans face an extremely uncertain future with little to feel optimistic about.
"Make no mistake, this is a full-blown crisis for the trade as over 3,500 pubs must now remain shut."
Shocked, saddened and physically sick, says Galway publican
Dunmore publican Joe Sheridan said he was shocked, saddened and physically sick at the decision by the Government not to reopen pubs.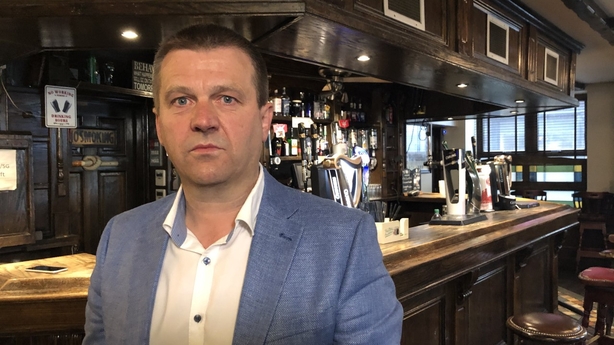 He said rural Ireland was being decimated and pubs were being used as "pawns in the litmus test" for public health throughout the country.
"Most of my core group of 20 customers are elderly men who live alone. This is their primary social outlet and they would have been enjoying their few quiet pints in a safe, controlled environment.
"There is no leeway being shown and the consequences are devastating socially and economically," said Mr Sheridan.
Sinn Féin leader Mary Lou McDonald said the delay in reopening for the industries involved "will increase anxieties in sectors", adding that "additional recovery packages now need to be put in place".
Deputy McDonald said: "The increase in the number of Covid-19 cases in recent weeks is of great concern and serves as another reminder that the threat of this virus is very real and has not gone away."
She said she welcomed the fact that face coverings would become mandatory in shops and shopping centres.
On the decision to keep pubs closed she said: "If the medical advice is that these alternative options are too risky than additional bespoke compensation and recovery packages need to be put in place."