Mask-clad Muslims began annual hajj pilgrimage to Saudi Arabia's Mecca today, circling Islam's holiest site along socially distanced paths in the smallest pilgrimage in modern history as the Saudi hosts strive to prevent a coronavirus outbreak.
The pilgrimage drew 2.5 million Muslims last year, but in pandemic-shadowed 2020 just 10,000 already living in the kingdom will be allowed in.
Lorraine O'Connor of the Muslim Sisters of Éire said at least a couple of hundred Irish Muslims would have planned to go on the Hajj pilgrimage this year.
Ms O'Connor, who as been a Muslim for 15 years, said that people would travel from all over the world to take part and unless there is a vaccine for Covid-19, she cannot see how the pilgrimage can ever take place again.
We need your consent to load this rte-player contentWe use rte-player to manage extra content that can set cookies on your device and collect data about your activity. Please review their details and accept them to load the content.Manage Preferences
Those who were allowed to take part this year were subject to temperature checks and placed in quarantine as they began trickling into Mecca over the weekend.
State media showed health workers sanitising their luggage, and some pilgrims reported receiving electronic wristbands to let authorities monitor their whereabouts.
The hajj, one of the five pillars of Islam and a must for able-bodied Muslims at least once in their lifetime, is usually one of the world's largest religious gatherings.
In addition to being a spiritual highlight to faithful Muslims, the pilgrimage normally provides a boost to the local economy that will be sorely missed this year.
Pilgrims walked into Mecca's Grand Mosque to begin the ritual with their first "tawaf", the circumambulation of the Kaaba, a large cubic structure draped in gold-embroidered black cloth, towards which Muslims around the world pray.
They were brought in small batches, walking along paths marked on the floor, in sharp contrast to the normal sea of humanity that swirls around the Kaaba during hajj.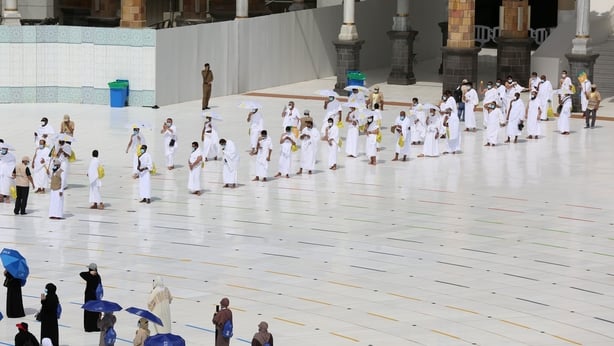 The tawaf, which involves walking around the structure seven times, was completed in "record time", a security commander told state media.
The pilgrims later travelled to Mina, another district of Mecca where they will spend the night. It sits in a narrow valley surrounded by rocky mountains, and is transformed each year into a vast encampment for pilgrims.
Tomorrow, worshippers will climb Mount Arafat, also known as the "Mount of Mercy", for hours of prayers and Koranic recitals.
After descending the following day, they will gather pebbles and perform the symbolic "stoning of the devil".
Foreign journalists were barred from this year's hajj, usually a huge global media event.
In a sign that its strict measures were working, the health ministry reported no coronavirus cases in the holy sites today, although 122 cases were reported in Mecca.
The pilgrims, who have all been tested for the virus, are required to wear masks and observe social distancing during the rites completed over five days in the holy city of Mecca and its surroundings.
The pilgrims said they were given ihram, the traditional seamless white hajj garment, made from a bacteria-resistant material.
Saudi authorities also reported setting up multiple health facilities, mobile clinics and ambulances to cater to the pilgrims.
"There are no security-related concerns in this pilgrimage, but (downsizing) is to protect pilgrims from the danger of the pandemic," said Saudi Arabia's director of public security, Khalid bin Qarar Al-Harbi.
Saudi authorities initially said only around 1,000 pilgrims residing in the kingdom would be permitted for the hajj, but local media reports say as many as 10,000 will be allowed to take part.
Some 70% of the pilgrims are foreigners residing in the kingdom, while the rest are Saudi citizens, authorities said.
All those attending the pilgrimage will also have to quarantine afterwards, as the number of Covid-19 cases in the kingdom nears 270,000, one of the largest outbreaks in the Middle East.