The Department of Social Protection said it has identified 85 people who lost their Pandemic Unemployment Payment as a result of holidaying abroad, but may be entitled to it back.
It follows a review by Minister for Social Protection Heather Humphreys who earlier announced that those on the payment will be entitled to travel abroad but only to green list countries.
The department has completed a review of all 2,500 cases where people lost the payment as a result of checks at airports and ports since March.
Figures seen by RTÉ News show that all, bar 85 cases, were found by the department to be leaving the country on a permanent basis.
As a result, savings of €20.5m have been made to the exchequer.
A department spokesperson said it has "identified some 85 cases that have the potential to be entitled to the Pandemic Unemployment Payment for a holiday period. The department will be contacting the 85 individuals directly in the coming days to verify these cases."
It was confirmed earlier that people on the payment who travel to green list countries will continue to receive their payments.
Minister Humphreys told the Dáil that the Government could have communicated more effectively and that the cases of all those who travelled for holidays would be reviewed.
She said she will sign a regulation that will allow people receiving the PUP and Jobseeker's Allowance to travel to green list countries without having their payments halted.
The minister also said she has directed her department to review all cases to date where people who went on holiday had their payment stopped.
She said of the 2,500 PUP claims that have been stopped, over 90% of those were people who were no longer resident in the country. The checks included 2,000 at Dublin Airport and 500 at other ports and airports.
Minister Humphreys said she has listened to concerns raised and knows there are people who have travelled abroad and who were not aware of the regulations.
The minister said the PUP was established as an emergency ad-hoc payment, but with the new legislation being introduced to put it on a statutory footing, it will come in line with Jobseeker's Allowance, so travelling to green list countries will be allowed.
We need your consent to load this rte-player contentWe use rte-player to manage extra content that can set cookies on your device and collect data about your activity. Please review their details and accept them to load the content.Manage Preferences
In a statement this evening, the Department of Social Protection said its inspectors are working within their statutory powers at airports and ports.
It said the inspectors and gardaí who have been seconded to the department speak to "relevant individuals".
Sinead Lucey, Managing Solicitor with FLAC, said there is a statutory basis for social welfare inspectors to operate at ports and airports.
"The criteria is that a social welfare inspector must have reasonable cause to understand there has been a breach of the social welfare legislation before they can approach somebody".
She said: "It is very unclear to us on what basis people are being approached at the airports. How do they know they're in receipt of a social welfare payment? Is there an investigation ongoing?"
Ms Lucey said there seems to be a "blanket policy".
"There are small numbers going through the airport. Perhaps everybody is stopped getting on a flight. That would be hugely problematic for us".
The Data Protection Commissioner has sent a number of queries to the department in relation to the processing of data. A spokesperson for the department said it will respond tomorrow.
Under legislation passed in the Dáil last night, anyone in receipt of the Pandemic Unemployment Payment must be "genuinely seeking" employment.
The requirement has caused concern among workers in industries like music and live entertainment.
Today, a spokesman for the Minister for Social Protection said that if someone is in a sector that has not yet reopened, like pubs or entertainment, then the department will take a "practical, common sense approach".
The spokesman said that in those cases a person's payment will not be impacted.
A further statement from the department said that while the requirement to seek work is a condition on its employment schemes, it also has an existing Jobseekers' scheme for artists under which the requirement to be genuinely seeking work is suspended for a year.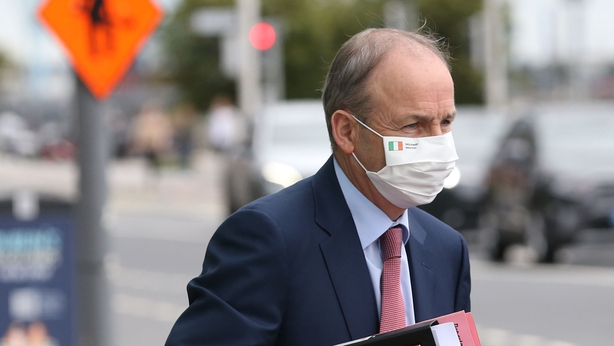 Meanwhile, Taoiseach Micheál Martin has said that more than 2,000 people in receipt of the payment have had their cases closed as a result of checks carried out at Dublin Airport.
But he said the vast majority of these claims relate to people who have been leaving the country on a permanent basis.
Mr Martin said a "handful of cases" were those of claimants who have had their payments suspended.
RISE TD Paul Murphy described the situation of people having the PUP stopped as a "shambles".
Speaking in the Dáil, Mr Murphy said it sounded like a partial U-turn on the policy but it leaves those wondering has this discrimination ended and he said they need clarity.
He referred to a letter sent to a new applicant last week, which mentioned nothing about rules on holidays in terms of the green list.
Mr Murphy gave an example of a man who had contacted him because his PUP was stopped after he returned from holiday. He had been stopped at the boarding gate by plain clothes gardaí for an immigration check when he was leaving Ireland.
Mr Murphy asked the Taoiseach what the legal basis was for gardaí asking for the man's passport and then transferring the information over to the Department of Social Protection.
The Taoiseach said he is not responsible for "operational decisions by people on the ground in respect of compliance and social protection" but, he said, anyone who lost the PUP will have their cases reviewed.
He said the Government has no agenda to single-out anybody, but he said there has always been compliance at the airport and he told Mr Murphy he was "oblivious" that 90% of the PUP payments stopped were for people permanently residing outside the State.
The Taoiseach said the checks are there and the legal basis for compliance has been outlined from the department.
During a debate on the PUP payments in the Seanad, Senator @ElishaMcC_SF criticises the Cabinet:

"there have been more flip flops in the government's position over the past weeks than there have been flip flops sold in Penneys this summer" pic.twitter.com/OhEmW7R810

— RTÉ Politics (@rtepolitics) July 29, 2020
During a debate on the PUP payments in the Seanad, Sinn Féin Senator Elisha McCallion criticised the Cabinet, saying there had been "more flip flops in the Government over the past weeks than there have been flip flops sold in Penneys this summer".
Additional Reporting Dyane Connor, Maggie Doyle and Laura Hogan