All necessary actions are being taken in relation to a worker at a crèche on the northside of Dublin who has been diagnosed with Covid-19, the Minister for Children has said.
Parents of children who attend the childcare facility have received notification that a member of staff tested positive for the virus.
It is understood parents were told the staff member was present in the crèche for one day last week and was asymptomatic at the time. The staff member tested positive three days later.
Speaking in the Dáil tonight, Minister Roderic O'Gorman said the Health Service Executive and Tusla's Early Years' Inspectorate were involved.
He said their concern was for the person impacted and to ensure actions had been taken to prevent any spread of the virus.
Mr O'Gorman said guidance from the Health Protection Surveillance Centre, the regulator, Tusla and the Department had proved valuable in ensuring appropriate management of the case.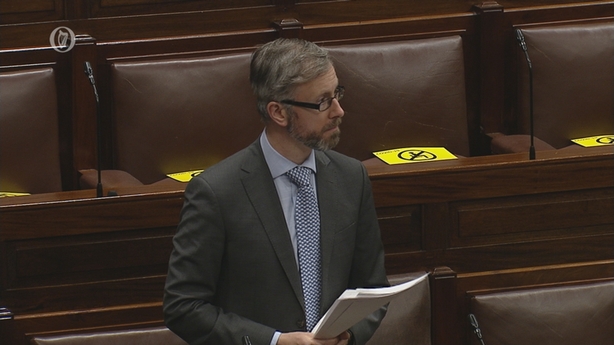 He said he could not comment on an individual case but wanted to assure deputies that all appropriate actions had been taken.
The crèche told parents all protocols from the HSE and Tusla had been followed.
All parents whose children had been in contact with the worker were phoned and appropriate testing had been arranged, the crèche said.
The crèche also said the small number of staff who were in direct contact with the worker in question were being tested and would not be at work while waiting for results.
Both the HSE and Tusla have said they do not comment on individual cases.
In a statement, the HSE said: "Where there is a confirmed case of Covid-19 in a childcare setting, the childcare setting is contacted by HSE Public Health who conduct an assessment of the childcare setting, and advice on the management of children and staff who came in contact with the case is based on this assessment."
Tusla issued a statement saying that registered providers of early years services are obliged to notify the agency within three working days of becoming aware of a notifiable incident, which includes the occurrence of specified infectious diseases, including Covid-19.
The development comes after the Acting Chief Medical Officer, Dr Ronan Glynn, expressed concern at the number of outbreaks of Covid-19 in workplace settings.
Yesterday, Dr Glynn said there were an increasing number of outbreaks in workplaces including construction sites, fast food outlets and supermarkets.
He said they had not yet been informed of any outbreaks relating to childcare facilities.
This evening, the Department of Health said an outbreak in an epidemiological context, involved two or more cases and the Department had not been notified of any outbreak in a childcare setting.
The spokesperson said tracing and testing would be carried out in relation to any close contact of a confirmed case.
Reporting by Orla O'Donnell and Dyane Connor