Two coronavirus vaccine candidates have proven safe for humans and produced strong immune reactions among patients involved in separate clinical trials, doctors have said.
The first trial among more than 1,000 adults in Britain found that the vaccine induced "strong antibody and T cell immune responses" against the novel coronavirus.
A separate trial in China involving more than 500 people showed most had developed widespread antibody immune response.
The studies, published in The Lancet medical journal, constitute a major step on the road towards a Covid-19 vaccine that is effective and safe for widespread use.
The authors of the studies said that they encountered few adverse side effects from the vaccine candidates.
However, they cautioned that more research was needed, particularly among older adults, who are disproportionately at risk of dying of Covid-19.
Both studies were phase-2 trials, which test whether the vaccine provokes an immune response and can be well tolerated by patients.
The Acting Chief Medical Officer of Ireland Dr Ronan Glynn said the best way to ensure Ireland has access to a vaccine supply is to partner at a European level with all European member states and to ensure they are approaching it as one and procuring it as one.
He said typically it takes a minimum of 5-10 years to develop a vaccine, but he said, given the global effort under way, "hopefully we'll have one much sooner than that".
Dr Glynn made the comments at the Department of Health briefing this evening.
The trial in the UK included 1,077 healthy adults aged 18-55 years with no history of Covid-19.
NEW—UK's #COVID19 vaccine is safe and induces an immune reaction, according to preliminary results https://t.co/rDPlB9fDKr pic.twitter.com/z2t9Aubjim

— The Lancet (@TheLancet) July 20, 2020
The vaccine, AZD1222 was developed by Oxford University and licensed to AstraZeneca, which has put it into large-scale, late-stage trials to test its efficacy.
British Prime Minister Boris Johnson described the early stage clinical trial as very positive.
"There are no guarantees, we're not there yet & further trials will be necessary - but this is an important step in the right direction," he tweeted.
Co-author of the British trial Sarah Gilbert from the University of Oxford said the results "hold promise".
"If our vaccine is effective, it is a promising option as these types of vaccine can be manufactured at large scale."
"We still do not know how strong an immune response we need to provoke to effectively protect against SARS-CoV-2 infection."
Oxford's Covid-19 vaccine produces a good immune response, reveals new study.
Teams at @VaccineTrials and @OxfordVacGroup have found there were no safety concerns, and the vaccine stimulated strong immune responses: https://t.co/krqRzXMh7B pic.twitter.com/Svd3MhCXWZ

— University of Oxford (@UniofOxford) July 20, 2020
Ms Gilbert said researchers needed to learn more about Covid-19 and continue late stage trials, which have already commenced.
AstraZeneca has signed agreements with governments around the world to supply the vaccine should it prove effective and gain regulatory approval.
The company has said it will not seek to profit from the vaccine during the pandemic.
---
---
NEW—Chinese phase 2 trial finds #COVID19 vaccine is safe and induces an immune response https://t.co/y19Tg7VmUT pic.twitter.com/olXJsOgTFv

— The Lancet (@TheLancet) July 20, 2020
The second trial, led by China's Jiangsu Provincial Center for Disease Control and Prevention, used a weakened human cold virus modified to deliver genetic material that teaches cells to recognise the novel coronavirus.
Two groups of patients were given either a high or low dose of the vaccine.
More than 90% of people in both groups showed either antibody or T cell immune responses between 14-28 days post vaccine.
Side effects in both trials were moderate but authors of the Chinese study said they needed to test the vaccine safety on older patients.
"Elderly people ... are an important target population for a Covid-19 vaccine," said Wei Chen, from the Beijing Institute of Biotechnology.
"It is possible that an additional dose may be needed in order to induce a stronger immune response in the elderly population."
For its trial the team at Oxford used a genetically modified strain of the common cold virus that infects chimpanzees.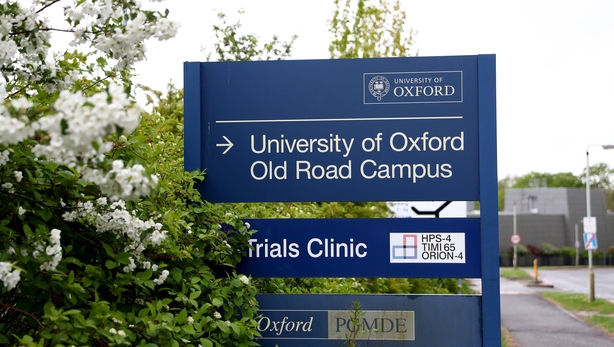 They manipulated the virus to train cells to recognise the viral spike protein, which helps teach the immune system to recognise Covid-19.
As well as developing antibodies in their blood, patients given the vaccine were found to have developed a robust T cell response, helping their body identify and neutralise the virus.
"The immune system has two ways of finding and attacking pathogens, antibody and T cell responses," said Andrew Pollard, a member of the Oxford team.
"This vaccine is intended to induce both, so it can attack the virus when it's circulating in the body, as well as attacking infected cells."
The Oxford team found that among the 500 or so patients given the vaccine, their immune response peaked around 14 days and decreased slightly by day 56, the end of the study period.
The other 500 patients were instead given the meningitis vaccine as a placebo.