A public health expert has said that overseas travel is one of the biggest Covid-19 threats and there needs to be an all-island approach to the issue.
Professor Gabriel Scally's comments were made as a further easing of coronavirus restrictions came into effect in Northern Ireland today.
This includes the removal of requirements for people to self-isolate after travelling to Northern Ireland from more than 50 countries deemed medium to low risk.
The Stormont Executive signed off on the decision yesterday. The list of countries involved includes the Republic of Ireland, Italy, Spain, France and Germany.
Taoiseach Micheál Martin said that public health officials here are "very concerned" about the reopening of international travel to Northern Ireland, which he said could impact negatively on the transmission of the virus.
Mr Martin said he agreed with Prof Scally that an all-island approach was "optimal", but there would be challenges around implementing it.
Speaking in Dublin this afternoon, he said: "I tend to agree with Professor Scally. Ideally an all-island approach to these issues is probably optimal.
"There are challenges in that regard obviously. But our public health officials are not comfortable to say the least at the moment in terms of the travel issue."
Prof Scally said governments north and south of the border must cooperate on the issue.
Speaking on RTÉ's Today with Sarah McInerney, he said: "We can't do this in just one part of the island. There is a memorandum of understanding between north and south that's been signed.
"I think with a new Taoiseach and Minister for Health, it's time to reach out to the First Minister in the North and Minister for Health and have a real proper discussion about how we can have a zero Covid island and that means taking hard decisions about quarantine of travellers."
Prof Scally said people coming into Ireland should be quarantined until it is confirmed that they do not have the virus.
"We shouldn't be having individual travellers coming into Ireland without them being quarantined and I mean properly quarantined and that means making use of hotels and other facilities around airports that are not being fully used."
The Taoiseach said he would discuss the lifting of Northern Ireland's quarantine restrictions with the First and Deputy First Ministers, Arlene Foster and Michelle O'Neill, during a meeting at Stormont next week.
Mr Martin said the Government would also be discussed with the National Public Health Emergency Team.
But he added that health officials were "very concerned" about the negative impact of reopening overseas travel fully on the transmission of the virus.
The Taoiseach reiterated that non-essential travel should be avoided.
In preparation for the 20 July, there will be additional measures at airports and ports designed to check and track people entering the country, says Micheál Martin. | More: https://t.co/OYw1tdxWcF pic.twitter.com/sz7mrzK1j9

— RTÉ News (@rtenews) July 10, 2020
No coronavirus deaths have been recorded in Northern Ireland for a seventh consecutive day. The official Department of Health death toll remains unchanged at 554.
There are four new cases of Covid-19, bringing the cumulative total to 5,772.
For the 14th consecutive day, there are no coronavirus patients in intensive care in Northern Ireland.
Elimination of virus in Ireland is close - Scally
Prof Scally said Ireland has done a "fantastic job" both north and south and the island of Ireland is getting very close to having total control of the virus.
He said eliminating the virus is "tantalisingly before us" and it would be "terrible" after all the sacrifices made and the deaths from Covid-19 "if we left that prize slip out of our grasp" either by risky behaviour or allowing the importation of a lot more cases.
He described this as a pivotal moment and a "fork in the road".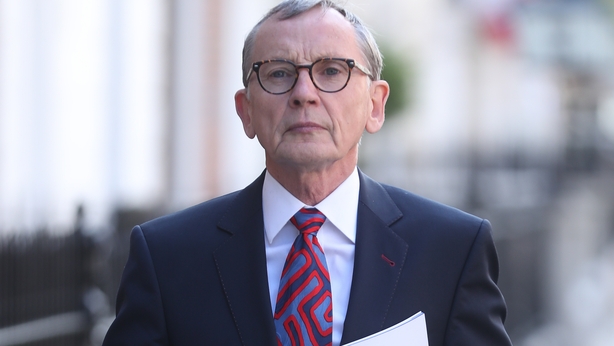 Prof Scally said young people have made "enormous sacrifices" missing out on school and college and not seeing their friends because of the virus.
"We have to do everything we can to help them, and help them have a good and safe summer," he said.
He added that some young people need to realise that they are not impermeable to the virus and must be helped to "do the right thing over the next few months".
---
Read more:
Latest coronavirus stories
---
Professor Phillip Nolan, chair of the National Public Health Emergency Team's Epidemiological Modelling Advisory Group, has said the advice from NPHET and the Irish Government is that people should avoid any unnecessary travel.
He added that travel between two countries where there are low levels of Covid-19 may be achievable in the future.
No 'blanket' decisions on travel bans - Lambert
Specialist in Infectious Diseases at Dublin's Mater Hospital Dr Jack Lambert has reiterated that "blanket" decisions should not be made in relation to foreign travel.
Dr Lambert said Ireland needs to "individualise" countries, based on risk.
There are countries that are safer than Ireland, he added, and he would prefer to travel there on holiday instead of travelling within Ireland.
Mater Hospital Infectious Diseases specialist, Dr Jack Lambert said there are countries that are safer than Ireland. He said he would prefer to travel to those places on holiday, instead of travelling within Ireland. He said Ireland needs to individualise countries,based on risk.

— Fergal Bowers (@FergalBowers) July 10, 2020
Dr Lambert said he would advise people not to travel unnecessarily and that he would not travel to a high-risk country, but he said countries such as Iceland and Japan have their virus reproductive rate down to almost zero, so a risk of travel to those countries would be lower than travelling to other countries.
He suggested mandatory quarantine for people coming from high-risk countries, but not for those travelling from low-risk countries.
Dr Lambert added that screening at airports for those coming from high-risk countries would be effective, instead of blanket screening.
It is "impossible" to eliminate Covid-19, he said, and that all any country can do is minimise the spread by preventing importing new cases.