Minister for Transport Eamon Ryan has said the Government will look at introducing measures to improve the country's responsiveness during the pandemic, including targeted testing of passengers at airports.
Speaking on Newstalk, the Green Party leader said that given the virus is flaring in various countries around the world, further measures may need to be introduced.
He said Ireland as an open country cannot completely isolate itself, especially as it was in a common travel area with the UK.
The minister said further protocols will need to be introduced, including testing in airports, not testing every passenger but targeted testing.
"We as an open country to the world cannot completely isolate ourselves, particularly because we're in a common travel area with the UK, so what we will have to do is introduce further protocols to try and manage this, including testing in airports, not testing every passenger, but targeted," he said.
Mr Ryan said this process would constantly evolve based on the status of the threat and would not be fixed.
"We need to start by having a certain element of testing to be able to provide that capability," he added.
He said flights would continue, adding that at no stage has there been a restriction on flights.
Restrictions on international travel are likely to remain in place until 20 July at the earliest, under plans to be considered by the Cabinet tomorrow.
This includes the requirement to quarantine for 14 days after arriving in Ireland from abroad.
The restrictions currently in place were due to be eased next Thursday, 9 July.
However, concern about a possible resurgence of the virus in other countries has prompted advice to the Government that they should remain in place for now.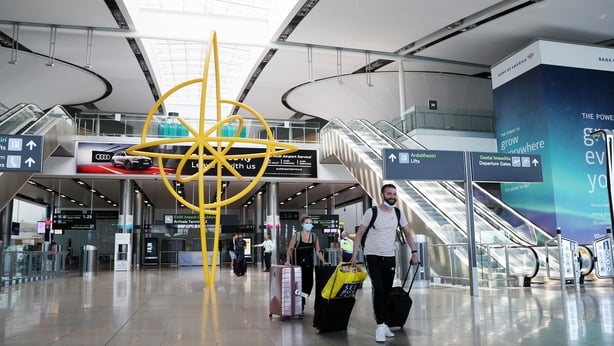 The minister said what they are hoping is that the solidarity shown by the public in adhering to public health guidance will remain, and that people will play their part by refraining from non-essential travel.
Mr Ryan said the Government would consider opening up travel to countries where the conditions are similar or better than our own.
He said there will be an increase in the number of people flying, but they do not want that to turn into an "avalanche".
He said the real concern is Irish people going abroad and bringing the virus back home.
---
---
Minister for Agriculture Barry Cowen said the situation on travel is a "fluid" one and that there are changes given the anticipated dissipation of Covid-19 has not materialised.
Speaking on RTÉ's the Week in Politics, Mr Cowen said he understood people wanted clarity on the situation, but that the situation was too fluid.
He said Minister for Health Stephen Donnelly will bring forward proposals based on expert advice from public health officials and ultimately Cabinet will decide on the right move to make.
Speaking on the same programme, Minister of State for Local Government and Planning Peter Burke said it is clear that public health advice has to come first, especially as last week there was a 13% increase of cases based on foreign travel.
.@peterburkefg Minister of State says public health advice has to come first in relation to #ReopeningTravel. #rtetwip #rtenews #rtepolitics pic.twitter.com/PVLgykXOcJ

— The Week in Politics (@rtetwip) July 5, 2020
He said we can only reopen the country on a managed basis when it is safe to do and public health advice must underwrite that process.
Sinn Féin TD Imelda Munster said public health expertise should be at the forefront of any decision made.
She said the current checks and restrictions are "wholly inadequate", with a form filled in followed by a phone call.
RISE TD Paul Murphy said we need to continue to follow the public health advice and everyone had made significant sacrifices throughout the pandemic.