The Department of Health has said one more person has died from Covid-19, bringing the total in Ireland to 1,741.
A further 11 cases have been confirmed, taking the overall total to 25,509.
The latest figure comes as restrictions on international travel are likely to remain in place until 20 July at the earliest, under plans to be considered by the Cabinet on Monday.
This includes the requirement to quarantine for 14 days after arriving in Ireland from abroad.
The restrictions currently in place were due to be eased next Thursday, 9 July.
However, concern about a possible resurgence of the virus in other countries has prompted advice to the Government that they should remain in place for now.
The Cabinet sub-committee on Covid-19 discussed the issue and sources have confirmed to RTÉ News that the committee will make a recommendation to Cabinet on Monday that the current arrangements are extended until 20 July, at which point the issue will be reviewed.
Rules around international travel are expected to be revised fortnightly after that.
A so called "green list" of countries that are safe to travel to will not be published until the current public health advice changes.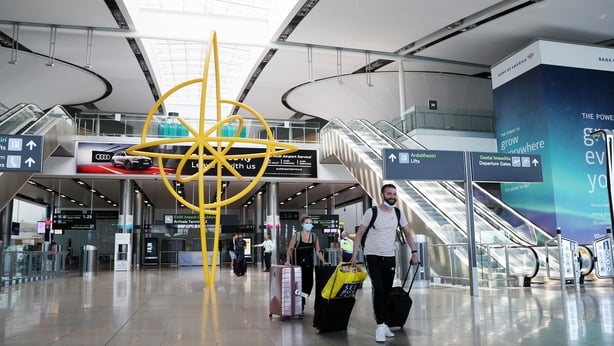 Taoiseach Micheál Martin had previously said his approach to easing foreign travel restrictions would be cautious.
He told RTÉ's Six One News on Thursday that his Government would be "very careful" to ensure that progress is not undermined "because reopening schools in August is the target".
"If something was to happen between now and August that caused a spike, that could jeopardise schools reopening," he said.
It will ultimately be a matter for the wider Cabinet to decide.
There are seven members of the Government on the sub-committee, including the leaders of the three Coalition parties.
This is an increase from three members on the sub-committee under the last government.
The Cabinet will also review a report on compliance by pubs with the public health guidelines.
A report on compliance is being compiled for Cabinet from the relevant State authorities, including gardaí and the Health and Safety Authority.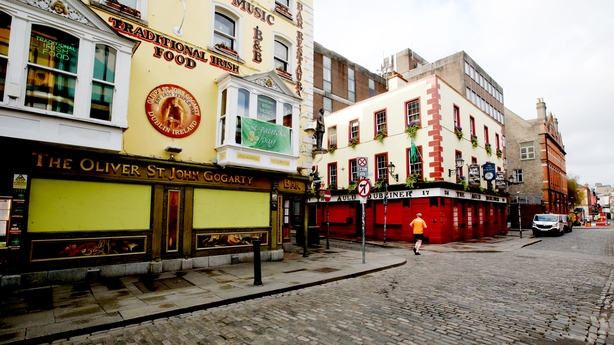 Elsewhere, the Chairman of the Irish Tourism Industry Confederation has said that as many as 200,000 jobs in the tourism sector are at risk due to the impact of the Covid-19 crisis.
Speaking on RTÉ's The Business programme, Maurice Pratt also said tourism last year was worth €9.4bn to the Irish economy, with the estimate for this year falling to €2.4bn, which represents a reduction of close to 75%.
He said: "That's a reduction of 75% in the value of tourism in Ireland, that's eight million visitors who won't travel to Ireland this year.
"265,000 jobs is the number of jobs in the sector, so you could look at that and say potentially, if those eight million visitors don't return in a reasonable timeframe, that there could be up to 200,000 jobs in the sector at risk if you just do the simple maths."
---
---
Meanwhile, the Chief Executive of the Licensed Vintners Association has said that around half the pubs in Ireland remain closed, but that the majority of those that are open are adhering to public health guidelines.
Speaking on RTÉ's Saturday with Cormac Ó hEadhra, Donal O'Keefe said the majority of pubs and customers are taking the public health guidelines on board and said pubs will follow whatever public health guidance is available.
He said clearly publicans have a responsibility to ensure a safe environment and adhere to restrictions, adding that the vast majority of both publicans and consumers are trying to keep to time-limits in pubs.
He said in Dublin, around 33% of pubs remain closed and are waiting until 20 July to reopen.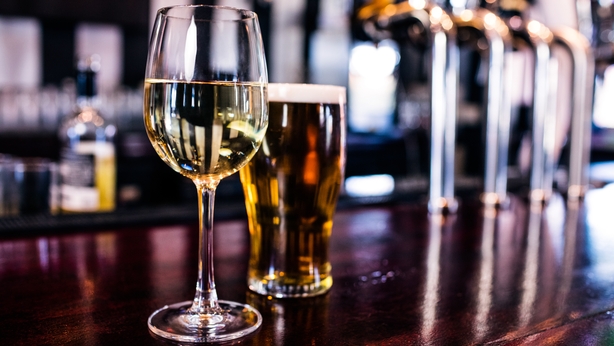 Mr O'Keefe said the LVA is seeing businesses trying to adhere to guidelines, adding that it was incumbent on all involved to open in a responsible way.
He said they welcome that gardaí are now inspecting pubs, and that there will always be a "small few" that will not adhere to the measures.
Speaking on the same programme, the Minister of State for Employment Affairs and Retail Businesses said the Irish people have acted in a responsible manner over the last few months.
Damien English said that just because Irish people have a few pints in pubs does not mean that they would suddenly behave irresponsibly.
Sinn Féin's Louise O'Reilly said the measures are in place not just to protect customers, but also those who are working in the sector too.
She said there needs to be clear messaging from Government, and called for more signage to be put in place so the messaging on the measures regarding pubs are clear.
Additional reporting Mary Regan