English holidaymakers can embark on overseas trips from tomorrow after the British Foreign and Commonwealth Office lifted its ban on non-essential travel to certain countries.
These include popular short-haul destinations such as Spain, France, Italy, Germany, Belgium and Switzerland.
Portugal (apart from the Azores and Madeira), the US, China and Thailand are among the notable absentees.
Ireland is included on the list but visitors from England, Wales and Scotland will still be required to self-isolate on arrival here for 14 days.
England, meanwhile, is lifting its own 14 day quarantine policy from 10 July. A list of 73 countries and territories where English holidaymakers can visit without self-isolating when they return was published by the UK Government.
Countries including Greece, Spain, France and Belgium are on the list. But countries such as China, the US, Sweden and Portugal are not - meaning everyone arriving into the UK from those destinations will still have to isolate for 14 days.
Scotland, Wales and Northern Ireland will "set out their own approach", Downing Street confirmed.
---
---
Anyone travelling to the UK from the Republic of Ireland was already exempt to quarantine rules due to the Common Travel Area.
England prepares to ease restrictions
British Prime Minister Boris Johnson has urged the public not to "blow" the progress made in tackling coronavirus when lockdown restrictions are eased across England this weekend.
He said he hoped the reopening of pubs, restaurants and hairdressers tomorrow would allow people to enjoy themselves, but in a "safe way".
However, pubs were forced to cancel post-midnight reopening events following a Downing Street announcement that regulations enforcing their closure will remain in place until 6am tomorrow morning.
Some landlords in England had planned to start pulling pints as the clock ticked past midnight.
But several hours before they were due to welcome customers, the UK government said the ban would now remain in place until later on Saturday morning.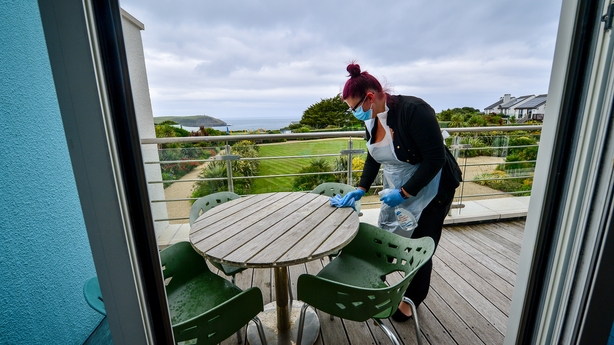 Pub owners and the Police Federation of England and Wales have since criticised the timing of the announcement.
Meanwhile the UK's first purpose-built socially distanced restaurant will open its doors to the public tomorrow.
Up to 96 guests at the St Moritz Hotel & Spa near Rock in Cornwall will be seated in 16 private dining rooms.
Staff wearing face masks serve food through service hatches in each room. This ensures diners remain in their family "bubble" and are separated from other guests and staff.
The current rate of transmission for Covid-19 in Britain remains at less than one, according to the latest figures.
The R value - the number of people each Covid-19 positive person goes on to infect - is sitting at between 0.7 and 0.9.