A top health official has warned that new Covid-19 cases in the United States could more than double to 100,000 per day if authorities and the public fail to take steps to suppress the pandemic.
Infectious disease expert Dr Anthony Fauci, a leading member of President Donald Trump's coronavirus taskforce, said the US was headed in the "wrong direction" on the pandemic.
Dr Fauci demanded that Americans wear masks and avoid crowds after lax behaviour propelled new outbreaks.
"I'm very concerned and I'm not satisfied with what's going on, because we're going in the wrong direction," he testified to a Senate committee.
Alarming spikes in new cases in two southern hotspots - Texas and Florida - are driving the daily national total of new cases to over 40,000 per day, and they need to be stamped down quickly to avoid dangerous surges elsewhere in the country, Dr Fauci stressed.
"We are now having 40-plus thousand new cases a day," the director of the National Institute of Allergy and Infectious Diseases told the Senate health and education committee.
"Clearly we are not in total control right now. I would not be surprised if it goes up to 100,000 a day if this does not turn around. And so I'm very concerned."
The dire messaging reinforced concerns about the US ability to rein in a pandemic that has claimed some 126,000 American lives.
The testimony comes as the US was left off the list of 15 countries to which the European Union will open its borders from 1 July.
It is the world's hardest-hit nation, with more than 2.6 million infections, and is grappling with how to assure a safe reopening of schools in the coming months.
Dr Fauci said he believed that some US states are "skipping over some of the checkpoints" that assure safe reopenings of business and public spaces.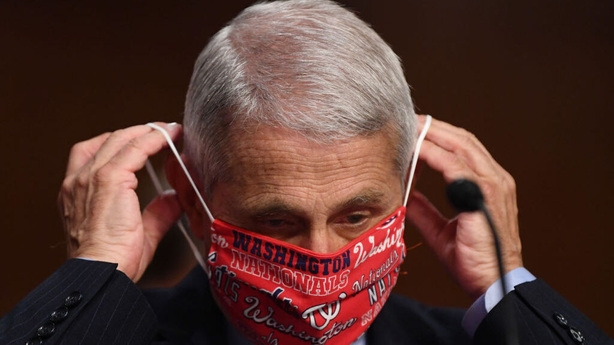 He also offered a blunt message to the nation's young adults who have engaged in "dangerous" behaviour including congregating in bars, not wearing masks, and not following social distancing guidelines.
"I think we need to emphasise the responsibility that we have, both as individuals and as part of a societal effort to end the epidemic, that we all have to play a part in that," Dr Fauci said.
He declined to predict a figure for the expected number of deaths in the US from the pandemic but said it is going to be "disturbing".
---
---
There have been at least 126,000 deaths from Covid-19 in the United States.
Latest figures show the US recorded at least 42,000 coronavirus infections in the last 24 hours, according to Johns Hopkins University.
Four states - Arizona, California, Florida and Texas - account for about half of the new cases.
The latest infections bring the total number of cases in the US to nearly 2.6 million, according to the Baltimore-based institution.
However, the number of daily US deaths continues to decline, with 355 fatalities in the last 24 hours.
Several state governors have been forced to reimpose lockdowns on businesses such as restaurants and bars, though the White House blames the rise in cases to record levels largely on expanded testing and not community spread.
Meanwhile, Ambassador Nicholas Burns, a foreign policy adviser to presumed US Democrat election candidate Joe Biden, said there has been insufficient global coordination in relation to the search for a Covid-19 vaccine.
Speaking on RTÉ's Today with Sarah McInerney, Mr Burns said there should be collaboration on how the vaccine would be distributed equitably among the world's population.
Trump told 'wear a mask' by Republican senator
The head of the US Centers for Disease Control and Prevention, Robert Redfield, sounded the alarm about rising trajectories in several jurisdictions, including Covid-19 hospitalisations rising in 12 states, and said it was "critical" that every American takes personal responsibility and "embraces the use of face coverings."
But the chairman of the panel, Republican Senator Lamar Alexander, also pointed the finger at President Trump, saying he had the power to end politicisation of mask-wearing that suggests "if you're for Trump, you don't wear a mask. If you're against Trump, you do."
"That's why I've suggested that the president occasionally wear a mask," Mr Alexander said.
"The president has plenty of admirers, they would follow his lead," he added. "It would help end this political debate."
Mr Trump, who refuses to wear a mask at public events and in the past has mocked his rivals for wearing them, has signalled he wants to move on from the coronavirus crisis and focus on his re-election campaign.
Democrats including his rival, Democrat Joe Biden, have attacked the president for lack of leadership on pandemic mitigation.
Australia reimposes virus restrictions
The Australian state of Victoria has introduced the country's first lockdown measures specifically targeted at local suburban areas after a spike in coronavirus cases in Melbourne, the nation's second largest city.
The new curbs come even as two other Australian states looked to ease domestic border restrictions with other parts of the country where the virus has largely been contained.
Victorian Premier Daniel Andrews said people in ten affected postcodes around Melbourne must stay home unless they are travelling for work, school, exercise or food for a period of four weeks.
Cafes and restaurants would need to revert to takeaway only, just weeks after they returned to seated diners.
The northern state of Queensland said it would reopen its border to the rest of the country from 10 July while keeping out arrivals from Victoria.
Victoria has reported double-digit daily increases in Covid-19 infections for each of the past 14 days, while most other states report zero or low single-digit increases.