Europe has seen a surge of Covid-19 cases since countries began easing restrictions aimed at curbing the spread of the potentially fatal virus, the World Health Organization said.
"Last week, Europe saw an increase in weekly cases for the first time in months," the WHO's regional director for Europe Hans Kluge told reporters.
He said more than two dozen countries in Europe had seen resurgences of the deadly virus.
"Thirty countries have seen increases in new cumulative cases over the past two weeks.
"In 11 of these countries, accelerated transmission has led to very significant resurgence that if left unchecked will push health systems to the brink once again in Europe," he warned.
Mr Kluge did not identify the countries by name, nor provide detailed numbers.
Germany, which began easing measures about seven weeks ago, is however one such country that has suffered a major setback.
On Tuesday, it reimposed lockdowns on more than 600,000 people in two districts in the western part of the country after an outbreak at a slaughterhouse infected more than 1,500 workers.
Portugal also imposed new restrictions in and around its capital on Tuesday.
Mr Kluge noted that the European region was reporting a decreasing proportion of global cases than earlier in the year, as the pandemic hits the Americas with full force, but Europe continues to report close to 20,000 new cases and over 700 new deaths daily.  
Mr Kluge, meanwhile, singled out Poland, Germany, Spain and Israel for their swift responses to outbreaks in schools, coal mines, and food production settings in recent weeks.
"Where new clusters of cases appeared, these have been controlled through rapid and targeted interventions. This is very good news," he said.
1,000 troops deploying to Melbourne over virus outbreak
Australia's military has announced it will send 1,000 troops to Melbourne in an effort to help contain the country's only significant coronavirus outbreak over fears of a second wave.
Victoria state has seen a spike in Covid-19 cases, recording almost 150 new infections over the past week as new clusters have emerged in Melbourne.
Authorities recorded at least 37 cases in the last 24 hours - the highest national total since mid-April.
While the numbers remain small compared to global tallies, the outbreak has rattled Australia, which has been rolling back restrictions after successfully curbing the virus spread.
Defence Minister Linda Reynolds said today that 1,000 troops would be deployed to Victoria "in the coming days".
Up to 850 Australian Defence Force personnel will help monitor returned international travellers being held in hotel quarantine while about 200 others will provide logistical and medical support to Covid-19 testing facilities, she added.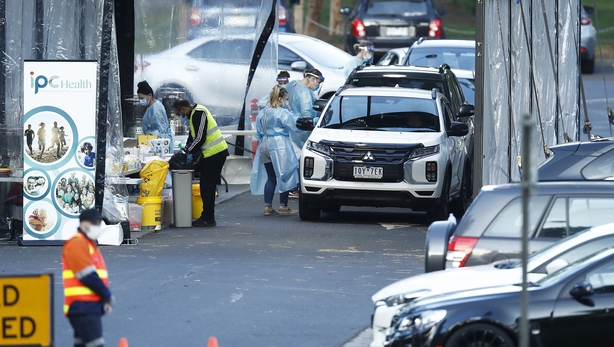 Military personnel are already manning the borders of states that are closed to outside visitors, as well as providing planning support to health and emergency management services, including in Victoria.
However, the deployment of such a large military contingent to a major Australian city is unprecedented in the coronavirus crisis.
It comes as concern ramps up in Melbourne, with additional pop-up testing centres set up in virus "hot spots" and supermarkets reimposing buying limits amid fears of a return of panic-buying.
Virus clusters have emerged in large family groups spread across the country's second city, at a hotel used for quarantining returned travellers and at a clothing store.
Victoria state Premier Daniel Andrews said 1,000 workers were going door-to-door urging residents in the worst-affected areas to get tested, with hopes of testing 100,000 people in ten suburbs over ten days.
Australia has recorded roughly 7,500 cases of coronavirus and 104 deaths in a population of 25 million, with several regions believed to be effectively virus free.
---
---
Brazil registers new jump in virus cases
Brazil registered 42,725 cases of the coronavirus in the past 24 hours, the health ministry said, as experts warned the country was exiting lockdown too soon.
Brazil, which has seen more pandemic deaths than any country except the United States, also reported 1,185 deaths in the past 24 hours, bringing its total death toll to 53,830.
The jump in infections was the second-highest in a single day in Brazil since the start of the pandemic.
However, officials said the record - 54,771 cases, on 19 June - was due to system backlogs that had led to under-reporting for previous days.
Brazil now has nearly 1.2 million infections in total.
Experts say under-testing in the country of 212m people means the real numbers are probably much higher.
The Pan American Health Organization's head of communicable diseases, Marcos Espinal, urged Brazil to carry out more tests.
The health ministry later said it would start testing 100% of even mild suspected cases in the public health system.
Despite the ongoing surge in infections and deaths, many states in Brazil are pressing ahead with plans to reopen their economies after months of painful stay-at-home measures to contain the virus.
But many experts have warned it is too soon.