Stephen O'Sullivan has taken his final pandemic portrait.
With restrictions easing further from Monday, he is looking forward to returning to his work as a wedding photographer, but he certainly hasn't been idle over the last few months.
Gordon and Louise McNamara and their two children, Marnie and Gwen, were the 108th family to pose for Stephen, who has been taking socially distanced portraits during the pandemic.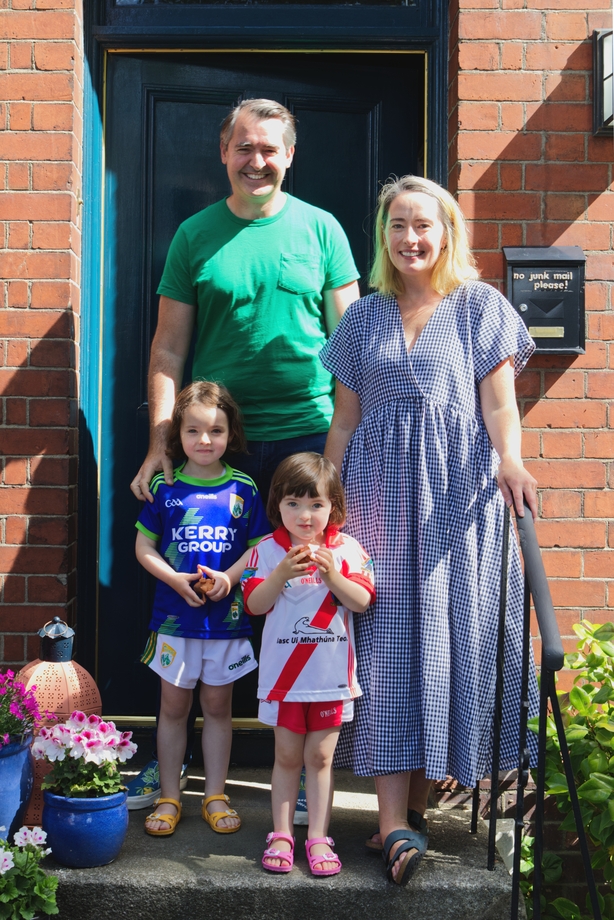 "In the flick of a switch everything just ground to a halt and I really missed getting out and taking people's photos, having the craic and meeting people.
"So I said I would do a project to document the lockdown for my own community [in Dublin 6]," Stephen explained.
Sticking to the Covid-19 restrictions, all portraits were taken from at least two metres away, with people usually posing on their doorsteps or in their gardens.
Initially, Stephen only visited homes within 2km of his home, and later 5km, and he always offered subjects two photos, a 'normal one' and a 'lockdown one', where they were asked to hold items without which they could not have survived restrictions.
For Gordon and Louise, it was their gym gear and mats.
"We found at the start [of the restrictions] we almost didn't know what day it was, but doing fitness classes on a Tuesday and a Thursday, it almost gives you a calendar," Gordon said.
"And for me, it's been the Zoom yoga classes in the morning," Louise added.
Marnie and Gwen wore furry onesies for the photo shoot.
"They're kind of dressed up as puppies," Louise explained. "Part of their coping mechanism during Covid, I think, was that they've tried to create almost this other reality for themselves, and so they're puppies now!"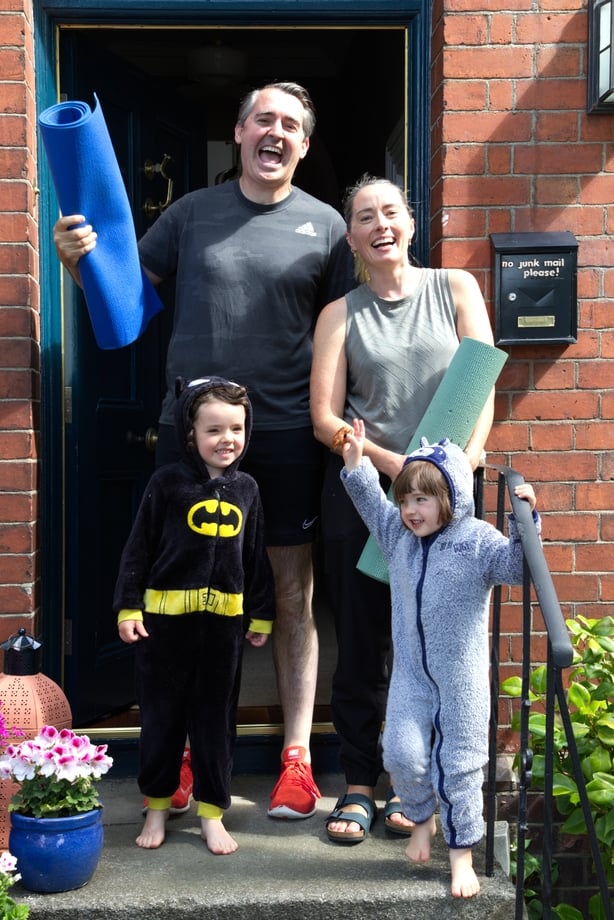 The family agreed that these portraits are something they'll treasure in future years.
"These are life-changing times that you go through and to have it documented like this is brilliant ... when Gwen and Marnie grow up a little bit, they can look back and go, 'what was that all about?'" Gordon said.
Stephen found that all of his 108 subjects really embraced the project.
"I wasn't sure how it was going to work at the start, until we did one or two and people really got into the spirit of things, they really got their lockdown gear out."
One of his favourite photo shoots of the pandemic was his first.
"When I asked if they wanted a lockdown shot, the Dad arrived out with a face mask on, the Mam had a mixing bowl, and the kid had a massive tuba and I knew when I took that shot ... this is going to be something a bit special," Stephen recalled.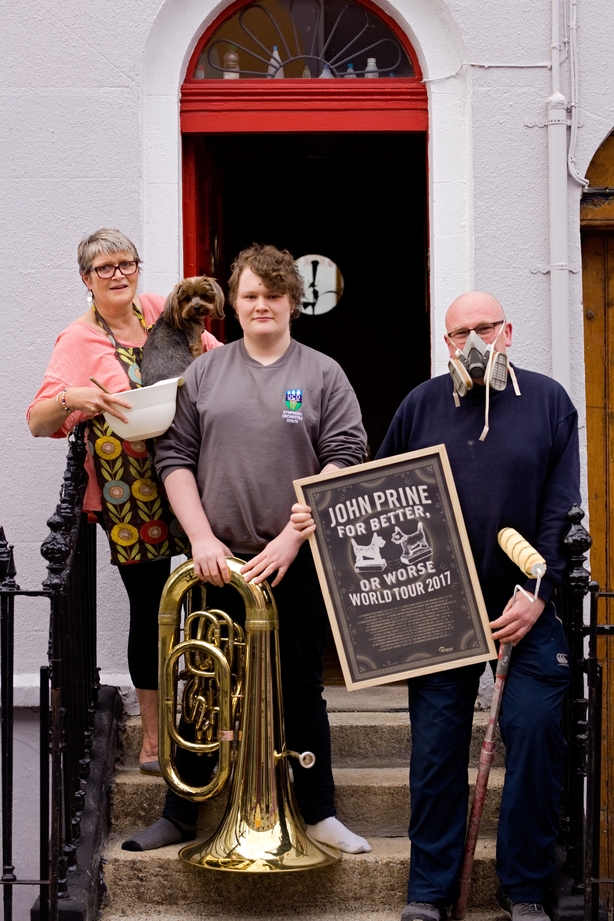 Stephen is not the only photographer to have embraced socially distanced portraits.
Katie Kavanagh, of Katie Kav Photography, coined the phrase 'Doortraits', the name she gave to her project of pandemic portraits in Dublin 8.
"I've kind of always had a bit of an obsession with doors around Dublin ... and we were about six weeks into lockdown and I was sitting on the sofa with my husband one night and I said, 'I think I'm going to see if anyone wants a portrait at their front door'," she said.
One community Facebook message later and Katie was informed that all of the residents on her street wanted to take part.
"I was like, there's around 80 houses on this road, how am I going to do them all on a Sunday afternoon, but I went out, and for anyone who wanted one I did a 'doortrait', and it kind of snowballed from there," Katie explained.
The project led to her capturing some very special moments, including an engagement.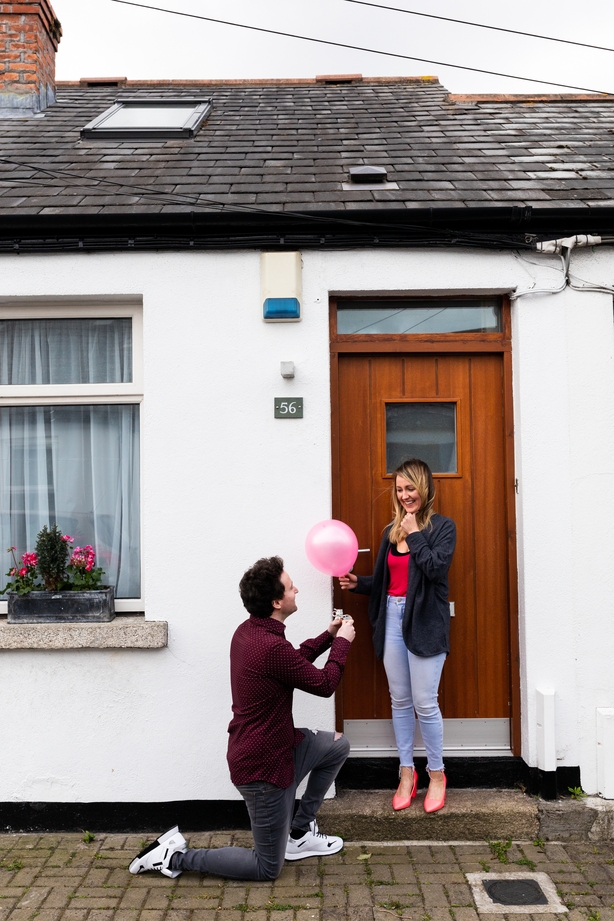 "The couple, they just live around the corner ... it was her birthday and she thought it was a birthday celebration picture and he got down on one knee, it was lovely," Katie said.
"I met lots of newborn babies ... people who are pregnant, older people who have been in Dublin their entire life, it's been brilliant."
Katie also used the project as a fundraiser, raising almost €4,000 on a GoFundMe page for Purple House Cancer Support in Bray.
"They have provided excellent support for my nephew. Sadly his cousin passed away last year from a brain tumour, so they have provided counselling support in the form of art therapy ... and after lockdown they continued it on through Zoom which has been brilliant," said Katie.
While many portraits have been snapped with people posing in front their homes or on their porches, music photographer Ruth Medjber was drawn to capturing people in their windows at dusk.
"The evening time is normally when I start shooting anyway, the bands would be going on stage at around 8pm or 9pm, so that's when I'm used to getting up and going."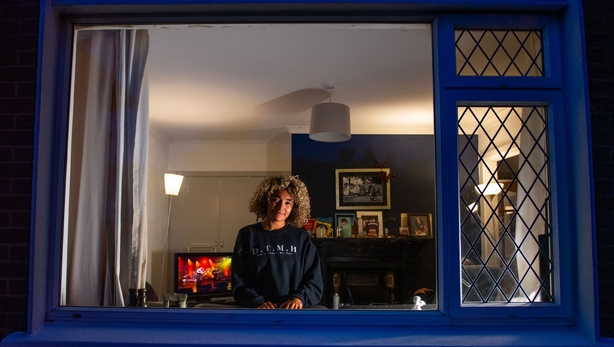 Ruth was sitting at her desk, looking out her window when she noticed her neighbours turning on their lights as evening drew in and that was the inspiration for her new project.
"Looking into people's houses was really interesting to me, because I live alone and I think anyone else who lives alone during this time would agree that it was immensely lonely at the beginning, so I just had this absolute desire to talk to people and connect with people," Ruth explained.
"The response was overwhelming. Hundreds of people emailed me going, 'I'm in your area, I'm in your 2km, I'm in your 5km, can I be part of this?'"
Ruth's photographs have been picked up by CNN, and a book of her images, 'Twilight Together - Portraits of Ireland at Home', is to be published in November.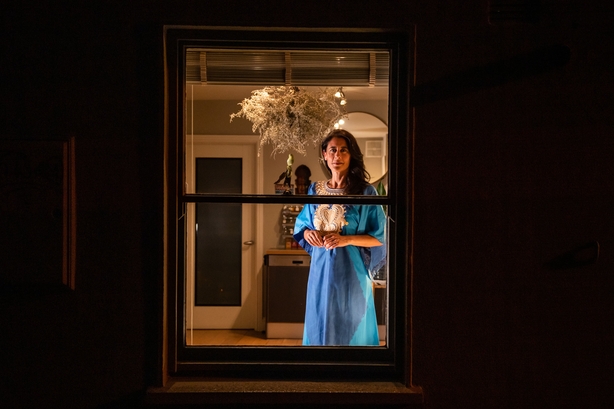 "At the beginning, I opened it up to absolutely everybody who was in my area, there was a lot of Finglas and Marino and Drumcondra,
"Then I noticed how big this project was becoming and it was important to me to have a good representation of everybody in Ireland in 2020," Ruth said.
In recent weeks, Ruth has been permitted to travel beyond the 20km due to the journalistic nature of her work.
"I'm travelling to Clifden in Conamara, and Waterford and Cork, just to feature people because it shouldn't just be a Dublin project, it should be an Ireland project," she said.
"But of course, there are no hotels open, so I am driving down, doing the pictures at twilight and driving back up."
The project features couples who have just had a baby, couples who were photographed on the day their wedding should have taken place, single people, families, people who live in houses and those who live on house boats, a man who has been issued with a deportation order and some of those involved in the Black Lives Matter protests.
"So I want whoever is looking at the book to remember everything that has happened in these past few months, it's like a little time capsule," she said.