German Chancellor Angela Merkel's government is seeking to ban big events until at least the end of October over fears of renewed transmission of the coronavirus, according to an official draft seen by AFP.
Berlin also plans for schools to return to normal operations after the summer holidays.
However, recommendations for social distancing and mask wearing in shops and on public transport will stay, according to the document to be discussed by Chancellor Merkel and premiers of Germany's 16 states later today.
---
---
Coronavirus leaves more Americans dead than WWI
With 740 new coronavirus deaths in 24 hours, the United States has seen more people die from the pandemic than died in World War I, according to a tally by Johns Hopkins University.
The new figure brought the country's total Covid-19 deaths up to 116,854, the tracker from the Baltimore-based university showed.
The increase came after two days of death tolls under 400.
And 23,351 new cases in the same 24-hour period brought the total US count up to 2,134,973, making it by far the hardest-hit of any country in the world.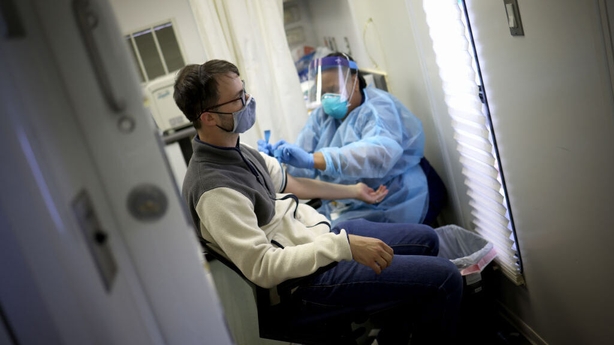 The country's pandemic death toll had already passed that of its soldiers in the Vietnam War in late April.
The United States, where many businesses are reopening, continues to register around 20,000 new cases of the novel coronavirus each day.
Several states are even recording their highest levels of new cases since the start of the pandemic.
The administration of US President Donald Trump, who has downplayed risks of the virus and instead focused on reviving the economy as he faces a tough re-election battle in November, insists there will be no shutdown of the economy if a second full-blown wave of the epidemic arises.
Federal Reserve Chair Jerome Powell, meanwhile, warned that the US economy is unlikely to recover as long as "significant uncertainty" remains over the course of the pandemic.
Mr Trump has come under scrutiny for an upcoming campaign rally in Tulsa, Oklahoma - his first since March when the pandemic halted mass gatherings. It is so far planned for an indoor arena that holds about 20,000 people.
The United States also agreed to keep its borders with Mexico and Canada closed until 21 July, officials said yesterday, extending travel restrictions for a third time due to the pandemic.
India coronavirus death toll sees record increase
India's official coronavirus death toll increased by more than 2,000 to reach 11,903 as Germany advised its nationals to consider leaving the country because of growing health risks.
Mumbai revised its toll up by 862 to 3,165 because of unspecified accounting "discrepancies", while New Delhi saw a record jump of more than 400 deaths, taking its total to more than 1,800.
It was not immediately clear how many of the deaths had occurred in the past 24 hours and how many were from adjustments over a longer period.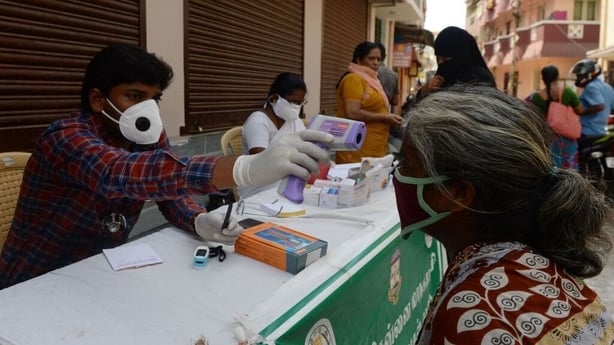 The pandemic has badly hit India's densely populated major cities and Chennai ordered a new lockdown from Friday because of a surge in cases.
Elsewhere, lockdowns are gradually being eased because of the damage they have caused the economy.
India, the fourth-worst-hit country in the world by cases, has now recorded 354,065 cases, according to official figures.
Beijing cancels flights, shuts schools over new virus outbreak
Beijing's airports cancelled more than 1,200 flights and schools in the Chinese capital are closed again as authorities rushed to contain a new coronavirus outbreak linked to a wholesale food market.
The city reported 31 new cases today while officials urged residents not to leave Beijing, with fears growing about a second wave of infections in China, which had largely brought its outbreak under control.
Tens of thousands of people linked to the new Beijing virus cluster - believed to have started in the sprawling Xinfadi wholesale food market - are being tested, with almost 30 residential compounds in the city now under lockdown.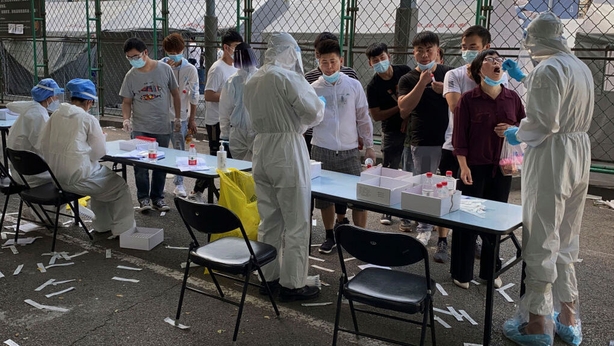 At least 1,255 scheduled flights were cancelled this morning, state-run People's Daily reported, nearly 70% of all trips to and from Beijing's main airports.
The outbreak had already forced authorities to announce a travel ban for residents of "medium or high-risk" areas of the city, while requiring other residents to take nucleic acid tests in order to leave Beijing.
Meanwhile, several provinces were quarantining travellers from Beijing, where all schools, which had mostly reopened, have been ordered to close again and return to online classes.
"The epidemic situation in the capital is extremely severe," Beijing city spokesman Xu Hejian warned yesterday.
Officials have closed 11 markets and disinfected thousands of food and beverage businesses in Beijing after the outbreak was detected.
The city has now reported 137 infections over the last six days, with six new asymptomatic cases and three suspected cases today, according to the municipal health commission.
An additional two domestic cases, one in neighbouring Hebei province and another in Zhejiang, were reported by national authorities, while there were 11 imported cases.
New Zealand military to oversee borders
Prime Minister Jacinda Ardern ordered the military to oversee New Zealand's borders after a quarantine slip-up that allowed Covid-19 back into the country.
A 24-day run with no new cases was broken yesterday when it emerged two women who recently arrived from Britain were allowed out of quarantine early without being tested for the virus, even though one had mild symptoms.
Ms Ardern said it was "absolutely nonsensical" they were not tested earlier and it was clear border controls needed to be tightened to ensure similar failures were not repeated.
She said assistant chief of defence Digby Webb had been appointed to oversee border quarantine operations and was being given access to military personnel and logistical expertise.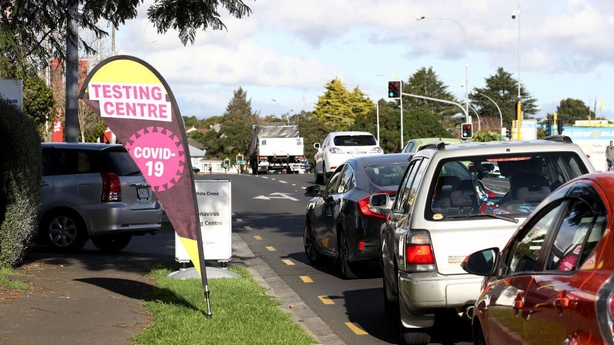 She also suspended the programme that allowed the women to be released early from quarantine on compassionate grounds, saying New Zealand's successful virus response could not be undermined.
She stressed that the women, who were visiting a dying relative, had done nothing wrong and complied with health protocols at all times.
The women remain in isolation as health officials scramble to test about 320 people they had contact with while in New Zealand.
Meanwhile, Australia is unlikely to reopen its border to international travellers until next year but will look to relax entry rules for students and other long-term visitors, Trade Minister Simon Birmingham said.
Mr Birmingham said a quarantine rule for returning citizens could be applied to international students and other visitors who plan to stay for a long period of time.
The return of international students will be a boost for universities facing big financial losses with the border closed as international education is Australia's fourth-largest foreign exchange earner.
Australia has had more than 7,300 cases of the coronavirus and 102 people have died from Covid-19 and recorded its biggest daily rise in new infections in more than a month today, with the most of them in Victoria.
Victoria reported 21 new cases overnight, of which 15 are returned travellers in quarantine, taking the total tally for the day to 22 cases, with some states yet to report their data.
Peru's coronavirus deaths surge past 7,000

Peru's health ministry said that the nation's coronavirus death toll had reached 7,056, the third-highest in Latin America after Brazil and Mexico.
Officials said the number of confirmed cases is now beyond 237,000 in Peru, which has been under a nationwide lockdown for three months.
Nevertheless, Health Minister Victor Zamora told reporters that the number of new cases has begun to decrease.
Peru's healthcare system is on the verge of collapse, with more than 10,000 Covid-19 patients in hospitals.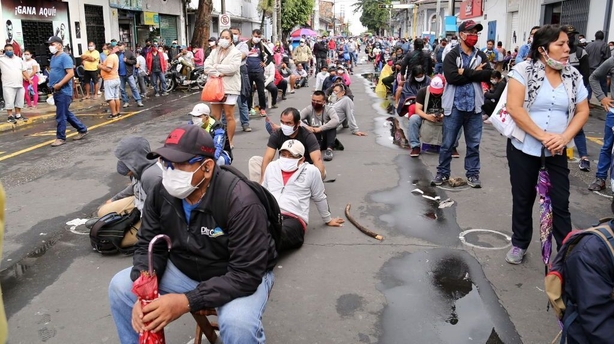 Around 70% of Peru's cases have been reported in the Lima metropolitan area, home to a third of the country's population.
The death toll includes more than 200 inmates who caught the disease in Peru's overcrowded prisons, at least 170 police officers working to enforce curfews and border closures, and more than 50 medical personnel, according to official figures.
Brazil yesterday recorded its highest daily jump in new coronavirus cases since the start of the pandemic, with nearly 35,000 registered in 24 hours, the health ministry said.
Brazil now has more than 923,000 cases of Covid-19 and 45,241 have died.
Experts say under-testing in the country of 212 million people probably means the real figures are much higher.