The Chinese city of Beijing has carried out mass testing for the coronavirus after a new outbreak in the city that prompted travel warnings across the country amid fears of a resurgence of the disease.
The deadly contagion had been brought largely under control in China through strict lockdowns that were imposed early this year but have since been lifted.
But a fresh cluster linked to a wholesale food market in the capital has sparked widespread alarm and raised the spectre of a return to painful restrictions.
The National Health Commission (NHC) has reported 57 new infections, of which 36 were local transmissions in Beijing, all linked to the Xinfadi market.
Another two domestic infections were in northeastern Liaoning province and were close contacts of the Beijing cases. The 19 other infections were among Chinese nationals returning from abroad.
Liaoning was among several provinces to advise residents against travelling to Beijing due to the new outbreak - along with cities such as nearby Tianjin and several in Hebei province, which surrounds Beijing.
Some local authorities said people entering from Beijing would have to quarantine, state media reported.
In the capital, lockdowns have been imposed on a very small part of the city that includes 11 residential estates near the market which supplies most of the city's fresh produce.
---
---
The outbreak has turned the spotlight on the food supply chain, with some other markets in the city also closed.
State-run media reported that the virus was detected on chopping boards used to handle imported salmon, and that major supermarket chains had removed stocks of salmon.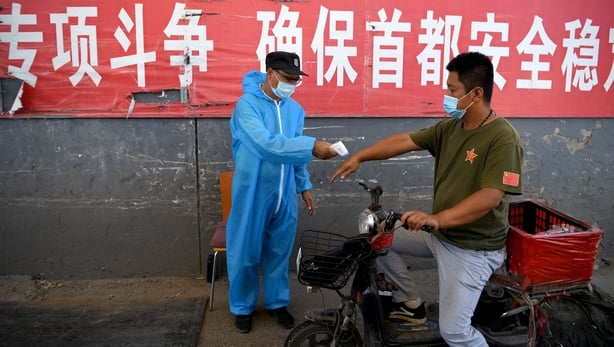 Beijing authorities ordered a city-wide food safety inspection focusing on fresh and frozen meat, poultry and fish in supermarkets, warehouses and catering services.
City authorities have closed nine schools and kindergartens near to Xinfadi, while sporting events, group dining and cross-provincial tour groups have also been stopped in a bid to stamp out this latest cluster.
The majority of cases in recent months have been overseas nationals tested as they return home, and the rest of the cases reported today were imported cases from abroad.
New infections around the world
Iran has reported over 100 new deaths in a single day from the coronavirus, for the first time in two months.
A health ministry spokeswoman announced 107 Covid-19 fatalities in the past 24 hours, raising the overall toll to 8,837.
She also announced 2,472 new cases confirmed in the past day, bringing the total infection caseload to 187,427, with over 148,000 recoveries.
Indonesia reported 857 new coronavirus infections and 43 more deaths today, taking thet otal number of cases to 38,277 and fatalities to 2,134.
In Japan, Tokyo has confirmed 47 new Covid infections, the highest since the government lifted the state of emergency nationwide in late May. Of these 47 cases, 18 were working at a club which provides male drinking companions for women.
Russia has reported 8,835 new cases of Covid-19, bringing the number of infections nationwide to 528,964.
The authorities said 119 people had died from the virus in the last 24 hours, pushing the death toll to 6,948.
There have been 407 new coronavirus cases in Singapore, taking the total number of infected people there to 40,604.
Overall, worldwide, the virus has killed at least 430,289 people since the outbreak emerged in China last December, according to a tally from official sources compiled by AFP.
At least 7,794,930 cases of coronavirus have been registered in 196 countries and territories. Of these, at least 3,513,400 are considered recovered.
The tallies, using data collected by AFP from national authorities and information from the World Health Organization, probably reflect only a fraction of the actual number of infections.