What should be a bustling weekend at UPMC Nowlan Park with the championship hurdy gurdy and all that comes with a clash of the hurling heavyweights Kilkenny and Wexford is instead serene and calm. You could almost hear the grass grow.
The Kilkenny venue, like so many more nationwide, now reflects the new realities of the Irish summer.
Instead of thousands of GAA supporters savouring big match day, the car park is now a Covid-19 test centre. The army overseeing things on one side of the ground instead of the hats, flags and headbands brigade.
But for the head groundsman, John Coogan, there is no let up.
"Business as usual, it's a strange time for myself and Kevin (McGarry) who works with me here on the ground," Mr Coogan says.
"Since the lockdown came, we've been in here maintaining the ground as good as possible under the rules we were allowed to maintain in," he explains.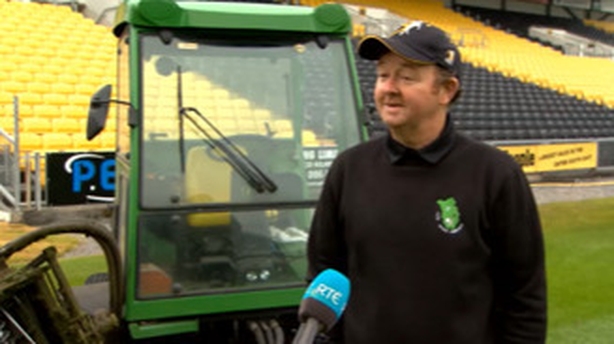 "But we were fortunate enough, I suppose, just before the lockdown came, we got a lot of our work done on the pitch - the likes of aeration, sanding and overseeing fertilisation applications so then the pitch itself was kind of in repair mode, so we were just in cutting the pitch keeping it to a proper height, making sure the nutrient levels were right, making sure moisture levels are correct and things like that."
Nowlan Park has not staged a competitive fixture since 1 March.
Kilkenny's game against Laois in the league seems a world away from where we are now, but the man who takes pride in his pitch is keen to accentuate the positives from the prolonged period of abstinence.
"The pitch is after getting a great rest, it's in super condition, hasn't been in great condition for a long time," he says, adding that the rest is "really great for grass".
"And, as you know, Covid-19 doesn't affect the growth of the grass so basically the grass keeps growing and we have to keep the proper height cut and keep it maintained as good a condition as we possibly can."
The public health emergency has severely impacted the GAA calendar and put the brakes on more than just Dublin footballers so-called Search for Six.
Nowlan Park was striving to secure its own unique three-in-a-row. For the past two years, the iconic Marble City pitch was awarded the honour of being the GAA's pitch of the year. However, 2020 is running to its own schedule - a litany of 'what ifs".
"This weekend we were supposed to have Wexford in here which would have been probably a sell-out crowd, the atmosphere would have been fantastic, Davy (Fitzgerald) rocking into town, you know," says Mr Coogan.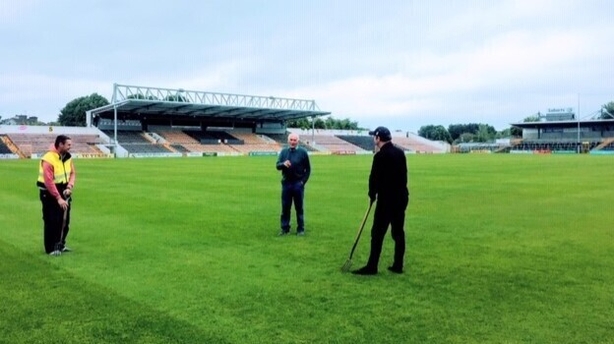 And he believes that when it does kick back into action with the club scene first, players will have "a super sod to play on".
His sentiments are shared by one of the game's all-time greats, six-time All-Ireland winner Eddie Keher.
"Wouldn't you love to have a hurl and go out and hit a few balls on it - it's fantastic and I know all the lads are bursting mad to get out and hit a few balls," he enthuses.
The Kilkenny legend appreciates the continued efforts of Mr Coogan and his colleagues.
"Nowlan Park here is absolutely fantastic and as we know it's the pitch of the year for the last two years running - but you have Thurles, Portlaoise and Tullamore all in great shape so we are looking forward to a great season of hurling even though it will be shorter than usual," says Mr Keher.
The good news for the current crop of players is that the grass is not necessarily greener down memory lane.
"In my time, in the winter time be God there could be a pile of water in front of the goal there," recalls Mr Keher. 
"But now it's absolutely fantastic," he says, adding: "When the players get out training they'll be just mad for it and I think we will still have a great championship."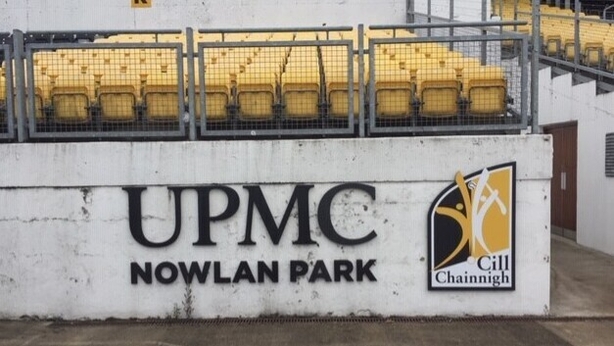 "It's never looked so well and there's even new facilities in here since last year's win, they have a fantastic watering system in here now using their own water, of course, not relying on the elements so it will be even better in the current year."
Now that restrictions are being eased, Mr Coogan can reflect with satisfaction on jobs he tackled during the lockdown, with repair work on the goal area being key.
"The goalmouths would be fairly well worn in and out throughout the year," he explains, adding that they are now in "super condition".
"Eoin Murphy (Kilkenny goalkeeper) will be very happy with that," he says, anticipating many nail-biting moments to savour as far as the Cats supporters are concerned.
"He'll have a nice sod to play on and save all those crucial shots coming in on top of him," he adds.
A reminder from the head groundsman that when it comes to a county steeped in hurling , everyone has a job to do.