Problems accessing cooking and laundry facilities have been reported by some healthcare workers availing of a temporary accommodation scheme operated by the Health Service Executive during the Covid-19 pandemic.
The scheme was put in place in April to assist healthcare workers who could not continue to live where they were, due to the risk of spreading Covid-19, for example if they lived with someone who was vulnerable, or if they shared accommodation with non-family members.
At the time there was a particular concern around healthcare workers who lived in Direct Provision centres and who worked in nursing homes, with both settings experiencing clusters of Covid-19.
These workers were able to apply to the scheme.
However, the Irish Refugee Council said they are aware that a number of people are facing problems around a lack of cooking and/or laundry facilities in some of the accommodation provided.
One such healthcare worker said she returns to her direct provision centre on her days off to cook food in a kitchen shared with other asylum seekers, because there are no cooking facilities where she currently lives.
"Where I am living, I don't even have a fridge...it's just a bed and a shower...so I kind of rush to the hostel [Direct Provision Centre] and make myself what I want and then I come back" she said.
Another healthcare worker who is currently living in a hotel said she finds she must hand wash her uniforms, despite advice that they should be machine washed at 60C.
"If I give them to wash the laundry they charge me around €7 for one top and maybe €9 for a bottom," she says, adding that cost is not the only problem, the other is that the hotel service takes too long.
"It takes about a day or two, and I only have like two sets of uniforms and I have to be changing every day."
Irish Refugee Council CEO Nick Henderson said these stories reflect what they are hearing from other healthcare workers who they know are availing of the scheme.
Mr Henderson says the scheme was a "vital and important initiative to break the risk of cross contamination between two very vulnerable congregated settings, nursing homes and direct provision centres... but some people have had issues around laundry, which is very important, and also accessing food."
Where healthcare workers are offered "bed and breakfast" rather than self-catering accommodation, Mr Henderson said some people have been struggling to access food on their days off work, particularly at lunch and dinner time.
Infectious disease consultant Dr Clíona Ní Cheallaigh said that while it was "fantastic" that healthcare workers had been moved out of shared bedrooms and eating spaces in direct provision centres through the scheme, she said it was "of concern" that such healthcare workers may find themselves returning to use shared cooking and eating facilities.
"The best way of stopping the spread of coronavirus is keeping as much distance as possible and minimising the amount of shared space, so certainly a lack of access to a person's own space for cooking and eating meaning that they have to share those spaces would be of concern, with healthcare workers who are then going into work in nursing homes or the healthcare facility that they are working in," Dr Ni Cheallaigh said.
"Keeping your uniforms clean is also an important part of infection control and it would be standard policy to wash one's own uniform at a fairly high temperature and that's not specific to coronavirus, that's to stop the spread of all types of infections that can spread within healthcare facilities," Dr Ni Cheallaigh added.
In a statement, the HSE said each service or local employer was "responsible for giving consideration to the necessity for the availability of food and laundry facilities in staff accommodation" and that "any healthcare worker with an inquiry... should address this with their line manager."
However Mr Henderson has described this as "inappropriate" as employers and staff managers are "very busy in the middle of a pandemic."
Two months after its initial introduction the scheme remains in demand.
According to figures provided by the HSE, 1,487 people availed of it in the week ending 21 May; 1,650 in the week ending 28 May and 1,574 in the week ending 4 June.
The Irish Refugee Council's records show that 80 healthcare workers who were living in direct provision centres applied for the scheme.
It said it is aware that 41 people were accommodated as part of the scheme, six found their own accommodation, 15 have stopped working; in two cases it said that the accommodation was deemed not to be appropriate, four applications are outstanding and in 12 cases the outcome is unknown.
But there are a number of people who had positive experiences of the scheme.
Tina Maphakela is among them.
She works as a healthcare assistant in a nursing home in Bray, where she had been living in a direct provision centre.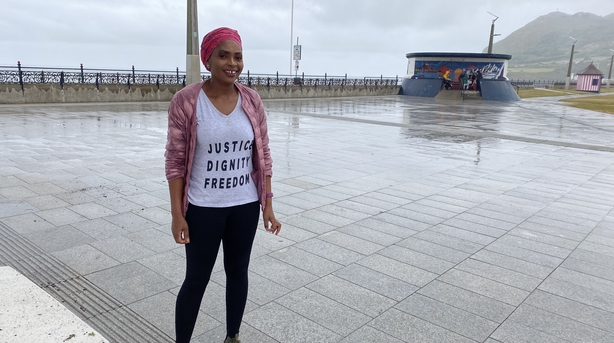 She spoke of feeling "caught in between" the nursing home and the direct provision centre when she lived there, afraid that she might be bringing Covid-19 from one place to another.
Ms Maphakela has been accommodated in a self-catering apartment under the scheme.
"I have my own space, I have got my own privacy...I have got a washing machine and I can make my own food," she said, and can now focus on her work, which she loves.
"My work needs a lot of attention...I must always have a smile...now I am a happy person," she added.
The HSE has confirmed that "there are no plans, at this stage, to cease the temporary staff accommodation scheme."
In a statement, it said "It will continue for as long as we are in a Covid-19 environment and as long as staff require it and continue to meet the criteria for access."