The Irish Prison Service has submitted a paper to the World Health Organization as a model of best practice for keeping Covid-19 out of prisons.
Currently there are 3,705 prisoners nationwide and no detainee that has been screened and tested has had a positive Covid-19 result.
So, has the Prison Service managed to keep the virus out of its settings and what can be learned from its management of Covid-19?
The Midlands Prison is the biggest in the country and it is currently housing 777 detainees and not one has tested positive for Covid-19.
The roots of this remarkable feat go back to 2017.
Instances of Tuberculosis in Irish prisons resulted in the establishment of an infection control team managed by Emmett Conroy.
When TB occurred three years ago, the Irish Prison Service introduced "a whole of prison approach to infection control".
One of the key components was education where 2,300 staff and 450 prisoners learned about infection control and had to practise what they were taught.
Through peer-to-peer learning they promoted hand hygiene techniques and coughing etiquette.
Prisoners spoke to other prisoners about making the environment safer, staff did the same with their colleagues.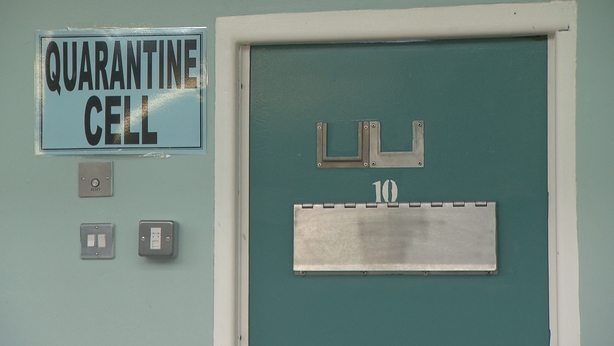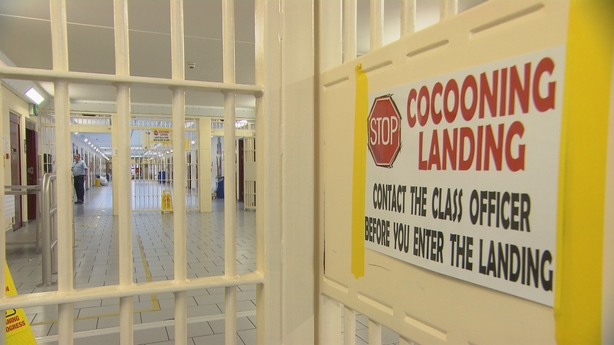 All of this was before anyone knew what was about to occur with Covid-19.
In January this year, as news of Covid-19 started to emerge, the Irish Prison Service infection control team began tracking and tracing the virus and saw the impact it was having on prison environments in other countries.
The team got to work and before Covid-19 was declared a pandemic, the IPS started sourcing Personal Protective Equipment.
Working separately from the Health Service Executive, the team mapped out the PPE requirements through a combination of Irish distributors and contacts in China.
It has had sufficient supply throughout the pandemic.
Staff were then trained how to don and doff the gear correctly. After that, it was a matter of getting prisoners on board with new practices.
That's where Ted, who is one of a number of prisoners, helped. He is a Red Cross volunteer, and he relayed information from the health authorities to the other inmates.
"What we try to do is inform people of what's going on as regards visits, hand washing techniques, social distancing and things like that," he said.
We need your consent to load this rte-player contentWe use rte-player to manage extra content that can set cookies on your device and collect data about your activity. Please review their details and accept them to load the content.Manage Preferences
The Red Cross inmates handed out leaflets, showed others how to wash their hands properly and explained how meal times would change to enable social distancing.
Detainees understand the measures are necessary, but the lack of visitors has been difficult for them.
Ted said: "Everyone knew if the virus got into the jail, it would be very bad because obviously, if you are in here for a long time your immune system is not as good as it should be anyway, so no one wanted to get the virus, but the visits were the big thing because family is everything when you are in prison.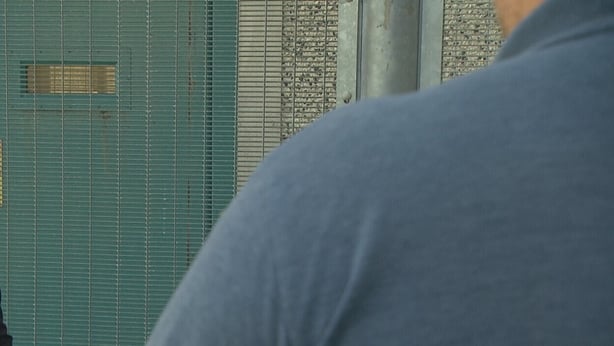 "So, being away from family, was the major thing but as time went on, we got video calls and it was all understood. It was amazing really, people understood that they had to keep this thing out of the prison and thank god they did".
Equally grateful that the virus has not entered prisons is the Clinical Director of the Irish Prison Service.
Formerly of the Department of Health, the Irish Prison Service is lucky that John Delvin has been at the helm during Covid-19.
The key to the success, he says, was the IPS contact tracing system.
"What it involves is interviewing cases at the earliest opportunity, so if anybody becomes symptomatic, on that very same day, we start contact tracing," he said. "If anyone is a potential case, they are isolated at the earliest opportunity to prevent any further spread of the infection and that applies not just to prisoners but also to staff."
The infection control team learned early on about potential hotspots in the prison, which were usually places where social distancing was difficult to maintain.
The mess, the staff canteen and car-pooling were identified as early risks.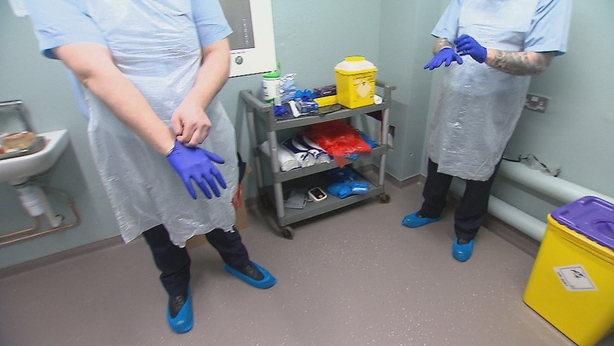 While there have been a number of positive cases among staff, it was a different story entirely for prisoners.
"To date we've investigated up to 300 incidents, two-thirds involving staff and the very positive result from our point of view is that of all of the detainees that have been screened and tested, we have not had a positive result," he says.
There's little doubt the Irish Prison Service is proud of its achievement because it is aware of how Covid-19 has affected all areas of the community.
Governor of the Midlands Prison Eddie Mullins acknowledges the changes in the prison system has had an impact on prison life and cites the lack of face-to-face meetings through education and rehabilitation.
However, video calls were introduced to replace visits, which as the governor points out has meant some prisoners can now see their homes, their back gardens and their children, which was not possible before.
That aspect is working very well, he says.
Prisons in Northern Ireland, England and South America have been in contact with the Infection Control Team for advice on how it managed to keep Covid out of prisons.
The World Health Organization's prison programme has also been in touch.
The WHO is particularly interested in the contact tracing model for other countries that are trying to ease restrictions.
It is expected to publish a paper submitted by the IPS on its methods soon.
In the meantime, a health risk assessment is under way to allow footfall to increase at prisons once again.
That footfall includes visits to detainees. The assessment will detail all the steps that will be required for visits to occur safely.
The prison service is hopeful that it will be able to announce a timetable around safe visits in the coming weeks.
"We understand the value it is for prisoners to have family visits," said Mr Devlin.
"It needs to be done with health and safety issues on board, because we want to protect prisoner population, their families, the other services that come in and our staff."