Local authorities around the country are reopening playgrounds as some of the Covid-19 restrictions that affect children are being eased.
However, there are no special cleaning regimes and parents and guardians are being asked to bring their own wipes and hand sanitisers and to supervise their children at all times.
They are also being asked to make sure they maintain two-metre physical distancing and do not put their hands to their faces.
Eamon Ceannt Park in Crumlin was one of the first parks in Dublin city to reopen its playground, and there were plenty of children enjoying themselves.
John O'Toole, from nearbhy Clogher Road, was happy to resume his regular visits with his grandsons Ben and Liam O'Rourke saying: "It's fantastic for the kids, badly needed, they've been locked for long enough".
Ben said: "I like all the kids, can have free time, run around and do what they want."
Mason Corcoran was enjoying the playground with his father. He said: "I'm happy, and it's more fun instead of sitting in and being bored. You can literally play and have fun."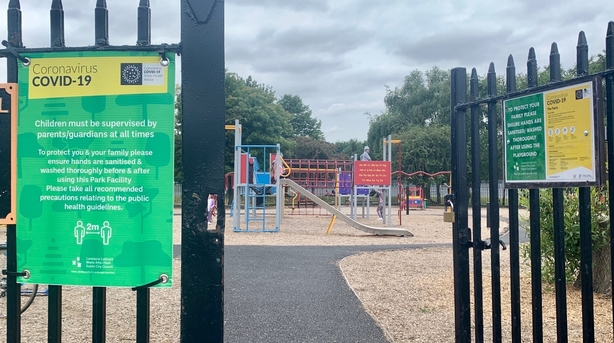 Dublin City Council says it expects all of its playgrounds will be open by the end of tomorrow.
The other Dublin councils - South Dublin, Dun Laoghaire-Rathdown and Fingal - are opening their playgrounds over the course of this week.
Kildare County Council says it reopened all of its 20 playgrounds today.
Signage is being put up around the playgrounds to remind parents and guardians of what they need to do under the new rules.
In Sligo, some playgrounds have already been open for several days and families using the Mitchel Curley Playground in the town said they were delighted to get out and enjoy the fresh air and some exercise.
Emma Flanagan was there with her daughters and said: "We've come two days in a row and we'll be here again tomorrow. It's absolutely fantastic to hear the children enjoying themselves again and screaming about the place so we're delighted."
---
---