The Minister for Health has said he is "a little bit concerned" about the uptake of the wearing of face coverings among the public.
Simon Harris said this evening there is "very clear public health advice" on this, and that if people are using public transport or going into shops or supermarkets, then they "should wear a face covering".
He acknowledged there are some people like children, and those with certain medical conditions or disabilities, who cannot wear face coverings.
However, he said "for those of us who can wear one, we really should".
Mr Harris said while the advice around face coverings is not mandatory, he said that Irish people have changed a lot of our behaviours recently that have not been mandatory and encouraged people to listen to the public health advice.
The Chief Medical Officer Dr Tony Holohan this evening said public health officials recommend that masks be worn "in retail settings, in other indoor settings, where social distancing might be a challenge and on public transport".
He said "it's an important additional hygiene measure" but it does not take the place of all the other measures in place but this can give additional protection in the situations where maintaining the other requirements might be challenging.
He reiterated the importance of putting masks on and off and cleaning them appropriately.
He said that shops and retail environments might take steps to remind people of the importance of wearing masks.
Earlier, Mr Harris warned that progress against the coronavirus is "still fragile" as Ireland moves into phase two of the plan to reopen the country.
Health authorities have appealed to people to stay local and limit the amount of people they meet.
From today, people can travel anywhere within their own county and up to 20km from home, if crossing into another county.
Outdoor exercise, cultural or social activities of up to 15 people may take place, while it is hoped many outdoor play areas will reopen. Libraries are also beginning to open again.
Up to 25 people are now able to attend funeral services.
From today, you can also meet up to six people from outside your household, indoors or outdoors.
Mr Harris has cautioned that outdoor meetings would be better and meetings indoors should be limited to around an hour.
He also appealed to people to keep the number of people they are in contact with small and added measures such as hand hygiene and respiratory etiquette are now more important than ever.
Speaking on RTÉ's Morning Ireland, Mr Harris said today is a day of hope and he wants this good day to become a good week and good months, going forward.
He said the National Public Health Emergency Team (NPHET) will review the two-metre rule in the hospitality sector over the coming weeks, on the condition that the prevalence of the virus remains low, and report back to Government, admitting there may be some settings in which the rule is hard to apply.
Minister Simon Harris has said the National Public Health Emergency Team is to review the application of the two-metre social distancing measure in the hospitality sector | Read more coverage: https://t.co/gQWGE95MG8 pic.twitter.com/9I3ivd8JPa

— RTÉ News (@rtenews) June 8, 2020
However, he stressed that two metres is "definitely better than one and is the public health advice".
Health authorities have also appealed to people to continue to observe the two-metre social distancing guidelines.
Mr Harris said he was sympathetic to the idea of barbers and hairdressers opening earlier and the industry was coming forward with good sensible suggestions on how they can reopen in a safe manner and Government will engage with industry.
Meanwhile, latest figures from the Health Service Executive show the average number of close contacts for a confirmed case of Covid-19 has risen above five.
The number was below three for the second half of April and beginning of May but rose at the end of last month. It rose above four last week and has now risen above five.
We need your consent to load this rte-player contentWe use rte-player to manage extra content that can set cookies on your device and collect data about your activity. Please review their details and accept them to load the content.Manage Preferences
---
Read:
Latest coronavirus cases
---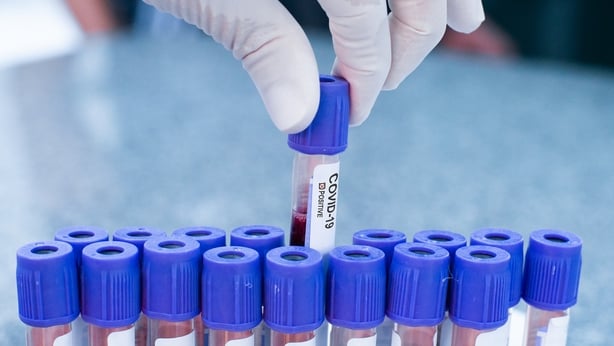 The figures show 69% of people get an appointment for a test within less than 24 hours. The average time from a swab being taken to results being available is 1.3 days. The average time taken to complete the contact tracing process is 2.7 days.
Separate figures show the number of people in hospital has continued to fall. There were 255 people in hospital with confirmed or suspected cases of Covid-19 - 122 confirmed cases and 133 suspected.
The Mater Hospital in Dublin has the highest number of confirmed cases with 31 patients. Hospitals in Waterford, South Tipperary, Kerry, Sligo, Wexford, Navan, Portlaoise and Naas had no confirmed cases.
The number of patients in intensive care has also fallen with 34 confirmed cases in ICU and 11 suspected cases.
There were no deaths in intensive care in the 24 hours up to yesterday morning.
There were 707 vacant general beds available in the hospital system yesterday and 112 critical care beds.
Yesterday was the third day in a row that the number of new confirmed cases was below 30.
Sligo, Kerry and Donegal have all gone more than two weeks without any new cases. It has been more than a week since Mayo reported a new case.
Yesterday, the Department of Health said one person who had previously been diagnosed with Covid-19 had died.
It brings the overall death toll to 1,679.
The department also said there was an additional 25 confirmed cases of the coronavirus, bringing the overall total number of cases here to 25,201.
Meanwhile, the Government has said a summer education programme for children with special needs will be similar to July programmes of previous years and confirmed that children with Down Syndrome will be included.
At the daily Government briefing, Assistant Secretary General at the Department of the Taoiseach Liz Canavan also clarified that elite athletes and teams can return to training from today but this is strictly limited to those at the highest level of their sports.
Ms Canavan said that from today the national driver licence services and NCT will begin reopening on a phased basis and offices will be subject to measures to mitigate against the spread of Covid-19.
People must make appointments in advance and walk in appointments will not be accepted and a temporary cessation of driving test remains in place.
A phased resumption of nursing home visits will begin on Monday 15 June.
The community call forum, which has operated nationally since the end of March, has received over 46,000 calls and will continue to operate from 9am to 5pm, seven days a week.
The Irish Hospice, in conjunction with the Health Service Executive, has established a bereavement support line, 1800 80 70 77, that will provide a confidential space for people to speak about their experiences and ask questions.
Ms Canavan said the current travel limits will be lifted from the end of June, assuming the country is ready to move onto Phase 3 but people are still being asked to use local amenities as much as possible rather than travelling.
She said people are being urged to shop locally, shop safely and support businesses in their communities and she urged people to be prepared for a different shopping experience.
People need to be prepared to queue, to limit their time in a shop, take note of the times reserved for older or medically vulnerable, to be patient with these new measures, and to be conscious that staff returning to work may also be anxious, she added.
People should continue to work from home where possible, to limit contacts and reduce risks as well as keeping pressure off public transport.
She said the over 70s and medically vulnerable can do everything everyone else is doing, but should use their own judgement to decide how best to apply the guidance as these groups are more at risk.
These groups are still encouraged to stay at home where they can, observe social distancing and be extra vigilant if out and about.