The Department of Health has confirmed nine more deaths from Covid-19, bringing the total death toll here to 1,678.
There have been 24 additional cases with the total number of cases here now at 25,183.
As of midnight, Thursday 4 June, detailed data from the Health Protection Surveillance Centre (relating to 25,159 cases) reveals a split of 57% female and 43% male with a median age of 48.
A total of 3,319 cases (13%) have been hospitalised with 410 of those admitted to ICU. 8,059 cases are associated with healthcare workers.
Dublin has the highest number of cases at 12,127 (48% of all cases) followed by Cork with 1,528 cases (6%) and then Kildare with 1,423 cases (6%).
Of those for whom transmission status is known: community transmission accounts for 39%, close contact accounts for 59%, travel abroad accounts for 2%.
In Northern Ireland, there was one more death from coronavirus reported today, bringing the death toll there to 537. The total number of cases in the North is now 4,790, including 14 new cases from today. 
Earlier, it was reported that there are 123 people in Irish hospitals with confirmed cases of Covid-19, down from 182 patients a week ago.
In total 346 people are in hospital with confirmed or suspected cases of the disease, compared to 370 last week. 
The Mater hospital in Dublin has the highest number of patients with confirmed Covid-19 cases. There were 31 patients with the disease in hospital there as of last night, compared to 50 a week ago. 
There were 19 confirmed cases of the coronavirus in Tallaght hospital last night and ten in Galway. 
Nine adult hospitals have no confirmed cases of the disease at all. They are South Tipperary General Hospital, Kerry, Sligo, Portiuncula, Our Lady of Lourdes in Louth, Wexford, Navan, Portlaoise and Naas in Co Kildare.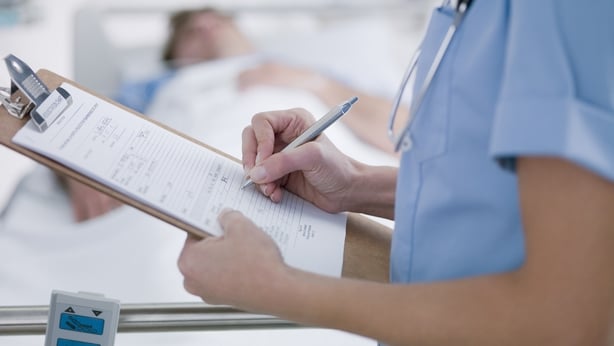 The number of people in intensive care with confirmed cases of the disease is 37, up by one from this time last week. 
There were ten people in ICU last night with suspected cases of Covid-19. 
The number of available beds in the general hospital system has also fallen significantly since last week.
There are now 737 available general beds compared to 1,179 last week. There are 103 critical care beds available, compared to 118 this time a week ago.
Data from the Central Statistics Office published yesterday shows that the number of people who have died from Covid-19 or have been diagnosed as a confirmed case fell for the sixth week in a row. 
Dublin continues to be badly hit by the disease, with 15 deaths reported in the last week. It was also the only county to record more than four new deaths each week for the past three weeks. 
There were 200 new cases diagnosed in Dublin in the week ending 29 May. This was down from a peak of 2,900 cases diagnosed in the week ending 17 April. Cork, Galway and Kildare were the only other counties to record more than 20 new cases in the week ending 29 May. 
The statistics show that 12 counties recorded no deaths in the last week and 13 recorded less than five. 
Donegal, Kerry, Leitrim, Sligo and Wexford had no new cases at all last week.
---