Doctors across Ireland say they're treating many more patients by phone or video since Covid-19 arrived. This could eliminate crowded waiting rooms as more people chose to been seen remotely.
However, President of the Irish Medical Organisation Dr Padraig McGarry said remote consultations will not replace traditional face-to-face visits with GPs.
Speaking to RTÉ's This Week, Dr McGarry said the growth in telemedicine should be seen as an additional tool to help both GPs and patients.
Three months ago a Behaviour and Attitudes survey for the Irish Medical Council found that just 4% of respondents had ever used telemedicine. Doctors predict this number will have sky-rocketed in recent weeks.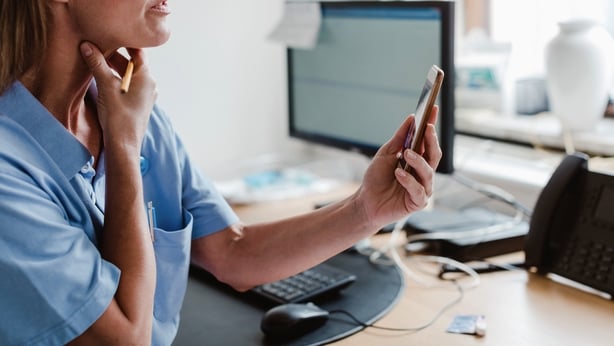 "The arrival of Covid has forced us to consider different ways of communicating with patients," Dr McGarry said.
He said it all changed overnight on 16 March when doctors started using phone and video to treat greater numbers of patients.
"It was a cold start and we had to go from 0-100 straight away."
Padraig McGarry said while telemedicine should not replace face-to-face consultations, it is probably here to stay.
"It's something that perhaps we should have been doing all along, and I think it's certainly something that we will be doing in the future," he said.
Tadhg Crowley a GP at Ayrfield Medical Practise in Kilkenny is also seeing more patients by phone and video.
"It's another tool in the bag to help GPs cope with already busy surgeries," he told This Week.
The nine doctors in the Kilkenny practice have found that remote consultations have better outcomes where the doctor and patient know each other.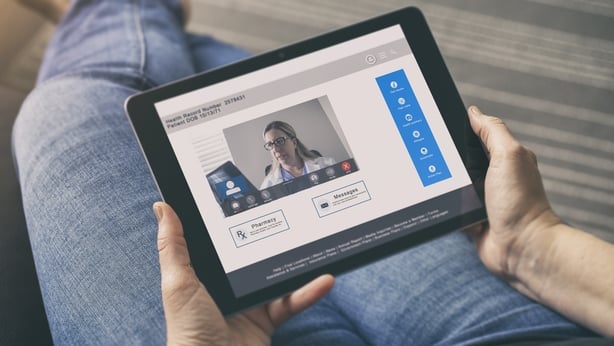 So how does telemedicine work?
When a patient calls their GP they are triaged over the phone. This means they are sorted into different categories depending on whether they have respiratory symptoms or not, and whether they need to be seen in person.
"I know I have a video consult in an hour's time. My phone texts me to say the patient is on line waiting for me and you just click on. The technology is very good at the moment," said Dr Crowley.
But doctor visits by phone or video don't suit all cases. Dr Crowley says it's not possible to pick up subtle signs or cues from a patient who may be suffering with their mental health.
Dr Padraig McGarry says that it can also be difficult to interpret video images as he discovered when a patient presented with a rash.
"I couldn't quite get it, so I asked the patient to come in. As it turned out it was an atypical type of shingles. So the video may not be as useful in that regard."
So how have patients taken to phone and video consultations with GPs and specialists?
One patient attending University Hospital Galway who recently switched from physical visits to telephone appointments told This Week he was pleased with the outcome.
"It saved me the bother of travelling, hanging around in a hospital and wasting every ones valuable time," he said.
A patient who travels to Roscommon University Hospital for appointments also appreciated her telephone consultation.
"Otherwise I would have to drive to Roscommon just to talk with him. I saved about two-and-a-half hours. If there is nothing going on that you need to show the doctor, consultation over the phone is fine for me."
But visiting your doctor remotely is not for everyone. Mary who is recovering from hip surgery said she still needs to travel the two hours from Leitrim to Galway to see her orthopaedic specialist.
"I also prefer face-to-face. I don't really like using WhatsApp or videos or Zoom," she said.
Video consultations are dependent on strong broadband. Dr McGarry says poor broadband shows up inequality.
"If you're in the middle of a consultation and your link goes down, it would put you off using that medium again."
President of the Irish Medical Council Rita Doyle is surprised at how well phone consultations have gone since Covid-19 arrived. But the Bray GP stressed that remote consultations should not replace the traditional visit to the doctor's office.
"I'm a long time at this business and I love the face-to-face patient contact. For GPs I think that still has to be the centre of what we do."
The recent Behaviour and Attitudes survey for the Irish Medical Council survey covers just a very small sample of users. But among those who had used telemedicine it found most had sought a remedy for cold or flu symptoms (32%) or a repeat prescription (38%).
An IMC working group is currently looking at what online doctors - some of which are based abroad - are prescribing to patients here. Ms Doyle says the group may recommend a ban on certain practices.
"I'm talking about the consumer type telemedicine. I feel very strongly it should not be prescribing any kind of addictive drugs like sleeping tablets or Benzodiazepines or opiates. I just think it's too dangerous."
Despite its limitations, Dr Crowley believes remote visits will help eliminate crowded waiting rooms.
"I think culturally and socially, it will be unacceptable to have large waiting rooms full of people. People won't want it. They'll be looking at other types of consultations with doctors and the onus is on the GPs to provide that."