A security flaw in Qatar's controversial mandatory coronavirus contact tracing app exposed sensitive information of more than one million users, rights group Amnesty International has warned.
The glitch, which was fixed on Friday after being flagged by Amnesty a day earlier, made users' ID numbers, location and infection status vulnerable to hackers.
Privacy concerns over the app, which became mandatory for residents and citizens on pain of prison from Friday, had already prompted a rare backlash and forced officials to offer reassurance and concessions.
Users and experts had criticised the array of permissions required to install the app including access to files on Android devices, as well as allowing the software to make unprompted phone calls.
Despite insisting the unprecedented access was necessary for the system to work, officials said they would address privacy concerns and issued reworked software over the weekend.
Like other countries, Qatar has turned to mobiles to trace people's movements and track who they come into contact with, allowing officials to monitor coronavirus infections and flag possible contagion.
"The Ehteraz app's user privacy and platform security are of the utmost importance," Qatar's health ministry said in a statement.
"A comprehensive update of the app was rolled out on Sunday May 24 with expanded security and privacy features for all users."
But Etheraz, which means "Precaution", continues to allow real-time location tracking of users by authorities at any time, Amnesty said.
"It was a huge security weakness and a fundamental flaw in Qatar's contact tracing app that malicious attackers could have easily exploited," said Claudio Guarnieri, head of the group's security lab.
"The Qatari authorities must reverse the decision to make use of the app mandatory," he said.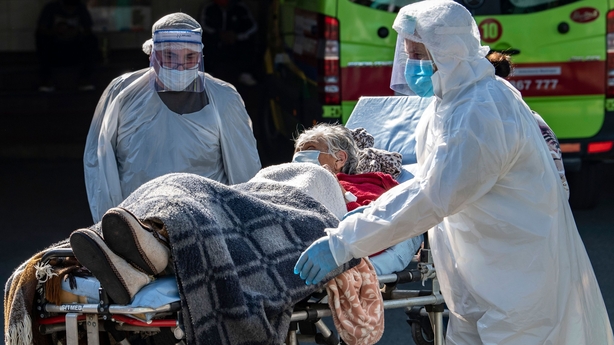 Chile sees record virus cases as ministers quarantine
Chile has registered a new high for coronavirus cases, with nearly 5,000 infections in 24 hours, including two ministers in President Sebastian Pinera's government.
Health authorities announced 4,895 new infections in the South American country and 43 deaths.
Public Works Minister Alfredo Moreno and Energy Minister Juan Carlos Jobet said they were among those with the disease.
"I have been informed that the Covid-19 test I had a few days ago was positive," Mr Moreno said on Twitter, adding that he had no symptoms so far.
The 63-year-old minister had placed himself in quarantine after one of his staff tested positive.
Mr Jobet also tested positive after starting to quarantine preventatively on Saturday. The 44-year-old minister "has had no direct contact with President Sebastian Pinera or other cabinet members in recent days," a government statement said, without specifying how he became infected.
Three other ministers, who had self-quarantined after being in contact with infected people, all tested negative and resumed work.
Chile suffered a surge in infections last week, prompting the government to order the lockdown of Santiago.
The capital is the main focus of the pandemic in Chile, with 90% of the country's 74,000 cases.
Last week, the Senate was closed after three senators tested positive for the coronavirus. Sessions were held by video conference.
---
Read more: Latest coronavirus stories
---
US coronavirus death toll rises by 532 in past 24 hours
The US coronavirus death toll has risen by 532 over the past 24 hours, the Johns Hopkins University tracker said.
After that relatively small increase, the US toll now stands at 98,218 lives as of 8:30 pm, according to the Baltimore-based university, and US cases of infection now number 1,662,375.
Both are the highest anywhere in the world.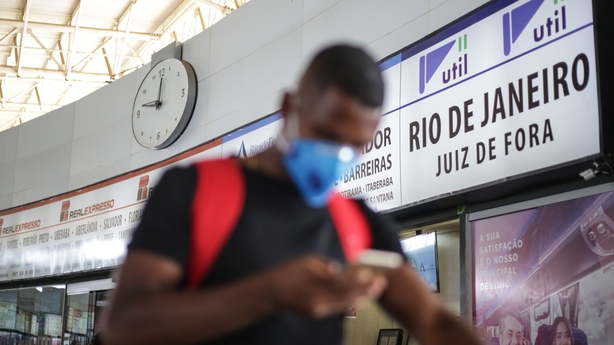 Brazil stands by hydroxychloroquine despite WHO
Brazil's health ministry said it would not change its recommendation to treat coronavirus with hydroxychloroquine, despite the World Health Organization deciding to suspend trials of the drug over safety concerns.
Like his US counterpart Donald Trump, Brazilian President Jair Bolsonaro has touted the supposed benefits of hydroxychloroquine and a related drug, chloroquine, against the new coronavirus.
Studies, however, have questioned their safety and efficacy against the disease, including one published Friday in respected medical journal The Lancet that found the drugs actually increased the risk of death.
That led the WHO to suspend a worldwide clinical trial of hydroxychloroquine as a COVID-19 treatment yesterday.
"We're remaining calm and there will be no change" to the Brazilian guideline issued last week, a health ministry official told a news conference.
The guideline recommended doctors in the public health system prescribe either chloroquine or hydroxychloroquine from the onset of Covid-19 symptoms.
It was issued shortly after the resignation of former health minister Nelson Teich, who reportedly quit over Mr Bolsonaro's insistence on pushing the drugs despite a lack of solid evidence.
He was Brazil's second health minister in less than a month.
Brazil, the Latin American country hit hardest by the pandemic, has emerged as the latest flashpoint, with nearly 375,000 cases - the second highest in the world, after the US - and more than 23,000 deaths.
Experts say under-testing means the real figures are probably far higher.
Hydroxychloroquine is typically used to treat autoimmune diseases, while chloroquine is generally used against malaria.
Germany wants to end travel warning for 31 European countries - report
The German government wants to end a travel warning for tourist trips to 31 European countries from 15 June if the coronavirus situation allows, according to German media.
Reports said a paper on European tourism that may be agreed by the cabinet tomorrow showed the government wanted to allow travel to the 26 other European Union nations and Britain as well as the four non-EU countries in the Schengen passport-free zone - Iceland, Liechtenstein, Norway and Switzerland.
On 18 May, Foreign Minister Heiko Maas said Germany was hoping to ease a travel warning on all tourist trips abroad that is in place until 15 June.