The newly reopened market in Galway city was forced to close early due to concerns over social distancing.
Galway City Council said that following the advice of gardaí, St Nicholas' Market was shut down, but will reopen tomorrow for food traders.
However, the council said it will only stay open subject to compliance with social distancing by the public, and if any issues arise it will be closed immediately.
The operation of the market and how it might operate safely will be reviewed in the coming days by Galway City Council in consultation with gardaí.
Director of Services Gary McMahon said there were 16 stalls in operation, but traders were concerned about public health and safety when crowds started to form at queues and people were standing around chatting instead of making their purchases and moving on.
The market had opened as part of Phase One of the lifting of Covid-19 restrictions, with farming and food related businesses the first traders to return. Other traders are to follow in later phases.
Strict safety restrictions were in place to protect the public and staff with extra space allocated for public access.
Stalls were set up further apart to allow for social distancing.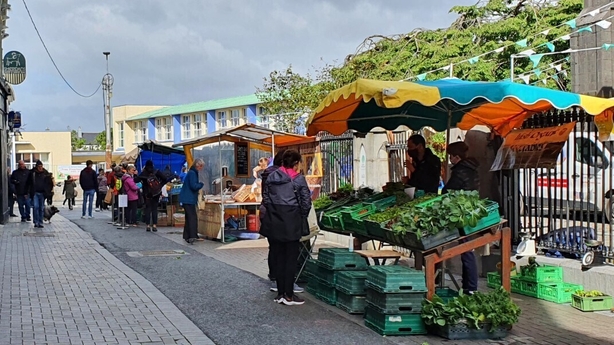 The return to trading had been welcomed by biodynamic grower Cait Curran.
She said: "We have a lot of spring and summer crops coming on such as carrots, cucumbers, tomatoes and greens.
"Growers would have sown indoor crops long before the coronavirus took hold and it's great that we can sell our produce now.
"After the experience of the past few months we are seeing a new appreciation of the value of local food producers as people are beginning to realise that food security is an important issue."