Current guidelines suggest you might have to wait until at least 10 August until you can have a drink in your local pub again.
But that's not the case in Tokyo, Japan. As bars and restaurants have slowly begun to open up from lockdown, they face the challenge of reassuring the public that it is safe to dine out once more.
Despite a state of emergency in Tokyo, most restaurants and pubs are allowed to operate from 5am to 8pm.
Kichiri Shinjuku is an izakaya-style bar that is welcoming customers back - but there's a catch.
Upon arrival, patrons are greeted by a hostess via a monitor that asks them to wash their hands and check their temperature with a thermometer provided.
Temperature checks and the use of masks are not out of the norm in Japan, but the next step is something new.
Customers are asked to step into a machine similar to an airport security scanner to be sprayed with a mist of chlorine-based disinfectant for 30 seconds.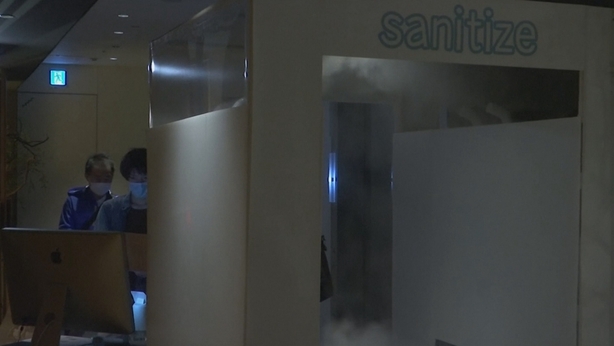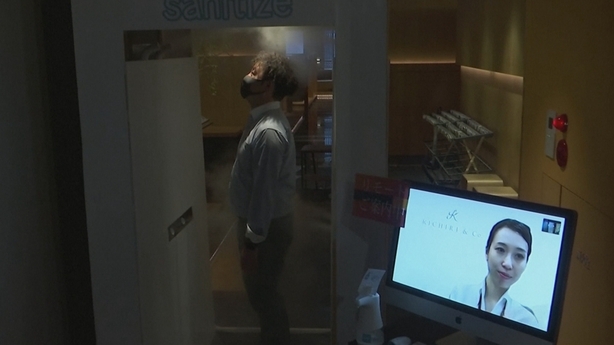 Customers say the cold spray made them feel safe, but also complained that the 30 second wait felt long.
Once disinfected, customers are provided with a map to their seat where they can order with their smartphone.
The whole process means customers will have not interacted with a single person, a drastic change for the busy Shinjuku area of Tokyo.
Tetsuji Hirata, the President of Kichiri & Co., said he wanted to develop a high quality system in accordance with the new lifestyle urged by the government.
"It's still an experiment, but once we develop this system, we want to share the know-how with each of our restaurants," he said.
Those not drinking alone are separated from their fellow diners by a clear acrylic screen to further reduce the risk of infection.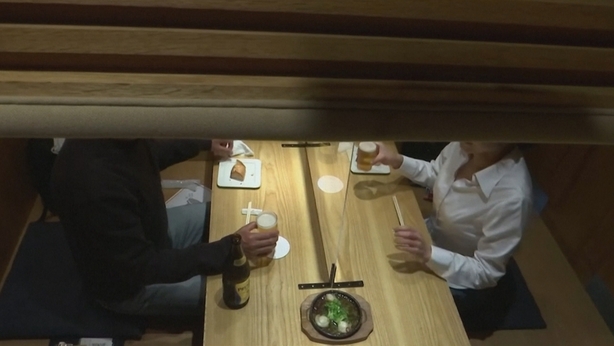 Japan has seen daily new cases fall below 100 since 13 May. It has a total of 16,433 confirmed cases and 784 deaths - but has been criticised for a low rate of testing.
Prime Minister Shinzo Abe has said that Tokyo could lift the state of emergency as early as next week.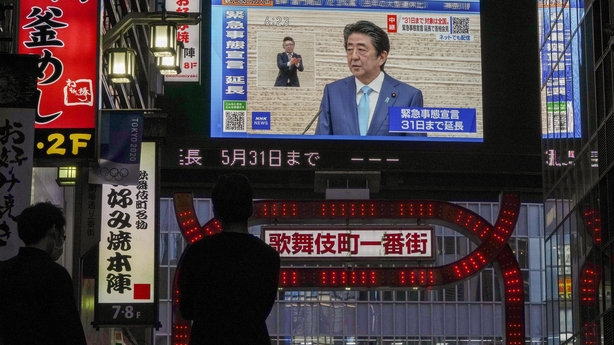 Back in Ireland, it is not entirely clear what a return to pubs will look like and some publicans are currently operating pint delivery services while they wait for restrictions to ease.
The Vintners' Federation of Ireland and the Licensed Vintners Association have written to the Government pressing for pubs to reopen at the same time as cafes and restaurants.
The organisations say they recognise the challenge of maintaining social distancing, and are putting forward changes to the operation of bars.
The measures do not go as far as spraying customers with hypochlorous acid water, but say the customers will be required to use hand sanitiser upon entry.
Other measures recommended include bars becoming dispense only with table service as a requirement, no more than four customers per 10 square metres, a maximum of six people at a table, and no live music or DJs.
The organisations also recommend enabling the HSE/An Garda Síochána to close businesses flouting public health guidelines.
Under the Government's roadmap to ease lockdown measures, pubs are not due to reopen until the fifth and final stage on 10 August, subject to the current best-case scenario of moving to a new stage every three weeks.
It says pubs, nightclubs and casinos can reopen under Phase Five where social distancing and strict cleaning can be complied with.
However, a survey by the LVA, which represents publicans in Dublin, says 40% of pubs plan to reopen as restaurants at the end of June under Phase Three.
Additional reporting Reuters