Members of An Garda Síochána have been patrolling popular beaches and beauty spots to ensure the public are abiding by social distancing guidelines introduced to slow the spread of Covid-19.
The move follows complaints from the public around social and physical distancing on some Dublin beaches yesterday.
It comes after the Deputy Chief Medical Officer said the country is prepared if there is a second wave of Covid-19 in the months ahead.
There has been increased traffic at beaches, parks and beauty spots around the country after some restrictions were eased on Monday as part of Phase One of the Government's roadmap to re-open Irish society.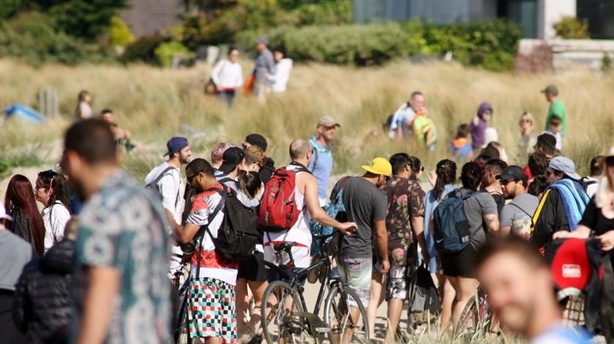 Gardaí were called to a beach in Sutton in north Dublin yesterday to break up one large crowd of people.
Many commuters in the capital also expressed concern online about the numbers congregating on DART services.
Iarnród Éireann has reminded people to only travel if necessary.
This morning the Assistant Secretary at the Department of the Taoiseach said that gardaí have reported a high level of compliance with restrictions so far this week.
However she said with the good weather some people are taking advantage of "the relaxation of rules", and warned "we can't relax" as this is only Phase One.
She reminded people that if they are meeting others outdoors, it is a maximum of four people in total, regardless of whether they are from the same household or not.
"We have a responsibility not to have barbecues or play dates that don't abide by the rules," she said.
Ms Canavan also said there is a need to encourage young people to stick to the rules and not congregate in large groups.
She said the fine weather makes it even more difficult but that "slow and steady" will win the race.
Ms Canavan also called on people who are congregating near swimming points to limit their time there in order to minimise risks of Covid-19 transmission and to allow everyone enjoy such facilities while being able to observe social distancing guidelines.
---
---
Last night the Deputy Chief Medical Officer, Dr Ronan Glynn, said that if there is a second wave of Covid-19, the country will know which measures to take.
He said that we will have to live with the virus for the foreseeable future, but the measures taken here show that it can be controlled.