Taoiseach Leo Varadkar has said phases in the road map for reopening society and business will only be fast-tracked if the data says it is "safe to do so".
Speaking on Newstalk, Mr Varadkar said he is aware of getting the balance right and said the Government is trying to make the best decisions.
Phase One of easing restrictions began on Monday, with further phases kicking in at three-week intervals between now and 10 August.
Mr Varadkar said he is conscious other countries who went into the crisis before Ireland did, such as Spain, have opened up outdoor terraces and bars.
He said he is also conscious of essential services getting back to normal to save lives.
"We are always conscious of secondary deaths ... of those decisions made to get Covid under control such as cancer for example," Mr Varadkar said.
"I worry about that all the time and mental health too. It is part of the reason why we made a decision to ease restrictions."
Yesterday, the Department of Health said a further 11 people with Covid-19 had died in Ireland bringing the overall death toll to 1,571.
An additional 64 more cases of the coronavirus were diagnosed bringing the number of confirmed cases to 24,315.
Mr Varadkar said the longer Covid-19 crisis goes on the more severe the impact on the economy.
He said while it is more sudden than the financial crisis a decade ago, he does not think it is going to be worse.
The Fine Gael leader believes some sectors will "bounce back quickly", such as construction, but said hospitality, tourism and leisure were hit "first and worst" and will be affected the longest.
He said those sectors are going to need the maximum amount of support.
The Taoiseach confirmed schools will reopen in September, but said the Department of Education is examining how schools are going to open in a practical way.
Mr Varadkar said it is never going to be 100% no risk.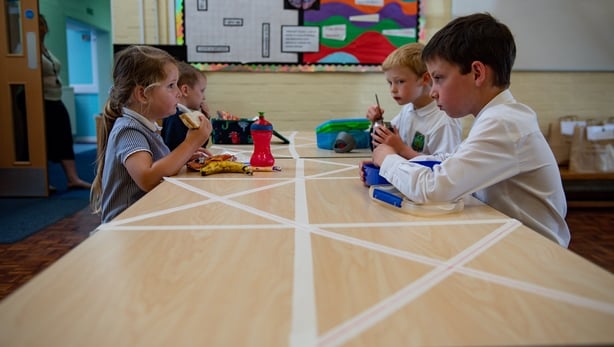 The Taoiseach raised the example of meningitis, saying every year some children get meningitis and it does not cause us to close schools.
He said we have to look at all ways to minimise risk and that the focus for now is on restarting childcare.
Mr Varadkar said the Covid-19 pandemic payment will continue past 8 June as we are still in a pandemic and the country is slowly reopening.
He said the payment needs to be extended and some changes will also be made.
Mr Varadkar admitted that the payment scheme is not completely fair and sustainable, but the Government is looking at some changes to deal with "anomalies".
He was responding to questions about a report showing that the scheme means some people are earning more than when they were working.
---
Latest cornonavirus stories
Latest politics stories
---
He said that on the flip side, some of those on the payment would be better off on Jobseeker's Allowance because they have dependents.
Mr Varadkar said the scheme came about for a particular reason when the country was going into a lockdown, and the Government knew half a million people were going to become unemployed within a matter of days.
"With that volume, we went for a flat rate," he said.
Mr Varadkar admitted it will need to be changed and the Government is working on that.
"Money could be better spent in other areas and we always planned to sort out," he said.
The focus now is getting people back to work and off the pandemic payment.
Mr Varadkar said if someone is offered their job back and refuse, they lose eligibility for the payment. He added: "Enforcement needs to be put in place around that."
He would not be drawn on an end date for this scheme and said it has not been brought to Cabinet yet.
However, he said people do not need to worry about that and by the end of May they will know how long they are extending it for.
The focus now, he said, is getting people back to work and off the pandemic payment.
Regarding government formation talks, Mr Varadkar said there is a "huge worry" within the Fine Gael party that if it goes into government again, they will be a "diminished force".
He said the counter-argument he is making, is that it is always the right thing to do by the country to go into government.
However, he said they will need to have their "stamp on it" when going into government with other parties.
Mr Varadkar said issues such as keeping public finances in order are essential to Fine Gael as he outlined some of the challenges they are facing with the Green party's targets.
Separately on Brexit, Mr Varadkar said the British government is playing "hardball".
He was responding to the publication of the Northern Ireland protocol in the UK's Withdrawal Agreement.
The Taoiseach said: "They say no international border, no tariffs, that was all in the Withdrawal Agreement.
"Where I think there is ambiguity is on customs because there will have to be custom checks and that is what is there in black and white in the agreement."