New Zealand's Prime Minister Jacinda Ardern has raised the prospect of Kiwis enjoying extra public holidays and a shorter working week to help kickstart the country's post-lockdown economy.
Ms Ardern said she wanted to encourage "nimble" and creative ideas for recovery after a strict seven-week lockdown that helped New Zealand contain Covid-19 but stalled the economy.
Suggestions included moving to a four-day week and creating extra public holidays to help boost spending in the tourism and hospitality sectors that have been hit particularly hard by the lockdown.
"This is an extraordinary time and we should be willing to consider extraordinary ideas," she told reporters, adding: "I haven't ruled anything in or out."
Ms Ardern said there is "a range of options and we should be open (minded)".
After talking to tourism industry representatives yesterday, the prime minister said working from home during lockdown had shown how productive employees could be if given extra flexibility.
She said a four-day week could work the same way if employers were willing to try it.
"Think about if that's something that would work for your workplace, because it certainly would help tourism all around the country," she said.
New Zealand, with a population of five million, has recorded just 21 coronavirus deaths, thanks largely to the early lockdown and rigorous adherence to anti-virus measures.
International borders remain closed but New Zealanders are now free to travel domestically, with tourism operators and airlines ramping up services to meet demand.
Spain makes masks compulsory in public, even for children

Spain has made it compulsory for all citizens, including children over six, to wear masks in public spaces as one of Europe's strictest lockdowns gradually unwinds.
The Health Ministry order said the masks - whose efficiency in curbing the coronavirus is hotly debated globally - would be needed from tomorrow for indoor public spaces and outdoors when impossible to keep a two-metre distance.
Spain has suffered 27,778 deaths and had 232,037 cases of Covid-19 disease, according to latest data.
But the pace of new fatalities has slowed to under 100 a day, and Prime Minister Pedro Sanchez's left-wing coalition is aiming to lift most of the lockdown by the end of June unless there is a second wave.
Madrid has eased restrictions to allow children outdoors, and shops and beaches to reopen. But it is keeping a quarantine for overseas travellers for another two weeks.
WHO to launch independent probe of virus actions
The grim numbers from Latin America came as the World Health Organization agreed to launch an independent investigation into its handling of the outbreak after scathing attacks from the United States, which is locked in a feud with Beijing over the pandemic.
President Donald Trump has threatened to permanently cut US funding to the WHO, accusing the UN body of being a "puppet of China" and helping Beijing cover up the initial outbreak.
China has furiously denied the allegation, saying the US is making such claims to "shirk responsibility and bargain over its international obligations to the WHO".
Russia has denounced Mr Trump's threat, and the European Union has also backed the WHO, saying it was "not the time for finger pointing".
The United States, meanwhile, recorded another 1,536 coronavirus deaths over the past 24 hours, the Johns Hopkins University said.
That figure raises to 91,845 the total number of Covid-19 deaths in the US.
The US tops the global rankings both for the highest death toll and the highest number of infections, with more than 1.5 million cases.
Russia reports record virus death toll

Russia has reported its highest daily coronavirus toll with 135 fatalities as the number of infections surpassed 300,000.
Health authorities reported a total of 2,972 deaths while the number of infections hit 308,705 after 8,764 new cases were registered, the lowest daily increase since 1 May.
One of Russia's most high-profile virus cases, Prime Minister Mikhail Mishustin, returned to work yesterday after receiving treatment for the illness in hospital.
Russia has the second highest number of infections behind only the US, but the number of new cases has fallen below 10,000 for five days in a row.
The North Caucasus region of Dagestan has emerged as a virus hotspot, with the fifth highest number of infections.
The Muslim-majority region confirmed a total of 36 deaths.
Dagestan, with a population of 2.9 million, has more than 3,600 confirmed cases of the virus and local officials have described the situation as a "catastrophe" with hospitals overwhelmed.
President Vladimir Putin highlighted the region's grave situation this week, pledging to send aid and implement "urgent measures".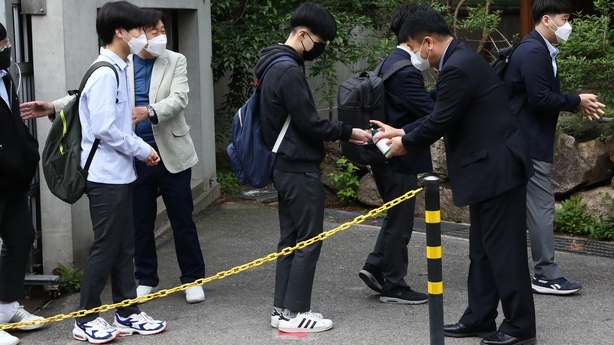 Elsewhere, schools have reopened in South Korea as virus fears ease.
Hundreds of thousands of South Korean students returned to school today as educational establishments started reopening after a coronavirus delay of more than two months.
Students lined up for temperature checks and were given sanitisers to wash their hands as they entered school premises while teachers greeted them with smiles and occasional elbow bumps.
South Korea endured one of the worst early outbreaks of the virus - at one point the second-worst hit nation after mainland China - prompting officials to delay the reopening of schools in early March.
But it appears to have brought its outbreak under control thanks to an extensive "trace, test and treat" programme.
Around 440,000 final-year students, who will in December take the university entrance exam that is crucial in the education-obsessed country, are the first to return to schools, with other years following in stages over the next several weeks.