Minister for Health Simon Harris took questions from listeners to RTÉ's Morning Ireland seeking clarity on Phase One of the lifting of restrictions.
Q: My wife and I are both 79 and cocooning since the beginning of March in my Kerry family home. Can I return to Dublin, which is my principal residence, and return to Kerry after a couple of days?
SH: The short answer is they definitely can't go back. This is the real challenge and pain of the virus that people find themselves having gone to visit relatives and can't get back again.
The reality of the situation is we need to keep people within 5km of where they're currently residing to stop the spread of the virus.
Now, there are extenuating circumstances. If you need for care reasons or medical reasons to get back somewhere, that's fully understandable. But you can't move from one house and back again.
As Phase One of the easing of #coronavirus restrictions begins, Minister for Health @SimonHarrisTD speaks to RTÉ's @MorningIreland | https://t.co/yro2bXPnFk https://t.co/Y0HuivXggr

— RTÉ News (@rtenews) May 18, 2020
Q: What permission guidance can Government give a 'cocooner' who wants to get back to their own home having been stuck in another person's home since mid-March? This caller is 78 and desperate to get home.
SH: It sounds like there could well be extenuating circumstances. You perhaps went to visit somebody, you now need to get home for a variety of reasons, perhaps including being close to your own doctor and your own health services.
The advice there would be to make sure that whoever brings you home is already a close contact. And then obviously when you get home, you stay at home.
We need to exercise a degree of common sense. We're trying to ensure people don't move further than 5km from where they are. But there will always be a small number of cases where it will be necessary to do so.
The gardaí have discretion. They've shown a really engaging way of policing. They're not there to try and catch you out, they're there to keep us safe.
Q: Could you help me understand when I can drive to the sea, which is within 5km of my home?
SH: From today. Beaches are now open again. And you can take exercise within your 5km. Obviously practice social distancing when you get there.
Q: Can you please explain the rationale for the 5km travel limit? The context of the query is about travelling to a golf club 17km from the caller's home.
SH: I've gotten this question a lot. There's two parts to this question.
One, why are we doing the 5km? We've got to remember the virus isn't out there somewhere. The virus is potentially within us. Anytime we leave our home, we run the risk of spreading the virus. So, we're asking people to stay at home. If they have to leave home for those limited reasons, to stay as close to home as possible.
People often say, 'would it not be okay if I just did this or if I just did that?' And I get it. On an individual level, that sounds like very little risk. The problem is that if you do it, lots of other people are able to do it.
You do it for golf and next people will say that the playground is 7km away, can I do it for that? And next people will say, would it be okay if I opened this shop and that shop. It's the cumulative effect of all that movement.
Extra movement brings about extra risk. What we're trying to do here is move in a slow and steady way. And remember, we hope if we get these three weeks right, I'll be back here saying it's safe to move on and do another bit. The limit then will potentially go from 5km to 20km.
Q: Can you address the question of when cemeteries will re-open? It seems unduly cruel to prevent people visiting the grave of a loved one.
SH: It really does. A cemetery is an outdoor area so we believe from a public health point of view, it'd be perfectly safe to open cemeteries from today. These are matters for individual local authorities.
But again, there needs to be compassion and cop on shown here. When people go to the cemetery, it's important they practice the social distancing. The 5km limit will still apply.
Q: How many can attend 'small weddings' after 20 July?
At the moment, I can't give you a specific number. We're going to work on guidance over the next couple of weeks so we can provide more information.
What is a small wedding? @SimonHarrisTD tells @MorningIreland "I think it's highly unlikely that we'll be in position where there'll be anything like a hundred people being able to be at a wedding in July, it's likely to be a very, very small number." #Coronavirus #Covid19 pic.twitter.com/LBRtMXq5VJ

— RTÉ News (@rtenews) May 18, 2020
If I'm really honest with you, when I talk to public health doctors now, I think it's highly unlikely we'll be in a position where there'll be anything like 100 people being able to be at a wedding in July. It's likely to be a very, very small number of people.
We will put a number or range on it. A lot of it will depend on the behaviour of the virus. I know this is causing a lot of angst for people.
Q: Can you offer clarity on reducing the restrictions for those cocooning with underlying health conditions?
SH: If you are over 70 or have an underlying medical condition, you are best to stay at home. We recognise that people need to take a bit of exercise so we've provided guidance on that.
In the next phase of this plan in three weeks, if we get to the point we want, we'll be able to say to people who are cocooning, that it's safe to go to some shops again. Or it's safe to have a small number of people in to visit your home.
What you'll see with cocooning, it will evolve as the virus evolves. As we get this virus into a better place, we will be providing more and more guidance to older people so they can safely go about their lives.
We've got to be honest though, for as long as the virus here, we are going to make sure we need to take extra measures to protect older people because we know we are more susceptible to this virus.
Q: May I ask you to confirm when it would be possible to hug our grandchildren again? They're in Dublin, we're in Cork. We have been cocooning for the past ten weeks.
SH: This question gets me every time and it shows the cruelty of this virus.
Every stage of this plan allows a loosening of restrictions. If we can keep at this, the more we can move through the plan and the more people can see each other.
From today, if you happen to live close to your grandchildren, it's safe to take a walk with them while social distancing.
When do you feel it will be possible to hug grandchildren again? Minister for Health @SimonHarrisTD says the reason we can't say you can safely hug your grandchildren is because "that act of love could actually cause somebody to get very sick, but it's heartbreaking". #Covid19 pic.twitter.com/35eBx1ScwE

— RTÉ News (@rtenews) May 18, 2020
In three weeks' time, if we can move forward, it's safe for people who are cocooning to have people into their home.
The reason we can't say you can safely hug their grandchildren is because that act of love could cause someone to get very sick.
Q: My daughter has a small baby and is struggling with post-natal depression with no support for the last two months other than video calls. It's not enough. I beg the Government to think about all our mental health at the moment and let us see our immediate family members. We're not looking for big parties, just our children.
SH: What I will say on that case without knowing the details, is that there is very clear guidance and rules in relation to people needing to visit someone for care needs.
A @MorningIreland listener asks about her daughter, who is struggling with post-natal depression. @SimonHarrisTD: "It is very clear you can visit somebody for care needs, for medical needs, and if somebody needs that sort of support ... that should absolutely be able to happen." pic.twitter.com/YBma5nrySP

— RTÉ News (@rtenews) May 18, 2020
If you have a loved one who requires care - and from the sense of that caller that person might be on their own - you should absolutely be able to visit them.
It is very clear you can visit someone for care needs and medical needs.
Q: We run a bouncy castle hire company and we're finding it difficult to get clarity whether we fit into the category of businesses that can start working again.
SH: I reckon it's very hard to socially distance on a bouncy castle. While the bouncy castle may be outside, I would imagine the act of using a bouncy castle wouldn't be compliant with keeping your two metres distance so that is unfortunately a no at the moment.
Q: Who does one ask for clarification if you one doesn't fit into one of the named categories who can travel for work purposes?
SH: Your employer in the first instance should be able to be advise you. If not, go to your line department or your regulator.
But if you're not on the list, the likelihood is we do not expect you to open today. I know the Department of Business, Enterprise and Innovation has been running a contact point for people with queries. That might be a useful place to check.
Q: Why can we not continue doing kidney transplants in one of the private hospitals that are not yet needed for Covid-19 patients? Northern Ireland have cleared a third of their transplant list. My 33-year old daughter is on the list, is it possible for her to travel north?
SH: Yes, it is possible for people to travel outside the jurisdiction for health reasons. What we're trying to do now, because the Irish people have gotten the virus into this place where it hasn't overwhelmed our hospitals, we're developing a non-Covid care plan.
How can we switch back on regular healthcare services? And how can we use that extra capacity that we currently have to help with that? Dr Colm Henry, the chief doctor in the HSE, is leading on that.
Q: Does the relaxation in relation to construction include construction workers who are operating inside buildings? Because the plan refers specifically outside workers.
SH: This is an area where people need to show a degree of common sense. All construction work starts outdoors and by the very nature of building, people end up indoors.
Construction sites can open from today but the type of work that takes place needs to appropriate to the public health guidance. People need to be satisfied that their workers need to be kept safe and the workers need to be satisfied themselves.
We're not just taking the word of employers on this. Every construction site and business needs to have a lead worker representative on this.
There will also be inspections on this, to be clear. We want the businesses that are opened to stay open, but that's only the case if people can comply with the public health guidance.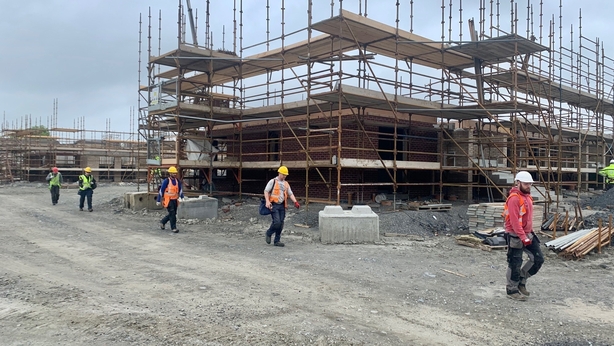 Q: So, construction workers who feel they don't want to go back working in conditions that they don't feel are a dangerous to them, can they stay away and still get the Covid payments?
SH: If work is open and it is safe to go to, people are expected to go to work. But there's very clear mechanisms in place between unions and employers representatives to ensure workplaces are safe.
We will have a regulatory inspection framework led by the Health Safety Authority who can visit sites.
If anyone has any concerns, I would urge them to come forward and raise them.
This is the interests of business to get this right because we want them to be able to stay open. But if they don't get them right, they will be shut down.
I've heard the construction industry talking about that might mean staggering shifts now that the days are a bit longer. It might mean working a longer day and having fewer people on site at a certain time. It has to be mean things in relation to hand santisation.
Good public practice has to become the norm on construction sites. Otherwise, people will get very sick and businesses won't be able to remain open and we don't want that to be the case.