Britain's Education Secretary has appealed to teaching unions to work with the government to find "practical solutions" to enable schools in England to begin reopening.
At the daily Downing Street news conference, Gavin Williamson said his "door is always open", as he warned it was the most disadvantaged pupils who would suffer the most, the longer schools remained closed.
His plea came amid fears that plans to start the phased re-opening of primary schools from next month, as part of the easing of the coronavirus lockdown in the UK, may be scuppered if the unions refuse to co-operate.
Talks yesterday between union representatives and government scientific advisers, intended to provide assurance about the British government's proposals to enable children to return safely, ended inconclusively.
Union leaders said afterwards that the discussions had raised more questions than answers.
At the news conference, Mr Williamson went out of his way to lavish praise on teachers, saying they had been "absolute heroes" during the coronavirus crisis, while urging them to talk.
"My door is always open. I am always keen to listen and talk to them. I have been meeting both representative organisations, school groups, but also unions, every single week," he said.
"I always want to talk. We want to find practical solutions to make sure that those children from that most disadvantaged background don't lose out as a result of this crisis.
"I hope everyone is unified in that mission to deliver that."
---
---
Earlier, Patrick Roach, general secretary of the NASUWT teaching union, said they needed to see "unequivocal guidance" from the government that schools could be made "Covid secure" and reopening would not put public health at risk.
"We are continuing to say to government, but also to schools and employers, that we are here, we want to work with those employers to put plans in place to see whether schools can be ready for re-opening from June 1," he told the BBC Radio 4 Today programme.
"We want schools to be re-opened, we want children to be safe and we want staff to be safe.
"It is not a zero sum game here. It is about ensuring that we get back to a place where we can return to some form of normality."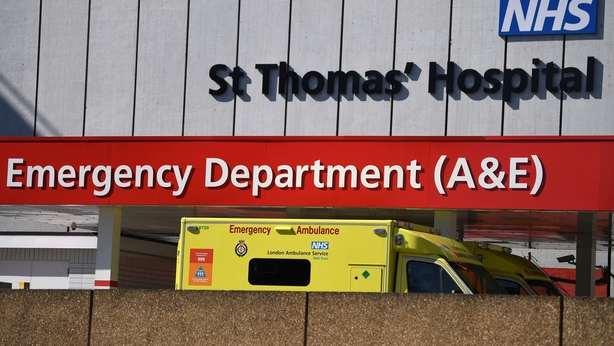 The number of deaths involving Covid-19 in the UK has now passed 41,500, according to the latest available data from authorities.
So far 38,856 deaths have been registered in the UK where Covid-19 was mentioned on the death certificate, including suspected cases.
A further 2,676 hospital patients in England who had tested positive for Covid-19 died between 2 May and 15 May, according to figures published today by NHS England - which, together with the total figure of 38,856 registered deaths, indicates the overall death toll for the UK has now passed 41,500.
The number of people who have died after being tested positive for coronavirus in Northern Ireland has risen to 473 after a further four deaths were reported by the Department of Health today.
Another 40 positive cases of Covid-19 were confirmed in the region, taking the total since the outbreak began to 4,357.
A total of 2,094 patients have died in Scotland after testing positive for coronavirus, up by 41 from 2,053 yesterday, according to latest Scottish Government statistics.
In total 14,447 have tested positive for the virus, up 187 from 14,260, figures showed.
A further 18 people have died after testing positive for coronavirus in Wales, taking the total number of deaths there to 1,191, health officials said.
Public Health Wales said a further 183 people had tested positive for coronavirus, bringing the total number of confirmed cases to 12,142.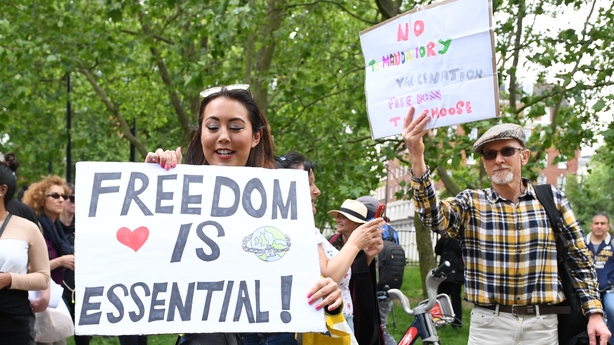 Meanwhile several people have been taken away in handcuffs during protests against the coronavirus lockdown.
Around 50 people defied social distancing to gather close together at Speaker's Corner in Hyde Park, west London, holding placards with slogans like "anti-vax deserves a voice" and "freedom over fear".
Dozens of police officers, including some mounted on horseback, patrolled the protest, issuing several fines and arresting at least six people.
A flyer advertising the protest called for "no to mandatory vaccines, no to the new normal, and no to the unlawful lockdown".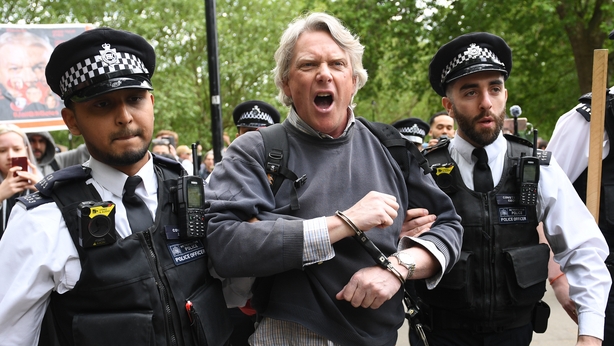 Scotland Yard said that as of 2pm on Saturday, six people were arrested in the Hyde Park area.
A separate protest in Southampton saw around a dozen protesters gather on Southampton Common, holding placards saying "Stop the Lies", "Say no to tyranny" and "Fight 4 Freedom".
One protester, Dee, who did not wish to give her surname, said her job in the hair and beauty industry had been hit by the crisis.
She told PA: "I am here because I am worried about civil liberties being taken away.
"Reading the coronavirus act that has gone through Parliament, it seems there are changes being made which infringe our freedom.
"And I am worried the media has run away with the Covid-19 thing and blown it all out of proportion."