Country road, take me ... to an open restaurant.
West Virginia started lifting coronavirus restrictions this week with businesses like hair salons and restaurants allowed to reopen.
Lockdown measures remain in place in neighbouring states like Virginia and Maryland and it has been good for business in Charles Town, West Virginia.
Mike Collins owns Collins' Barber Shop in the town.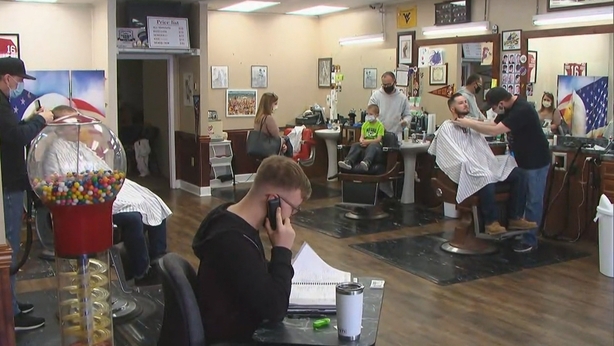 "We've had a lot of business coming across the state lines from places like Virginia, Maryland and Washington DC, from lots of places," he said. 
One such customer is Bri Hupp who brought his son Caleb for a haircut. 
"I'm with my son today because the barber shops in Virginia where we live are still closed," she said. 
"The last quarantine haircut didn't go so well," Bri added.
Down the street, Paddy's Irish Bar had only been allowed to offer take away services until this week. 
Outside dining is now permitted at bars and restaurants in West Virginia.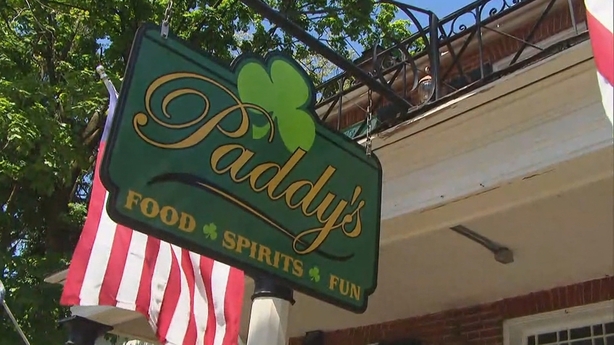 Tables have to be spread out and staff are taking extra precautions, according to the bar manager Brooke Hyre. 
"We can only have six people at each table and a lot of extra sanitising has to be done," she said.
"The customers can't be inside the bar except to use the restrooms and we have clear pathways marked out to show them where to go."
We need your consent to load this rte-player contentWe use rte-player to manage extra content that can set cookies on your device and collect data about your activity. Please review their details and accept them to load the content.Manage Preferences
Donald Trump won the state of West Virginia with a big margin in the last election but there are mixed views here about his handling of the coronavirus crisis.
Bobby Mann and Heather Springer were dining together at Paddy's Irish Bar but there appeared to be plenty of social distancing between their political views.
"I think President Trump has done a really good job. He could've said and done some things differently but it's been a difficult thing to get through," Bobby said.
Heather disagreed that the president had handled the crisis well.
"He hasn't done a very good job with lots of issues that we've had in this country so I'm not surprised he hasn't done a very good job with this either," she said. 
Politics aside, most of the diners were just glad to be able to come to a restaurant again. 
It was almost heaven in West Virginia.