The World Health Organization has reiterated that the new coronavirus was of natural origin after US President Donald Trump claimed he had seen evidence it originated in a Chinese lab.
Scientists believe the killer virus jumped from animals to humans, emerging in China late last year.

President Trump claimed on Thursday that he had seen proof that the Wuhan Institute of Virology was actually the source of the outbreak, although he refused to give details.

Asked about Trump's claim during a virtual press conference, WHO emergencies chief Dr Michael Ryan stressed that the UN health agency had "listened again and again to numerous scientists who have looked at the sequences" of the virus.

"We are assured that this virus is natural in origin," he said, reiterating a stance the UN agency has expressed previously.

The WHO said that it wanted to be invited to take part in Chinese investigations into the animal origins of the pandemic, which in a matter of months has killed more than 230,000 people worldwide.
"What is important is that we establish what that natural host for this virus is," Dr Ryan said, stressing the need to understand "how the animal-human species barrier was breached".

"And the purpose of understanding that is that we can put in place the necessary prevention and public health measures to prevent that happening again anywhere," he said.

WHO chief Dr Tedros Adhanom Ghebreyesus continued to push back against criticism lobbed at his organisation, by Trump in particular, who suspended Washington's funding after accusing the UN agency of downplaying the seriousness of the outbreak and kowtowing to China.

Dr Tedros said the WHO had sounded the highest level of alert by declaring that the Covid-19 outbreak constituted a "public health emergency of international concern" on 30 January, when there were no deaths and only 82 cases registered outside China.

"We didn't waste any time," he said. "The world had enough time to intervene."

His comments came after WHO's emergency committee met for the first time since making its declaration three months ago.

While maintaining the global alert level, the experts made a range of general recommendations on how the WHO and countries should adjust their response to the pandemic.

It called among other things for broad cooperation to "identify the zoonotic source of the virus and the route of introduction to the human population".

It also called on WHO to "update recommendations on appropriate travel measures" linked to the outbreak, and to consider "the balance between benefits and unintended consequences", such as the difficulties of transporting humanitarian aid when so many flights are grounded.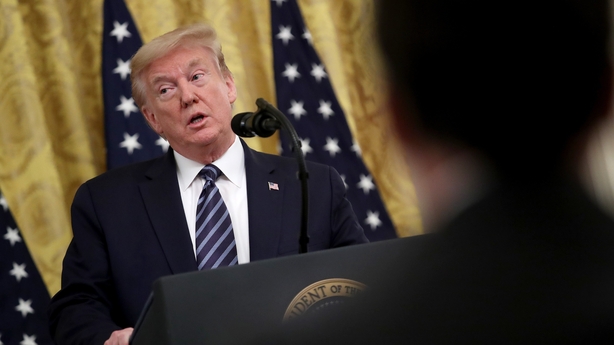 President Trump is making Beijing's handling of the outbreak a major issue for his November re-election campaign.
When asked about reports that he could cancel US debt obligations to China, Mr Trump said he could "do it differently" and act in "more of a forthright manner".
"I could do the same thing but even for more money, just putting on tariffs," he said.

"We signed a trade deal where they're supposed to buy, and they've been buying a lot, actually. But that now becomes secondary to what took place with the virus," Mr Trump told reporters.
"The virus situation is just not acceptable."
Mr Trump's latest anti-China rhetoric came as new figures show more than 2,000 people died due to the coronavirus deaths in a 24-hour period for the third day running, according to the latest tally reported by Johns Hopkins University.
The country - hardest hit by the pandemic in terms of the number of fatalities - recorded 2,053 deaths on Thursday, after 2,502 deaths on Wednesday and 2,207 on Tuesday.
At least 62,906 people have now died in the United States, according to the Baltimore-based university.
New figures also showed that 30 million Americans have lost their jobs during lockdown.
The gloom in the world's largest economy found its parallel across the Atlantic, where experts warned of an unprecedented financial catastrophe in Europe.
---
Restrictions eased in half of US states
The latest jobless claims by another 3.84 million Americans mean roughly 9% of the US population have filed for unemployment benefits in the past six weeks.
The economic costs of lockdowns imposed to try to limit the spread of the disease have spilled over into frustration.
In Michigan, protesters - some of them armed - stormed the state capitol building, demanding the removal of restrictions, which they say hurt the economy and represent governmental overreach.
As White House economic reopening guidance expired yesterday after two weeks in place, half of all US states forged ahead with easing restrictions on restaurants, retail and other businesses.
Weeks after insisting he had "total" authority to decide when and how to reopen the nation's economy, Mr Trump has largely left it to each governor to decide on a state-by-state basis.
Although the White House declined to extend its 16 April reopening guidance, which recommended an economic restart in stages only after strict safeguards are put in place, medical experts said those conditions remained unmet and that acting prematurely risked a resurgence of the outbreak.
Safely lifting social distancing rules, they insisted, will require vastly expanded virus screening and the means to trace close social contacts of infected people so they too can be tested and isolated.
"You can't just leap over things to a situation where you're really tempting (the virus) to rebound. That's the thing I get concerned about," Dr Anthony Fauci, director of the National Institute of Allergy and Infectious Diseases, told NBC.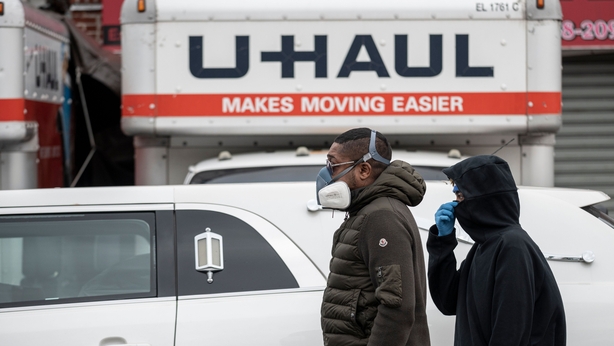 Bodies found in unrefrigerated trucks in New York
The city of New York delivered a refrigerated truck to a funeral home on Wednesday after it was found to be storing dead bodies in unrefrigerated U-Haul vehicles, a Reuters eyewitness said.
The eyewitness saw bodies in a U-Haul van and said two vans and a truck were parked outside the funeral home.
ABC News reported about 100 bodies were stored in the vehicles after the owner of the Andrew T Cleckley Funeral Services funeral home said the freezer that normally stores bodies stopped working.
It was not clear how long the bodies had been stored in the U-Hauls or whether any were Covid-19 victims.
The bodies were found after neighbors reported an odour coming from the trucks, New York media reported.
New York City has been at the epicentre of the coronavirus pandemic in the US and the city's funeral homes have been overwhelmed.