Concern has been raised in the Dáil about a lack of enforcement powers for businesses who are not complying with Covid-19 restrictions.
Social Democrats co-leader Catherine Murphy said people have been contacting her about places being open that should not be open.
"When you start looking at where the enforcement mechanism is, there isn't one. Ring the guards is what you are told and that is not satisfactory," she told the Dáil. 
She asked whether the Health and Safety Authority (HSA) would be able to scale up its response in relation to non-compliant businesses and whether any further powers would require legislation.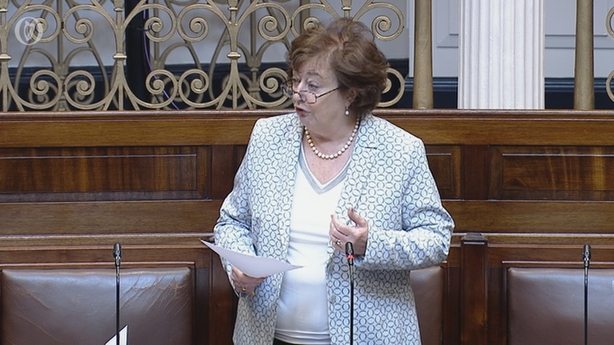 The Minister for Business, Enterprise and Innovation said HSA Environmental Health Officers have the powers to close down companies who are not complying with the rules.
However, Heather Humphreys said her department was working with businesses, unions and the HSA on detailed guidelines to help businesses to put in place appropriate protections.
She said that they will be published as a matter of urgency.
Solidarity/People Before Profit TD Bríd Smith asked the Government to extend the remit of the HSA so inspectors can ensure workers are protected if businesses are non-compliant with Covid-19 measures. 
She said some companies were using the crisis to do things they would not normally get away with.
Minister Humphreys said businesses should consult the HSA about how to implement restrictions.
She said while these were difficult unprecedented days, there was reason to be positive because of entrepreneurial spirit.
Bríd Smith of Solidarity-PBP says there is no agency in the State that has power of enforcement on non-compliant businesses and workplaces, adding "it's not good enough". | Follow live updates: https://t.co/nJ98gXeFXL pic.twitter.com/RvurUtZSz0

— RTÉ News (@rtenews) April 30, 2020
The minister also came under pressure to give details of her interactions with insurance companies over their response to business closures as a result of Covid-19.
Fianna Fáil's Niall Collins said it was "outrageous in the extreme" that companies who have paid their premiums for business interruption cover are not being awarded claims.
He told the Dáil that insurance companies and the Government should be "stepping up to the plate".
His party colleague Robert Troy raised concern around businesses still having to pay public liability insurance even though their doors are closed.
Business Minister Heather Humphreys says environmental health officers already have powers to close down non-compliant businesses, but a document with a detailed set of guidelines will be provided "as a matter of urgency". | Follow live updates: https://t.co/nJ98gXeFXL pic.twitter.com/tWuGc2muyJ

— RTÉ News (@rtenews) April 30, 2020
The minister said she was putting in place a package of supports for businesses, but "it is not going to be like flicking a switch and everything goes back to normal".
She said supports would be implemented "in the right place at the right time".
"We must remember this is taxpayers' money, it is not finite and we want to get the best value for the investment that we put in," the minister said.
She was responding to the Fine Gael TD Kieran O'Donnell, who said it was important to ensure that a liquidity crisis does not become an insolvency crisis for businesses.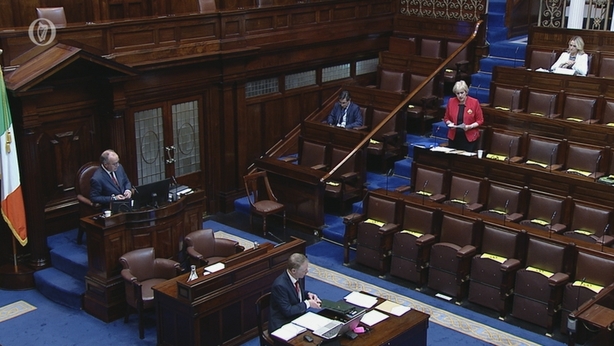 Fine Gael TD Helen McEntee said people want to know how their businesses can get going again.
She said the Government needs to look at rates, charges and flexibility, VAT in particular for hospitality and the tourism sector.
Independent TD Denis Naughten said businesses need to know what they need to do to prepare to open.
He said companies do not have the resources to fund PPE, physical distancing and staff training.
The minister said there were guidelines in place on how companies should operate.
Denis Naughten of the Regional Independent group says companies are availing of the Wage Subsidy Scheme while also laying off staff. | Follow live updates: https://t.co/nJ98gXeFXL pic.twitter.com/zMi2GcCYDQ

— RTÉ News (@rtenews) April 30, 2020
Sinn Féin TD Sorca Clarke said that small businesses are faced with a future that is very bleak.
She said small businesses were extremely anxious about the lack of supports for them, which she said will force them to keep their doors closed.
The minister said she has met all representative bodies and she is putting together a package of supports with Minister for Finance Paschal Donohoe.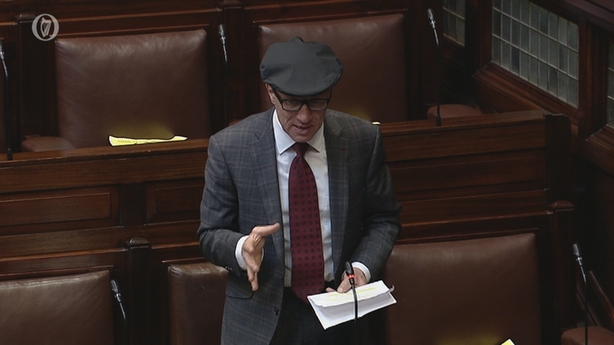 Independent TD Michael Healy Rae has said there would be "nothing wrong" with allowing some construction work to go ahead.
He said there were 83 housing units under construction in Killarney town before the current lockdown measures were introduced and it would be "reasonable and practical" to allow that work to resume there.
Reporting Mary Regan, Sandra Hurley and Aisling Kenny