An immunosuppressed Dublin teenager with a rare and painful disease has described how "scary and shocking" it was when both her parents contracted Covid-19.
Claudia Scanlon, 16, was born with Epidermolysis Bullosa (EB), a skin-blistering genetic condition which leaves her open to chronic infection.
"I'm very scared. Sometimes I might not show it but I definitely am inside because I am vulnerable. I have a very low immune system so if I get this, it's not a good situation," Claudia said.
Despite the family taking precautions, Claudia's mother, Liz Collins, contracted Covid-19 and was hospitalised with pneumonia.
"It was very shocking. My Mam never gets sick and when she does it's very mild. Then when the ambulance came twice, it kind of hit me, this is serious - she really isn't well. The fact that she had to go to hospital was very scary and it's scary because she is my primary carer."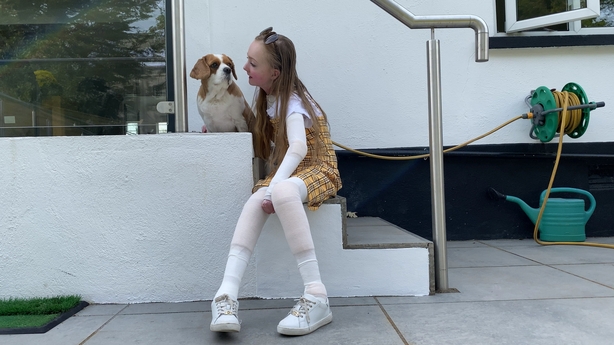 Claudia's father, Gary Scanlon, who lost his job in March due to Covid-19 restrictions, took over as Claudia's primary carer but he also became unwell, tested positive for the virus and had to self-isolate within the family home.
Liz Collins says Covid-19 coming into their home was her "worst nightmare" not only because Claudia is immunosuppressed and vulnerable, but also as she needs 24-hour care.
Claudia is peg-fed and requires routine changing of wound bandages which cover her body from the neck down.
"There is the child with the disability and then there's the carer but there's never anything to back the carer up when the carer gets sick and I think it's every primary carer's biggest nightmare; what happens if something happens to me?" Ms Collins said.
"What happens to my child. I'm asthmatic but I didn't think it would hit me that bad. I'm a strong healthy woman but I went down like a tonne of bricks."
Claudia has a team of homecare nurses who clean her wounds and change her bandages three times a week.
Ms Collins credits these nurses with helping the family during this difficult time ensuring that Claudia was protected from the virus.
"We, as a family, wouldn't have got through this without those nurses. They came every day. They never missed a shift. They knew that both myself and my husband contracted it and they still came and they wore their PPE and they did over and beyond, like changing beds when I couldn't do it, ordering bandages, collecting medications for me.
"It wasn't because it was a job. They were doing it because they actually love Claudia and they wanted to protect her in all of this.
Both Liz Collins and Gary Scanlon have recovered from Covid-19 and have completed their periods of self-isolation.
The family are relieved Claudia did not contract the virus but Claudia urges the public to continue to exercise caution.
"Think of others," she said. "Your actions will affect others not just yourself. You have to understand they could affect me and people like me".
We need your consent to load this rte-player contentWe use rte-player to manage extra content that can set cookies on your device and collect data about your activity. Please review their details and accept them to load the content.Manage Preferences