A fleet of robots on wheels that deliver shopping in one British town have seen their popularity surge as residents are stuck indoors due to the coronavirus lockdown.
The robots, which come up roughly to an adult's knee height and look like smooth white plastic boxes mounted on six black wheels, are a familiar sight in Milton Keynes, where they have been delivering groceries for over two years.
But since the UK government imposed strict social distancing measures on 23 March, the devices have been busier than ever,delivering for free to NHS staff and facing increased demand from the general public.
"Right now we are offering free delivery to all NHS workers within the community. We want to make life a little bit easier for these people in these very, very stressful times," said Henry Harris-Burland, of Starship, the company that makes the robots.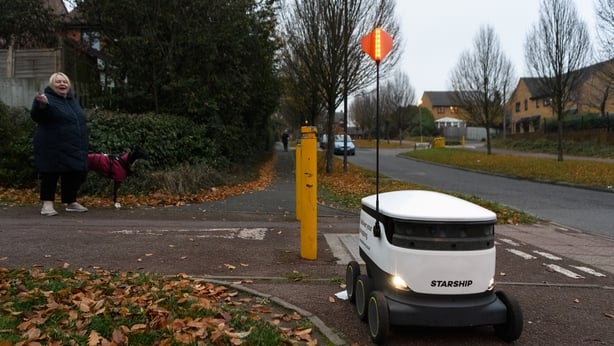 "Lots of them are doing ... 80-hour weeks and they don't have time to go to the local grocery store, so they use our robots for their shopping," he said. "We're honoured that we can be part of that solution."
The robots have what looks like an antenna, topped with a small red flag to make it easier to spot them as they do their rounds. They are big enough to hold several bags of shopping as well as a pack of bottles.
Starship has doubled its fleet of delivery robots in Milton Keynes to 70 in the past three weeks.
---
Read More:
Meet the coronavirus drones and robots
Latest coronavirus stories
---
Mr Harris-Burland said they had completed 100,000 autonomous deliveries in the town.
"Lots of the residents have been reaching out to us online asking us to deliver into their neighbourhood," he said.
"We're doing everything we can as quickly as possible to expand to offer this service to more people, especially at this really important time."
Meanwhile, drones capable of carrying (100kg loads more than 1,000km are to be used to ensure the Isle of Wight's hospital can maintain essential medical supplies in the fight against Covid-19.
Britain's transport minister announced the plan yesterday to fast-track the launch of drone trials between the mainland and St Mary's Hospital in Newport to ensure the island is fully equipped.
Ferry services have been massively reduced between Portsmouth and Southampton to the island amid reduced passenger traffic prompting the back-up supply plan.
The trial, the first of its kind in the UK, will involve a double-engine, fixed-winged Windracers Ultra UAV aircraft drone with a carrying capacity of up to 100kg in a space the size of an estate car boot and with a distance capability of more than 1,000km.
Maggie Oldham, chief executive of the Isle of Wight NHS Trust, said "Providing NHS services on an island comes with a number of challenges, so it is fantastic to see the progress being made to support health care on the Isle of Wight through the use of new and innovative technology.
"This work has the potential to significantly improve services for our local community by reducing waiting times for test results and speeding up the transfer of important, possibly life-saving medication."
The trial, which is due to start next week, is part of a £29 million Future Transport Zone (FTZ) project funded by the Department for Transport to implement innovative future transport solutions around personal mobility and freight movements in south Hampshire and the Isle of Wight.