Minister for Health Simon Harris has said Covid-19 is still causing havoc, devastation, hurt and pain in Ireland, and if the Chief Medical Officer had to make a decision today on easing the current restrictions, he would be advising the Government against it.
Mr Harris was speaking after the weekly meeting with medical experts from around the country at the Department of Health.
The Chief Medical Officer had earlier said the National Public Health Emergency Team has entered the weekend with a growing sense of concern about compliance with the strict travel restrictions and social distancing measures that have been in place since 27 March.
Dr Tony Holohan said compliance with the restrictions over the next ten days is critical to the control of the coronavirus.
He said the sense of concern among his team has been growing over the past week as evidence of some slackening of adherence to social restrictions materialised.
We need your consent to load this rte-player contentWe use rte-player to manage extra content that can set cookies on your device and collect data about your activity. Please review their details and accept them to load the content.Manage Preferences
This afternoon Mr Harris noted that there were 118 people with Covid-19 in Intensive Care Units in Ireland today, compared to 160 earlier this month.
That was an encouraging sign, he said, but it meant 118 people were fighting for their lives in ICUs ,and he hoped that would make people realise why they needed to stay home.
He said we could be talking about there being 2,000 people in ICUs and the numbers showed the progress that had been made, but that progress was fragile.
He said there were still too many people in ICUs and too many people seriously sick. Several hundred new cases and 30 or 40 deaths are being announced daily, he said, adding that the alternative to the current restrictions was worse, and there would be no "big bang" of lifting restrictions.
The minister said at today's meeting there was a recognition that Covid-19 was going to be with us for a long period of time.
He said this afternoon's meeting also addressed how to provide non-Covid care to patients along with care for patients with the virus.
We need your consent to load this rte-player contentWe use rte-player to manage extra content that can set cookies on your device and collect data about your activity. Please review their details and accept them to load the content.Manage Preferences
Earlier, a consultant in infectious disease told RTÉ it would be premature to reduce social restrictions and that if they were eased at this point, Covid-19 will come back.
Speaking on RTÉ's Saturday with Cormac Ó hEadhra, Professor Sam McConkey of the Royal College of Surgeons in Ireland said that people have to pull together and accept the message from the Chief Medical Officer not to become complacent about moving about more.
He said that despite a reduction in the reproduction number of the novel coronavirus, it take several weeks further for a virus to "fizzle out".
Prof McConkey said that while the "R number" is down to 0.5 in the community in Ireland, it may be different in some settings, such as residential care homes.
This number refers to the number of people an infected person spreads the virus to.
Prof McConkey said Ireland needs to be careful to avoid what happened in Singapore, where there was a resurgence after restrictions eased.
This afternoon, The Prom in Salthill, Co Galway was packed with walkers, swimmers and cyclists.  
Regular walkers of the Prom said today has seen the largest number of people in the area since the Covid-19 restrictions were introduced.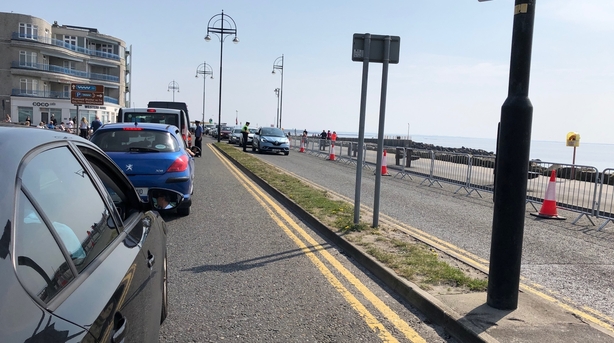 Gardaí were stopping motorists and cyclists for a number of hours and sending them back in the opposite direction.
Gardaí also carried out checks on the route out of the city towards south Connemara in an effort to keep people within the travel restrictions.
HSE staff redeployed to private nursing homes
Mr Harris said 120 HSE staff had been deployed to private nursing homes.
While it was still a small number it was a significant increase on what it had been. 
He said there was work going on to see if people working as home helps could be redeployed to nursing homes.
He noted that 284 long-term residential care facilities were receiving Personal Protective Equipment from the HSE, but pointed out private facilities also had a duty to provide their own equipment.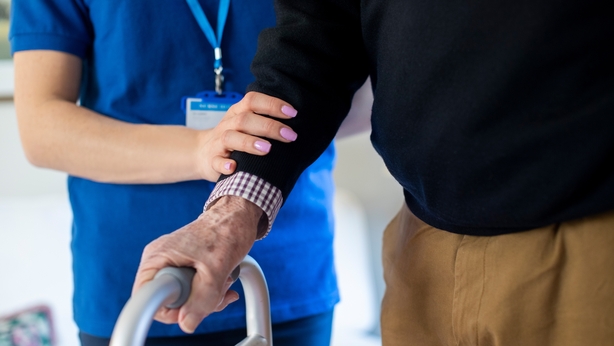 He said HIQA inspectors would be going into nursing homes next week. 
The minister pointed out that HIQA also had two seats on the National Public health Emergency team.
Mr Harris said he would be meeting with Nursing Homes Ireland twice a week for the foreseeable future. 
He said if any nursing homes had an issue about their access to PPE there was a dedicated person to deal with it.
On testing, the minister said the HSE Chief Executive would publish a plan next week on how the executive would ramp up testing to allow them to have capacity to do 100,000 tests a week should that need arise.
He could not guarantee there would not be another backlog when testing critieria were broadened, but he believed the systems in place were robust.
There was currently capacity to process 10,000 tests a day and NPHET wanted to have a situation where 100,000 tests a week were processed, he said.
On reports that the HSE had raised concerns about its capacity to achieve this level of testing and the process by which the decision to increase capacity had come about, Mr Harris said he had never seen such a level of collaboration between those working in health.
He pointed out that senior representatives from the HSE are on NPHET.
He said NPHET was making decisions transparently but decisions had to be made in real time. There was no time to dilly dally he said, or to "ponder, debate or send papers back and forth". 
Time costs lives and NPHET was making recommendations on the best advice available.
The minister said 127,319 tests for Covid-19 had been processed to date.
He said there would be a point in time when people should rightly look back and scrutinise decisions that had been made.
When NPHET came up with recommendations, the minister said, those recommendations could be really challenging and sometimes took time to put into effect.
He said everyone was working really hard in a tense situation.
He said notes of meetings and letters from NPHET should and would be published.
Restaurant owners call for supports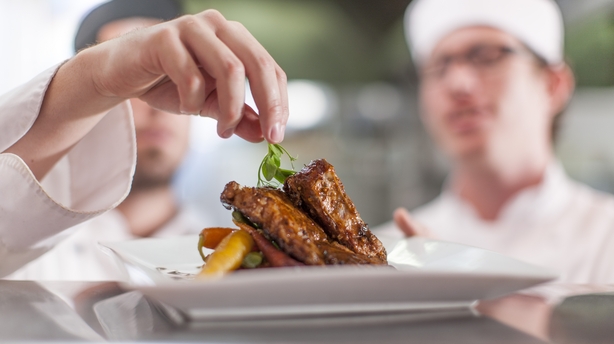 Meanwhile, restaurant owners are putting forward a recovery plan suggesting a reduction in rents and rates be linked to sales as a way to prevent widespread job losses and closures in the sector.
The Save Our Restaurants Coalition aims to present their step-down plan to the Government for consideration in the coming days.
Brody Sweeney, CEO of Camille restaurants and takeaway group, said that without supports there could be 80,000 employees facing the prospect of being on social welfare long term.
Mr Sweeney said a pro-rata reduction in rates and rents - in agreement with landlords and councils - would, for example, see a business which sees a return to half of its sales, pay half the existing cost of rates and rents.
Likewise, those earning less would pay less in rates and rent.
Mr Sweeney said the proposal would not be as costly as it may seem as without a functioning sector there will be a loss in VAT and taxes to Government and an increase in welfare costs for employees who become unemployed.
He said the step-down plan could work over two years, meaning that it is stepped down as revenues in those businesses recover, while those businesses that do not need supports would not get it.
He said under the plan, the Government would help them to support landlords.
Mr Sweeney said it is not a list of demands as industry professionals know the Government has a huge battle and it wants to "put on the green jersey" and come up with solutions.
Reporting George Lee, Orla O'Donnell, Sinéad Ní Neachtain