Germany must stay cautious and disciplined in its fight against the coronavirus outbreak to avoid a relapse in the coming weeks, Chancellor Angela Merkel said.
Germany would only see in two weeks' time whether Monday's partial relaxation of restrictions on public life pushes up the infection rate, Mrs Merkel told reporters, adding: "We must remain vigilant and disciplined."
Mrs Merkel's comments comes as Germany announced it is taking its first steps back towards normality, with smaller shops in some regions opening up for the first time in a month after politicians declared the coronavirus "under control".
From florists to fashion stores, the majority of shops smaller than 800 square metres will be allowed to welcome customers again, in a first wave of relaxations to strict curbs on public life introduced last month.
Chancellor Angela Merkel and regional state premiers announced the decision to reopen last week, though they have been careful to cast it as no more than a cautious first step.
While the first shops will open their doors today, each of Germany's 16 states is set to lift the restrictions at a slightly different pace.
In some states, such as the capital Berlin, reopening will take a little longer.
Ms Merkel, who has been praised for her handling of the coronavirus crisis, is hoping to reinvigorate the ailing German economy, which officially entered into recession last week.
---
---
Germany also said it will cover the cost for treating  coronavirus patients taken in from European Union neighbour countries as a gesture of goodwill, Health Minister Jens Spahn said.
Germany has been spared the worst of the coronavirus crisis seen in some of its hard-hit European neighbours, and has taken in patients - mainly from France - to relieve pressure on their overburdened healthcare systems. 
A total of 229 foreign patients have been treated in Germany, a spokesman for the foreign ministry said - 130 from France, 44 from Italy and 55 from the Netherlands.
Their treatment has so far cost about €20, according to Mr Spahn.
"Germany will cover the treatment costs of these patients, that is what we understand by European solidarity," Mr Spahn said
The willingness and capacity is there to admit more if necessary," he added.
With 139,897 confirmed cases and 4,294 deaths as of yesterday, Germany has been one of the countries worst hit by Covid-19, but also one of the quickest to react.
Italy's coronavirus death toll edges up, new cases fall sharply
Deaths from the COVID-19 epidemic in Italy rose by 454, slightly up on Sunday's tally,while the number of new cases dropped to 2,256, the lowest level in well over a month, the Civil Protection Agency said.
The total death toll since the outbreak came to light on 21 February rose to 24,114, the second highest in the world after that of the United States. Total confirmed cases stood at 181,228.
There were 2,573 people in intensive care on Monday against 2,635 on Sunday. Of those originally infected, 48,877 were declared recovered against 47,055 a day earlier.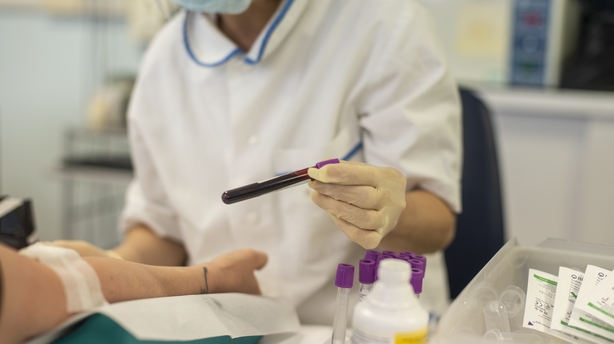 New cases on Sunday totalled 3,047, while on Saturday, the figure stood at 3,491. Monday's tally was the lowest since 10 March, when the contagion was taking off across northern Italy.
By contrast, the latest death toll was up on Sunday, when the number came in at 433, but down on Saturday's 482.
Most Italian doctors believe the country's deaths and infections are far higher than those officially reported.
People who died at home or in care facilities for the elderly are not included and some of the hardest-hit regions have only been testing those who appear the most visibly sick.
But the decline in the number of current official cases marks an important data point in Italy's calculation of what restrictions to lift and which to extend when the current lockdown expires on 4 May.
Dutch cases and deaths likely to be higher
The number of confirmed coronavirus cases in the Netherlands rose by 750 on Monday to 33,405, health authorities said, with 67 new deaths.
Total confirmed deaths are now 3,751, the National Institute for Public Health (RIVM) said in its daily update. The RIVM cautions that the real number of cases and deaths in the Netherlands are higher, as it primarily tests only healthworkers and the very ill.
New Zealand to ease virus lockdown next week
New Zealand will ease a nationwide Covid-19 lockdown next week after claiming success in stopping "an uncontrolled explosion" of the virus, Prime Minister Jacinda Ardern said.
"We have done what very few countries have been able to do," Ms Ardern said. "We have stopped a wave of devastation."
She said New Zealand would move its maximum Level Four alert to Level Three from late evening Monday, 27 April and remain there for two weeks to assess the situation.
The announcement means businesses deemed safe can reopen, along with some schools, while limits on local travel are also relaxed and gatherings of up to ten people allowed for events such as weddings or funerals.
While restrictions will be loosened slightly, social distancing rules will remain.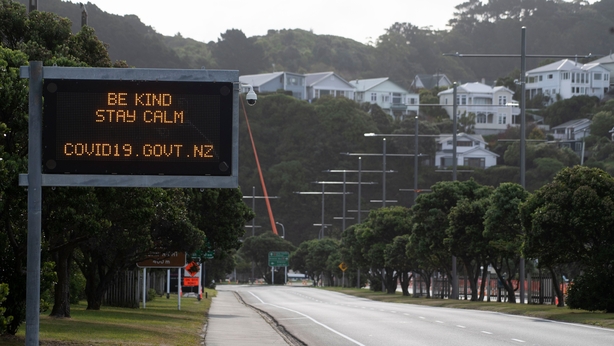 "I couldn't feel prouder of the start we have made together but I also feel a huge responsibility to ensure that we do not lose any of the gains we have made either," she said.
New Zealand entered a four-week lockdown in late March, which included closing the borders, countrywide stay-at-home orders and shuttering all non-essential businesses and services.
The draconian measures made the South Pacific country one of the most successful in containing the virus, with around 1,100 known cases among the five-million population, including 12 deaths and 974 recovered patients.
It had seven confirmed new infections today.
Trump clashes with state governors over lockdown
In the US, coronavirus infections appeared to have passed the peak of the outbreak in New York state, the epicentre of the outbreak there, as President Donald Trump clashed with governors over the pace of ending lockdowns.
The United States has so far recorded more than 758,000 coronavirus cases and nearly 41,000 deaths, far more than any other nation.
While some governors warned that the administration has failed to adequately boost testing, thousands of Americans were flouting stay-at-home orders to protest their states' prolonged closures.
In Washington state, more than 2,000 people, many of them ignoring social distancing guidelines,  congregated at the capitol to demand the governor re-open the state's shuttered economy.
Yesterday's anti-lockdown protests there and in Denver, where some demonstrators wore Trump 2020 face masks at a "ReOpen Colorado" rally, highlighted the growing frustration some Americans have over how state governments are responding to the crisis.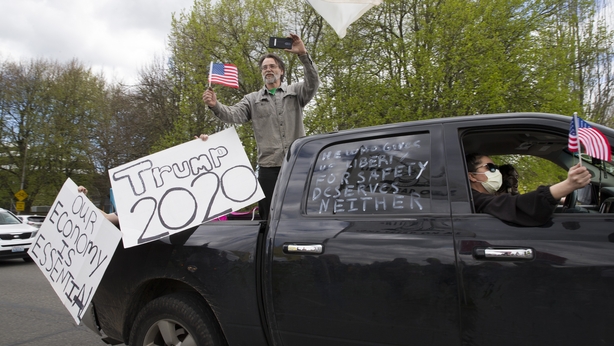 New York has borne the brunt of the virus, which has killed more than 18,000 people in the state, according to a Johns Hopkins University tracker.
"We are past the high point, and all indications at this point is that we are on the descent," state governor Andrew Cuomo told a press conference.
"Whether or not the descent continues depends on what we do, but right now we're on the descent," he said.
Mr Trump pointed to continued "improvement with declining trajectory of cases" in cities such as Detroit, New Orleans and Houston as evidence that his containment strategy was working.
.@FoxNews "Dems say President Trump is trying to open the United States Economy too quickly", but, if I took even a little more time, they would loudly chant that I am moving too slowly. Just political talking points for them. For me it's about lives & the future of our Country!

— Donald J. Trump (@realDonaldTrump) April 19, 2020
"We are going to start to open our country," Mr Trump told reporters. "We'll do it very, very carefully, and I think it's going to be very successful."
Experts say extensive virus testing is crucial to a safe reopening of the economy, but some governors said testing capacity fell far below the levels needed to avoid sparking new outbreaks.
Vice President Mike Pence said that every state had the ability to do enough testing "to move into phase one".
Mr Trump's re-opening plan begins with a "phase one" that ends stay-at-home restrictions for healthy people and allows some businesses like restaurants and gyms to re-open with physical distancing.
Just like I was right on Ventilators (our Country is now the "King of Ventilators", other countries are calling asking for help-we will!), I am right on testing. Governors must be able to step up and get the job done. We will be with you ALL THE WAY!

— Donald J. Trump (@realDonaldTrump) April 19, 2020
Virginia Governor Ralph Northam pushed back at the Republican administration's claims that there was enough testing, saying "that's just delusional".
Gretchen Whitmer, governor of Michigan, said: "We could double or even triple the number of tests that we're executing daily if we had the swabs and reagents."
But as she and others called for more federal government help, Mr Trump put his foot down. 
"I am right on testing. Governors must be able to step up and get the job done," Mr Trump tweeted. 
Japan cases top 10,000 with hospitals stretched
Japanese medics are warning more must be done to prevent the coronavirus from overwhelming the country's healthcare system as confirmed cases passed 10,000, despite a nationwide state of emergency.
Experts have been alarmed by a recent spike in Covid-19 infections, with hundreds detected daily.
Meanwhile Kentaro Iwata, a professor of infectious diseases at Kobe University who has repeatedly criticised Japan's response to the pandemic, warned he is "pessimistic" the postponed Olympics can be held even in 2021.
Asia's rival financial hubs, Singapore and Hong Kong, are facing markedly different fortunes as they battle the virus.
Hong Kong said it detected no confirmed Covid-19 cases in the last 24 hours - its first daily tally of zero since 5 March.
But the Southeast Asian city-state reported a record jump of 1,426 virus cases, taking its total to 8,014 including 11 deaths, as more infections are detected in dormitories housing foreign workers.
Schools to re-open in China epicentre
Final-year high school students in the province at the epicentre of China's virus outbreak will return to classrooms from 6 May, officials said - the latest easing of restrictions as the country's domestic outbreak is brought under control.
Schools have been closed in Wuhan and surrounding Hubei province since January, when lockdown measures were brought in to try and contain the spread of the virus.
South Koreans return to work - social distancing rules ease
South Koreans are returning to work and crowding shopping centres, parks, golf courses and some restaurants as the country relaxes social distancing rules amid a continued downward trend in coronavirus cases.
A growing list of companies, including SK Innovation and Naver, has ended or eased their work from home policy in recent weeks, though many continue to apply flexible working hours and limit travel and face-to-face meetings.
Parks, mountains and golf courses brimmed with visitors over the weekend, while shopping centres and restaurants were slowly returning to normal.
South Korea's ongoing recovery from the first major coronavirus outbreak outside China paints a stark contrast to many other countries where cities remain shut down and sweeping stay-at-home orders are in place.
South Korea extended its social distancing policy for another 16 days but offered some relief for religious and sports facilities previously subjected to strict restrictions.
The decision is aimed at cautiously reopening Asia's fourth-largest economy as daily infections continue to hover around or less than 20, most arriving from overseas.
The Korea Centers for Disease Control and Prevention (KCDC) reported 13 new cases today, a day after posting just eight, the first single digit daily rise since the 28 February peak of 909. The death toll stands at 236.
Health authorities urged vigilance, warning new clusters could still emerge at any time, especially after South Korea held the first national election last week since the epidemic began, and ahead of long holidays starting next week.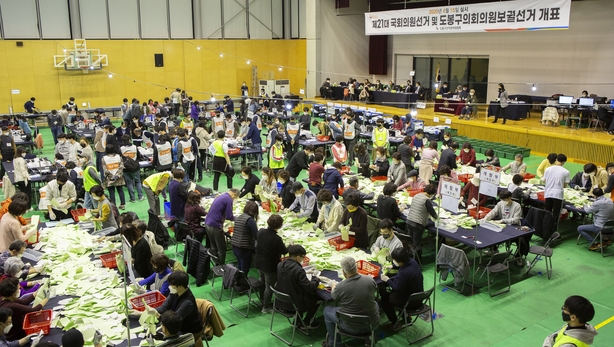 Schools have yet to open and are holding online classes.
Authorities were on alert after a 58-year-old man living in the second largest city of Busan was confirmed with the virus on Saturday and had voted in the election, attended an Easter church service and visited restaurants while running symptoms.
More than 1,000 people are now quarantined or being checked after coming in contact with that man and his daughter, who is a nurse and has also tested positive, city officials said.