A researcher in theoretical neurobiology has said that "without a new approach" we may see many more cycles of Covid-19.
Dr Rosalyn Moran of King's College London said the current restrictions have given us breathing room to bring the levels of infection to a manageable level and if we keep our reproduction cases below one, this cycle should end in mid June, with hundreds of manageable cases by the end of May.
Speaking on RTÉ's Today with Sean O'Rourke, Dr Moran said based on her models, there could be an estimated 1,200 deaths in Ireland by the end of this cycle.
We need your consent to load this rte-player contentWe use rte-player to manage extra content that can set cookies on your device and collect data about your activity. Please review their details and accept them to load the content.Manage Preferences
However, she stressed that these are all mathematical models and "none of this is inevitable".
Dr Moran said measures introduced in Ireland have been successful and testing will be important in future.
She said the worst case scenario is that this situation could continue for up to two years.
The Taoiseach has echoed Minister for Health Simon Harris' warning last night that allowing complacency to set in could be disastrous and potentially fatal.
In a video message on Twitter, Minister Harris said the progress made by the Irish people could be undone.
Sunday evening - #Covid19 update & days ahead #coronavirus https://t.co/QVKbUyxZxo

— Simon Harris TD (@SimonHarrisTD) April 19, 2020
Leo Varadkar said anecdotally it does appear that there has been a increase in traffic and in the number of people out and about and the Government may have numbers later today that show that there is "a bit of complacency setting in".
He said this is worrying because progress was being made "and we don't want to lose that".
---
Read:
Latest coronavirus stories
---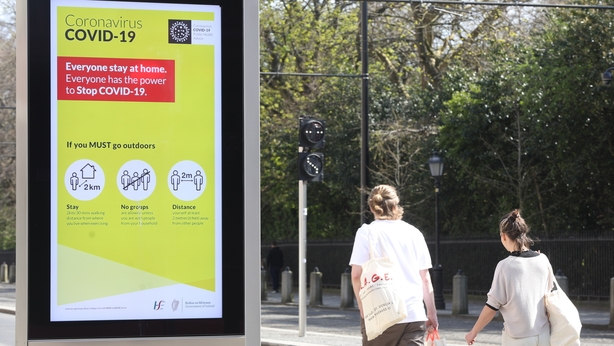 Testing in nursing homes continue
Testing of staff and residents in all nursing homes will continue this week, with 4,000 tests carried out over the weekend.
The aim is to stop current outbreaks and prevent cases in the 60% of nursing homes, currently free of the virus.
The Health Service Executive said in a briefing there was now no backlog of people waiting to have their tests processed.
It said it was continuing to pursue all options to source personal protective equipment in a market where it was like "gold dust" and other countries were trying to outbid Ireland for orders.
Yesterday, the Department of Health confirmed it had been notified that 39 more people had died with Covid-19, bringing the overall death toll here to 610.
A further 445 new cases of coronavirus have been diagnosed.
In addition, there were 48 cases of Covid-19 from the backlog of tests at the laboratory in Germany, bringing the total additional cases to 493.
There are now 15,251 confirmed cases of Covid-19 in the Republic of Ireland.
Around 80% of cases of Covid-19 will be a mild to moderate illness, close to 14% have severe disease and around 6% are critical.
Generally, you need to be 15 minutes or more in the vicinity of an infected person and within 2 metres of them, to be considered at-risk, or a close contact.
The latest figures from the HSE show that as of 8pm last night there were 837 confirmed cases of Covid-19 in acute hospitals around the country.
The highest number of patients are in the Mater Hospital, where there are 101 patients with Covid-19, followed by Beaumont with 99 patients, Tallaght with 83, and St James's with 81.
Outside Dublin, University Hospital Limerick has the highest number of people with Covid-19 with 40 patients. Cavan General Hospital has 36 and Letterkenny University Hospital has 35.
UHL also has 36 suspected cases of Covid 19, the highest number of suspected cases in the 29 acute hospitals.
According to the figures from the HSE's Daily Operations Update for Acute hospitals, there are 140 Covid-19 patients in critical care beds, with 142 critical care beds available.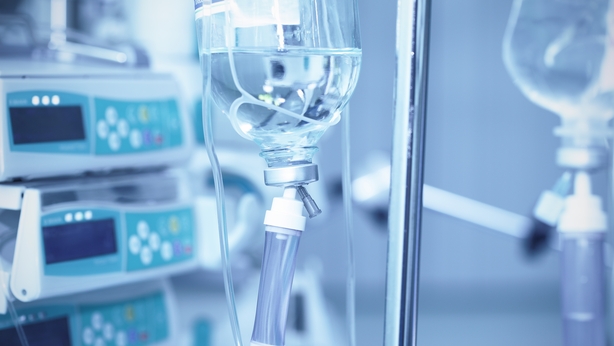 There are 91 patients with confirmed cases of the virus on ventilators and 11 patients are being ventilated who are suspected to have Covid-19.
The figures show there were three deaths in critical care in the previous 24 hours - two confirmed cases and one suspected case.
The number of hospital admissions rose slightly yesterday by 0.6% after falling for the previous three days.
The growth rate in new cases reported by Irish laboratories is the lowest yet at 3.8%.
Call for action plan to provide additional care and treatment in nursing homes
A consultant for infectious disease at the Mater Hospital has said that widespread testing for Covid-19 in nursing homes and residential facilities is "a good start", but needs to be linked to rapid treatment and contact tracing.

Dr Jack Lambert said there was a need for an action plan to provide additional care and treatment for residents and staff in these facilities and staff from acute hospitals need to be re-deployed quickly to boost treatment plans.
He said "boots on the ground" are needed as many nursing homes are under-resourced with staff and expertise and clusters of the virus continuing to emerge.
Elsewhere, the Dean of the Joint Faculty of Intensive Care Medicine of Ireland said the low number of intensive care unit beds was an ongoing problem that must be addressed.
Dr John Bates, an intensive care consultant at University Hospital Galway, said groups have been lobbying for 15 years to get something done about the low number of ICU beds and political will is now needed to attack and resolve the problem.
Speaking on RTÉ's Morning Ireland, he said the coronavirus outbreak brought everyone's attention to the problem and it was very heartening to see everyone involved in bulking up ICU capacity, but added that we must now maintain and build on the current enhanced capacity.
He said that this increased capacity was mainly achieved through the re-deployment of staff from theatre but pointed out they will have to go back to their old roles soon, because there is a lot of time sensitive surgery that will have to start up again.
Reporting: Orla O'Donnell, Samantha Libreri