The Department of Health has confirmed that 41 more people have died from Covid-19 in Ireland, bringing the overall death toll here to 571.
A further 630 new cases of the coronavirus have been diagnosed in the Republic. In addition, there are 148 cases of Covid-19 from the backlog of tests at the laboratory in Germany, bringing total additional cases today to 778.
There are now 14,758 confirmed cases of Covid-19 in Ireland.
The Health Protection Surveillance Centre (HPSC) said that in relation to the 41 deaths notified today:
- 35 deaths were located in the east, two in the north west and four in the west of the country
- the deaths included 23 females and 18 males
- the median age of today's reported deaths is 83
- 35 people were reported as having underlying health conditions
A summary of all 571 deaths provided by the HPSC shows that 326 (57%) of those who died were male, 245 (43%) were female. The age range is 23 - 105 years and the median age of those who died is 83.
A total of 330 of these cases were admitted to hospital with 46 admitted to ICU.
Using data correct as of midnight 16 April (13,746 cases) the HPSC reveals that 2,168 cases (16%) have been hospitalised and of those hospitalised, 296 cases were admitted to ICU.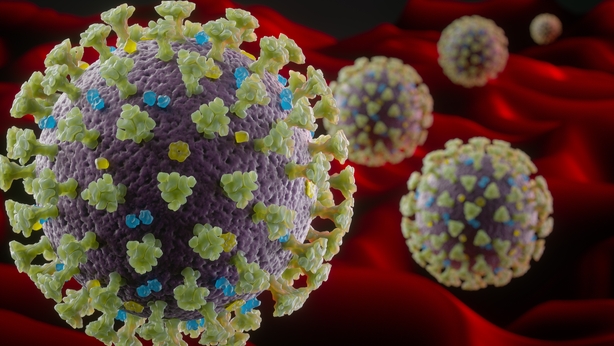 There were 3,573 cases associated with healthcare workers.
Dublin has the highest number of Covid-19 cases at 6,934 (50% of all cases) followed by Cork with 979 cases (7%)
Of those for whom transmission status is known, community transmission accounts for 52%, close contact accounts for 43%, travel abroad accounts for 5%.
Dr Tony Holohan, Chief Medical Officer, Department of Health, said: "This week the National Public Health Emergency Team emphasised the importance of testing in interrupting the transmission of Covid-19 in community residential settings including nursing homes.
"This sector remains a priority for our focused attention and we will continue to monitor and support them through this outbreak."
Earlier today, Minister for Health Simon Harris said any measures being taken to lift restrictions here in early May would have to be "low risk" from a public health point of view but "high return" from a societal or economic point of view.
The minister was speaking after the weekly medical leaders' forum, where representatives of the medical community engage with the minister and the Chief Medical Officer, Dr Tony Holohan, via video link.
The minister said there had been a drop in the number of hospitalisations and the number of admissions to ICU, and added that while the virus was being suppressed, it "could still go wrong for this country".
He said we were nowhere near contemplating life "post Covid-19".
If it got to a point where there was further progress in suppressing the virus, they would have to evaluate what measures could be taken, while adding that a decision would have to be taken about the level of new cases the country could cope with, if restrictions were tweaked.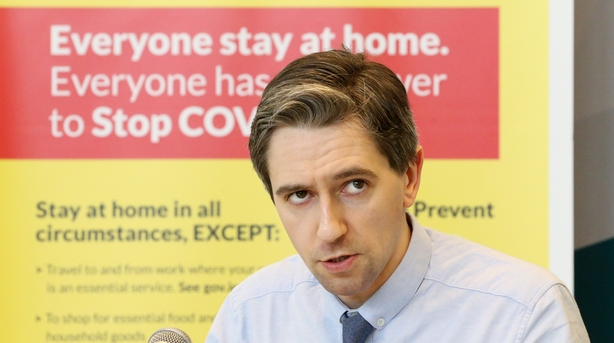 Minister Harris said he couldn't give examples of the kind of measures that could be taken to ease restrictions, but emphasised that people would still have to comply with physical distancing.
He said early May would be a very nervous and tense time as there would be the risk that people would think "mission accomplished" if restrictions were eased. This, he said would be "absolutely fatal".
Any easing of restrictions would be "minimal" in his view and we would not be likely to see a return to mass gatherings any time soon.
The minister said a huge amount of work was going on to protect people living in long-term residential facilities and that there was very significant progress being made in the community, but he said this "vicious, disgusting" virus was targeting old people, particularly those in nursing homes.
He said the applications for the financial assistance scheme for private nursing homes opened last night, and he encouraged people to apply, while noting that any issues could be tweaked. He stressed they needed to move at speed and could not wait for the perfect scheme.
In relation to the issue of workers coming to this country to pick fruit, the minister said the Taoiseach had asked for a full review of how airports were operating and the number of people coming in and out.
He said he understood the food industry were reliant on this labour, but he said this was sending out the wrong public health message.