The Health Service Executive's Chief Operating Officer has said testing for both staff and residents will be enhanced in residential care settings to counter the spread of Covid-19.
Anne O'Connor said there would also be extra staff redeployed where needed.
There have been 335 outbreaks of coronavirus in residential care settings, the HSE has confirmed. There are 196 nursing homes included in these clusters.
This means Covid-19 has infected approximately 30% of all nursing homes in Ireland.
Ms O'Connor said "some but not all" of these homes are experiencing difficulties coping with the disease.
"We have redeployed 61 people to these centres. We have more work to do and we need to redeploy more. It's a huge challenge for us. There is no doubt," she said.
At a HSE briefing today, Ms O'Connor said the HSE is going to:
- Continue to deploy staff to teams locally;
- Implement a CRM tracker to capture data that will be reported in to the National Public Health Emergency Team;
- Enhance testing available to people on site, both residents and staff;
- Continue to provide PPE and oxygen to sites as required.
HSE Chief Clinical Officer Dr Colm Henry was asked if action should have been taken earlier in regard to nursing homes.
"Time will tell," he said, describing nursing home settings as a "huge challenge, with healthcare workers moving between patients and congregations of older, frailer people". 
Dr Henry said nursing homes are experiencing significant challenges because older people are presenting atypically for Covid-19.
He explained that for the majority of the population, the symptoms of pneumonia would be cough, shortness of breath, a fever and feeling generally unwell.
Older people, he said, do not show some of these "cardinal signs" because their immune system is weakened.
He cited the example of an older person who is "bedbound, with advanced dementia", to show how the absence of these symptoms make it significantly more difficult to detect Covid-19 in an older person.
---
Read:
Latest coronavirus stories
---
In relation to the deaths of eight people last weekend at a residential centre in Co Laois who had tested positive for Covid-19, Dr Henry said "each death is a tragedy".
He said: "Through senior clinical advice, including end of life care, each decision was made on each individual's best interests and that was to provide care to each person on site, by the nurses who knew them best."
Dr Henry added: "Nursing homes are very good at continuity of care. Our strategy should be in supporting this care, not replacing it."
Siobhan Ni Bhriain, group lead for mental health in HSE, said it had "recognised the potential difficulties in residential facilities very early" and had been developing clinical guidance and responses accordingly.
She said long-term facilities were all very different, with older ones more likely to have larger wards, not individual rooms.
"It's very difficult to sit apart and maintain social distancing in some of these centres, but leaving people on their own all the time or giving medication to sedate them - this is not an ideal alternative."
Asked about the ramping up of testing in nursing homes, Ms O'Connor said that scaling up testing would begin at "facilities with particular concern" and the HSE was aiming to test all staff and patients at any care home where Covid-19 had been identified.
"We will look at other staff being deployed to carry out testing and some homes are already doing their own swabbing. The ambulance service will also continue to carry out testing in residential centres."
Ms O'Connor said: "We have been working with nursing homes since January ... it is clear that there is an absolute requirement for us to do more."
She explained that of the more than 550 nursing homes in the country, just 20% are publicly provided for older people.
"Since the beginning of Covid-19 we have putting our arms around the private nursing homes in a way that we have never done before.
"We would not have had a formal relationship with private nursing homes. They would have a relationship with HIQA.
"So this has been a very significant exercise in terms of increasing support to that number of facilities as well as increasing support to our own public facilities," she said.
Ms O'Connor also confirmed that the HSE had block-booked the Citywest Convention Centre in Dublin until 31 December. She said the HSE wanted to have capacity "if it was needed".
In relation to whether the HSE foresees using the facilities, Ms O'Connor said: "The challenge is that we don't exactly know. We hope we never have to use it."
"That's what's tricky. There is no blueprint for this in this country. It's not like we're developing a new service and we will have it for ever more.
This is an extraordinary response to something that is developing at pace and we have to ensure that we have sufficient capacity available in the event that we need it."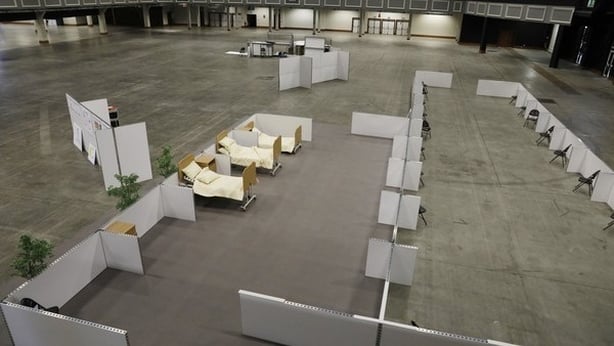 So far, 302 people have died from the virus in community care settings, which is 62% of all Covid-19 deaths, with 253 of those in nursing homes.
According to the Health Protection Surveillance Centre, a Covid-19 cluster is two or more cases in a setting within a 72-hour period.
There have now been 486 Covid-19 related deaths in the country, with 13,271 confirmed cases of the virus. 
Yesterday, an additional 629 cases of the virus were diagnosed here. In addition, a further 95 cases of coronavirus were confirmed from the backlog of tests at the laboratory in Germany. 
Around 80% of cases of Covid-19 will be a mild to moderate illness, close to 14% have severe disease and around 6% are critical.
Generally, you need to be 15 minutes or more in the vicinity of an infected person and within 2 metres of them, to be considered at-risk, or a close contact.
Tadhg Daly, of Nursing Homes Ireland, which represents hundreds of privately-owned nursing homes, said he understands the testing of asymptomatic residents and staff will begin early next week.
Speaking on RTÉ's Drivetime Mr Daly said he is confident that the commitments of the Minister of Health will be met, and that the nursing home sector is "very much at the top of the agenda "of the National Public Health Emergency Team.
Mr Daly met with the Minster for health, Simon Harris and his officials in the last hour.
The role of HIQA, Mr Daly believes, will be more of a supportive nature, when he said "staff will be at the end of a phone" with expert advice.
'People have sacrificed too much' - Harris
Earlier, Minister for Health Simon Harris said there will not be a significant lifting on restrictions on 5 May and he praised the efforts made by Irish people to combat Covid-19.
He said that he would like to see a plan in place to gradually ease restrictions, but warned that we will not return to life as we know it in the near future.
Mr Harris said social distancing will be kept in place along with other measures, with all decisions grounded in securing public health.
"We have come too far as a country and people have sacrificed too much", he said. 
Over the next two weeks, it is hoped to "continue to get R number down, to burn off this infection, make progress in the residential institutions and the ICU's".
But he said any decisions on lifting restrictions "will be slow and gradual and monitored carefully".
It comes as the Emeritus Professor at the Royal College of Surgeon's Department of Public Health and Epidemiology said nursing homes should be cocoons but they have become "nests of infections". 
Speaking on Morning Ireland, Professor Ruairi Brugha said a "dark" and "tragic picture" has emerged with elderly people dying and a huge workload and stress on staff in nursing homes and residential centres. 
He said the right infection control measures need to be put in place and he also suggested looking at the possible risks of staff bringing infection into nursing homes and care centres. 
He said "good PPE" would help reduce those risks. 
Additional reporting George Lee and Ailbhe Conneely