German Chancellor Angela Merkel has announced first steps in undoing coronavirus restrictions that have plunged the economy into a recession, with most shops allowed to open although schools must stay closed until 4 May.
Shops up to 800 square metres are allowed to reopen once they have "plans to maintain hygiene", Ms Merkel told reporters in Berlin, as Germany sees "fragile intermediate success" in slowing the spread of Covid-19.
"We have to proceed with extreme caution," she said following her afternoon meeting with the heads of Germany's 16 states.
Rules will therefore remain in force preventing more than two people from gathering in public, other than family groups who live together.
Schools will gradually be reopened with priority given to pupils about to take leaving examinations.
Meanwhile, a ban on large public events will be upheld until 31 August to prevent possible mass transmissions of the virus.
And the government urged people to wear face masks when out shopping or on public transport, but stopped short of imposing a requirement like neighbouring Austria.
Reviews of the looser measures with an eye on infection rates would follow every two or three weeks, said Ms Merkel.
Questioned on the limitations on which shops can open, she said "we have to be careful that we don't completely re-enable public activity in city centres, because then chains of infection will arise".
"I want to thank citizens who have changed their lives, given up on social contacts, who have limited themselves, very warmly.
"Not because they wanted to do the government a favour, but because they wanted to help their fellow people. That's something very strong and important our country is experiencing."
Like other countries around the world, Germany has seen a lively debate since coronavirus lockdowns began in mid-March over lifting them again.
Pressure has grown from business to provide a clear plan.
"Companies need to know soon what steps will lead to social and economic life being restarted," the powerful BDI industry federation said ahead of Wednesday's decisions.
Earlier today, the economy ministry said Europe's powerhouse had plunged into a recession set to last until the middle of the year.
"Falling global demand, interruption of supply chains, changes in consumers' behaviour and uncertainty among investors" had already made themselves felt, the economy ministry said.
The economic blow from the virus fell just as Germany was beginning to recover from a year marked by the impact of trade wars and Brexit fears.
Some Danish schools reopen after month-long closure
A number of schools in Denmark have reopened after a month-long closure over the coronavirus pandemic.
The Nordic country is the first in Europe to start opening up nurseries, kindergartens and primary schools after they were closed on 12 March in an effort to curb the Covid-19 epidemic.
However classes only resumed in about half of Denmark's municipalities and in about 35% Copenhagen's institutions, as others have requested more time to adjust to health protocols still in place.
All are expected to reopen by 20 April.
Schools are required to ensure that a distance of two metres is maintained between desks in classrooms and breaks must be organised for small groups.
To adhere to guidelines, many schools favour outdoor classes, presenting a challenge for schools in urban areas.
Some parents have opposed the reopening of schools, citing health concerns. A petition dubbed "My child is not a guinea pig" has garnered some 18,000 signatures.
Henrik Wilhelmsen, principal of a school in the Norrebro district of Copenhagen said that they "expect quite a lot of children to be kept at home."
Middle and high school students, will continue remote classes and are only expected to return to classrooms on 10 May.
As of yesterday, Denmark had 6,691 confirmed cases of the new coronavirus and 299 deaths.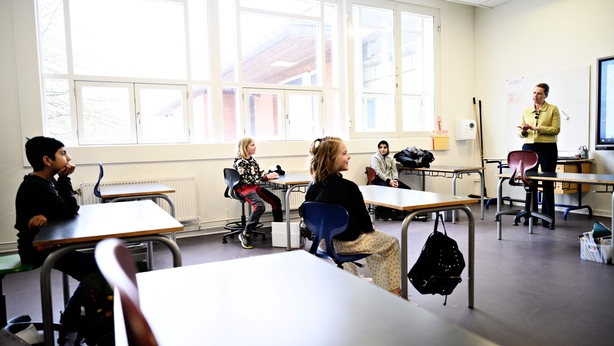 The country has banned gatherings of more than ten people and bars, restaurants, hairdressers, shopping malls and clubs have been closed.
Before Denmark, Austria was the first European country to unveil its roadmap for a return to a "new normal".
Yesterday, it allowed small non-food shops to open up, while maintaining social distancing rules and requiring masks to be worn in shops and on public transport.
Austria plans to keep schools, cafes and restaurants closed until at least mid-May.
Tom Carstensen, a journalist in Copenhagen, said it is a new world for pupils returning to school as the country attempts "a mild re-opening."
Speaking on RTÉ's Morning Ireland he said schools are being re-opened in a staggered manner, but new restrictions - such as dividing classes into smaller groups and spending more time outside - will be in place.
He said there has been a mixed reaction to the decision.
Mr Carstensen said most shops in Copenhagen are still closed and it is "a lot more dead" on the streets than normal.
He also said that people are not really wearing face masks and have not done so throughout the shutdown.
Borders are still shut and will remain shut for at least a few more weeks, he said, adding that authorities have said they will re-introduce stricter measures if there is a resurgence of Covid-19 cases.
In Finland, roadblocks in place around its capital region were lifted after nearly three weeks, Prime Minister Sanna Marin said, in a first act of easing the country's coronavirus related restrictions.
The travel restrictions to and from the capital region Uusimaa to the rest of the country began on 28 March and were introduced to prevent people from spreading the virus to other parts of the country.
More than one million cases of the coronavirus have been detected in Europe, just over half the global total, according to a tally compiled by AFP from official sources this morning.
With at least 1,003,284 cases, including 84,465 deaths, Europe is the worst hit continent. Globally, 1,991,019 Covid-19 infections and 125,955 deaths have been registered.
Spain, with 172,541 cases and 18,056 deaths, Italy (162,488 and 21,067), France (143,303 and 15,729) and Germany (127,584 and 3,254) are the only European countries with more than 100,000 infections.
The UK, with 93,873 cases and 12,107 deaths, is the country that currently has highest daily number of new cases.