Tánaiste and Minister for Foreign Affairs Simon Coveney has described US President Donald Trump's decision to halt US funding for the World Health Organization as "indefensible".
US President Donald Trump announced yesterday that his country would cut off funding to the WHO for mishandling the coronavirus pandemic.
In a tweet this morning, Mr Coveney described the move as an "indefensible decision".
He said that in the midst of a global pandemic, so many vulnerable people rely on the WHO, and to deliberately undermine funding and trust at this point was "shocking".
"Now is a time for global leadership and unity to save lives, not division and blame," Mr Coveney said.
Mr Coveney's comments came as a former director of the WHO said he does not believe the US will go ahead with plans to halt funding to the UN health body.
We need your consent to load this rte-player contentWe use rte-player to manage extra content that can set cookies on your device and collect data about your activity. Please review their details and accept them to load the content.Manage Preferences
Speaking on RTÉ's Today with Sean O'Rourke, Professor Anthony Costello said that for the US to go ahead with this order would "be extremely damaging to America's reputation worldwide, especially given how much support the WHO gives to the world's poorest countries in terms of testing and research and development."
The Professor of Global Health at University College London said Mr Trump has been hostile to the UN and made similar threats in the past and this is just a "short term attempt to divert attention from his own media performances."
He said the WHO has been dealing with "under-funding and neglect" for some time and the organisation's funding has been progressively cut for the last 20 years.
---
Read more:
Latest coronavirus stories
Live: Updates as they happen
---
Prof Costello said that in early February, the WHO asked for $675 million "to go towards their global health strengthening programme for this virus".
He said he spoke to WHO Director General Dr Dr Tedros Adhanom Ghebreyesus a month later, who told him they had received €1.2 million from the world.
"That is the scale of the under-funding and neglect of the WHO that they have to cope with," said Prof Costello.
In relation to Mr Trump's claims that the WHO had promoted China's "disinformation" about the virus that likely led to a wider outbreak than otherwise would have occurred, Prof Costello said the organisation may have been "too deferential" to China, but it had to manage the situation and ensure that a mission could get access to the country.
"You can criticise them for being too deferential, but the problem for the WHO is that it has to work with countries that hide data, that cover up things and they just have to do their best to get in as soon as they can because if they upset the country they may get no access at all."
UN Secretary General Antonio Guterres said this is "not the time to reduce the resources for the operations of the World Health Organization or any other humanitarian organisation" in the fight against the coronavirus.
"It is my belief that the World Health Organization must be supported, as it is absolutely critical to the world's efforts to win the war against Covid-19," he said.
The European Union joined worldwide condemnation of Mr Trump's decision, saying it was unjustified during the coronavirus pandemic.
"Deeply regret US decision to suspend funding to WHO.There is no reason justifying this move at a moment when their efforts are needed more than ever," EU foreign policy chief Josep Borrell said on Twitter.

Mr Trump told the White House news conference yesterday that the WHO had "failed in its basic duty and it must be held accountable."
He said the group had promoted China's "disinformation" about the virus that likely led to a wider outbreak of the virus than otherwise would have occurred.
President @realDonaldTrump is halting funding of the World Health Organization while a review is conducted to assess WHO's role in mismanaging the Coronavirus outbreak. pic.twitter.com/jTrEf4WWj0

— The White House (@WhiteHouse) April 14, 2020
The United States is the biggest overall donor to the Geneva-based WHO, contributing more than $400m in 2019, roughly 15% of its budget.
The hold on funding was expected. Mr Trump has been increasingly critical of the organisation as the global health crisis has continued, and he has reacted angrily to criticism of his administration's response.
"The reality is that the WHO failed to adequately obtain, vet, and share information in a timely and transparent fashion." pic.twitter.com/2t5ipAeixQ

— The White House (@WhiteHouse) April 14, 2020
Mr Trump went ahead with his announcement, which drew immediate condemnation, despite significant pushback within his administration, especially from top health advisers, a US official told Reuters.
The official, speaking on condition of anonymity, did not name names. But opposition was apparently based in part on concern about undermining international cooperation in the fight against the virus.
American Medical Association President Dr Patrice Harris called it "a dangerous step in the wrong direction that will not make defeating Covid-19 easier" and urged Mr Trump to reconsider.
Democratic Representative Nita Lowey, who heads the US House of Representatives Committee that sets government spending, said Mr Trump was making a mistake.
"The coronavirus cannot just be defeated here in the United States, it has to be defeated in every conceivable location throughout the world," she said in a statement.
Mr Trump recently accused the WHO of being too lenient with China in the earliest days of the crisis, despite having himself praised China in January for its response and transparency.
He said the US review of the WHO's role "in severely mismanaging and covering up the spread of the coronavirus" was likely to take 60-90 days.
The US death toll from Covid-19 topped 25,700 yesterday, out of more than 600,000 known US infections, according to a running Reuters tally.
Millions of Americans have lost their jobs, and the US economy has been crippled as citizens have stayed home and businesses closed.
The WHO has been appealing for more than $1 billion to fund operations against the pandemic. The agency needs more resources than ever as it leads the global response against the disease.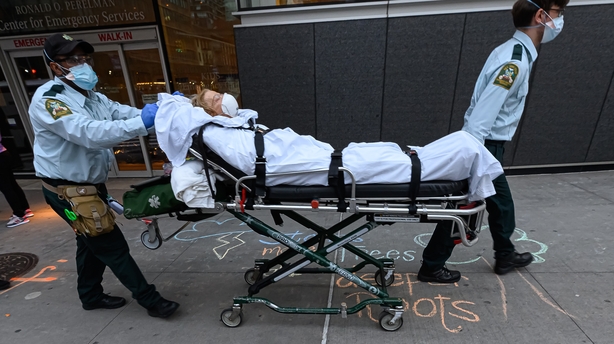 Dr Amesh Adalja, a senior scholar at the Johns Hopkins University Center for Health Security, said the WHO does make mistakes and may need reform, but that work needs to take place after the current crisis has passed.
"It's not the middle of a pandemic that you do this type of thing," he said.
Mr Trump has long questioned the value of the United Nations and scorned the importance of multilateralism as he focuses on an "America First" agenda.
Since taking office, Mr Trump has quit the UN Human Rights Council, the UN cultural agency UNESCO, a global accord to tackle climate change and the Iran nuclear deal.
Meanwhile, New York City, the hardest hit US city in the coronavirus pandemic, revised its official Covid-19 death toll sharply higher to more than 10,000, to include people presumed to have died from the disease but who were never tested.
The new cumulative figure for "confirmed and probable Covid-19 deaths" released by the New York City Health Department marked a staggering increase of over 3,700 deaths formally attributed to the virus since 11 March.
The 60% spike in reported deaths underscored the enormous losses endured in the city.
Louisiana, another coronavirus hot spot, and California also reported record daily spikes in deaths, despite tentative signs across the country in recent days the outbreak was beginning to ebb.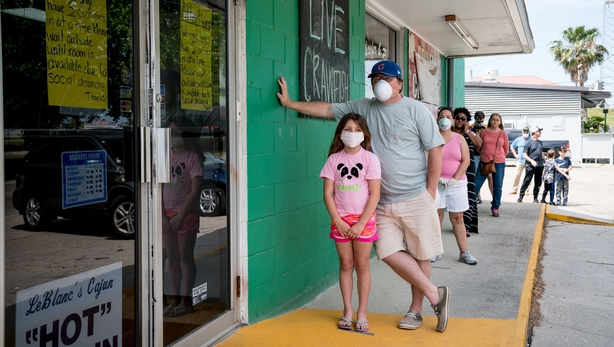 However, David Reich, president of New York's Mount Sinai Hospital, said he did not think "people should be celebrating prematurely."
That cautious note was also sounded by Mr Trump's top infectious disease adviser, Dr Anthony Fauci, who said Mr Trump's 1 May target for restarting the economy was "overly optimistic".
Dr Fauci, echoing many governors, said health officials must first be able to test for the virus quickly, isolate new cases and track down new infections.
Mr Trump earlier lashed out at Democratic state governors, after New York State governor Andrew Cuomo said he would refuse any presidential order to reopen the economy too soon, saying on Twitter that 'Mutiny on the Bounty' is one of his favourite movies.
Tell the Democrat Governors that "Mutiny On The Bounty" was one of my all time favorite movies. A good old fashioned mutiny every now and then is an exciting and invigorating thing to watch, especially when the mutineers need so much from the Captain. Too easy!

— Donald J. Trump (@realDonaldTrump) April 14, 2020
Cuomo's been calling daily, even hourly, begging for everything, most of which should have been the state's responsibility, such as new hospitals, beds, ventilators, etc. I got it all done for him, and everyone else, and now he seems to want Independence! That won't happen!

— Donald J. Trump (@realDonaldTrump) April 14, 2020
But he toned down his remarks at the White House briefing saying he would "authorise" governors - despite doubts from some experts that the presidency has such powers - to implement plans in their states at the appropriate time.