The Health Service Executive and the National Virus Reference Laboratory UCD have secured to a contract to obtain enough reagent to complete 900,000 Covid-19 tests.
Genomics Medicine Ireland Limited (GMI) is supplying the test kits, and the components for the first 200,000 have already been delivered to its laboratory in Cherrywood, Dublin.
It says the laboratory will operate seven days a week to formulate the reagents, shipping out 3,000 units a day initially, and this will build to 10,000 a day in the coming weeks.
The Director of the NVRL, Dr Cillian De Gascun said that while the reagents to be supplied are not those currently in the shortest supply, the deal is still very important and will help boost Covid-19 testing.
Dr De Gascun said that the reagents being supplied by Genomics Medicine Ireland Limited (GMI) will go to the Enfer laboratory in Sallins in Co. Kildare which has come on stream today as a full Covid-19 testing facility this weekend.
Dr De Gascun said this deal will enable it to build up to carrying out 8,000 a day.
Three different reagents are involved in three different stages of testing for Covid-19.
The reagent in shortest supply worldwide is that used during the second stage of testing, the extraction stage.
The reagent being supplied by GMI will be used in the third step, the Polymerase Chain Reaction (PCR) stage.
Dr De Gascun said this was about diversifying the supply chain.
"We realised that ourselves in the NVRL and a number of hospital laboratories around the country were all using a platform that was supplied by a single manufacturer, so what we have done with the lab in Enfer is ensure that the supply is from a new manufacture [GMI] that hasn't been involved to date," Dr De Gascun told RTÉ News.
In relation to the ongoing "bottle neck" when it comes to the continuing shortage of reagents used in the second stage of testing, Dr De Gascun said that new equipment has been brought into Ireland from overseas to help address this.
It is being tested this weekend.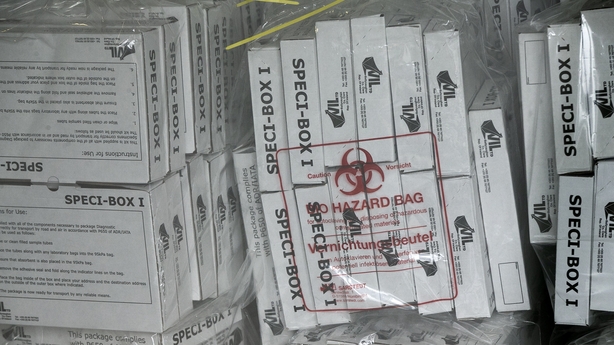 De Gascun has also told RTE News that if he did indeed make comments that have been attributed to him in mid-March, that 15,000 Covid-19 tests could be carried out a day "within days", then he misspoke.
"I can't say for definite that I didn't say days, but certainly I didn't mean to say days." Dr De Gascun clarified.
"We've known for some time what the plan was and how long that plan would take ... so if I did say 15,000 in days that was certainly inaccurate because it wasn't intended, there was always going to be a five to six-week ramping up process." Dr De Gascun said.
Today the HSE confirmed that it had the capacity to carry out 4,500 tests a day, which is the highest rate so far.
Last week testing capacity dropped to 1,500 amid shortages in testing kids and reagents.
Chief Medical Officer at the Department of Health Dr Tony Holohan said today that it was necessary to "considerably grow our testing capacity from what it was at the moment."
Dr Holohan said he believed that testing currently "was at or about the point where we think we can deal in real time with the number of cases that are currently presenting."
However Dr Holohan said that in order to contemplate lifting restrictions, the current case definitiion for testing would need to be broadened, and so more people would need to be tested and that it would require a "real time turnaround."
Dr Holohan said they would need "results back on the same day or on the following day" and they would need to also need to conduct contact tracing within 48 hours.
Speaking to RTE News Dr De Gascun said that we needed to get to an "industrial size capacity" where we can turn out 100,000 tests a week in the coming weeks and months.
Dr De Gascun said in the coming weeks there would be a testing capacity outside of Irish hospitals of 10,000 tests a day, and that would cover community testing.
"We have been a little unfortunate given the pressure on global supply chains, but certainly the plan has been in place for a number of weeks and we're seeing this week that a number of pieces of the puzzle are starting to fall into place," Dr De Gascun said.
Two new laboratories have come on stream for Covid-19 testing this week.
The Enfer facility in Sallins in Co Kildare began testing today, while the Department of Agriculture, Food and the Marine's Backweston laboratory began testing this week.
Genomics Medicine Ireland Limited (GMI) in Cherrywood in Dublin has begun manufacturing and shipping one of the reagents needed to to process Covid-19 tests, and it will supply the Enfer testing site. It is contracted to supply 900,000 units in total.
While Dr De Gascun said that new equipment to be rolled out to hospital labs as well as to the National Virus Reference Laboratory should help address a shortage in another of the reagents required.
Speaking on Morning Ireland earlier today Dr De Gascun accepted that people in the community setting were currently waiting between 7 and 14 days for test results.
However, a consultant in Infectious Diseases has said that patients who are being tested for Covid-19 in hospitals are not waiting days for their results.
Dr Paddy Mallon, a consultant in St Vincent's Hospital in Dublin said that the hospital had one of the highest 'wait times' for Covid-19 results and the turn was around 12 hours.
Dr Mallon told RTÉ News that the hospital can process up to 180 tests a day.
"But we've a lot of people coming into hospital so if you look at any particular time of the day there's always going to be a certain proportion of people who have not got their test results but that just means they have to wait for that next 12 hour cycle to go through, it's not that people in hospitals are waiting four, five, six days for test results to come through." Dr Mallon said.
Documents seen by RTÉ News said that by 2pm on Wednesday 8 April, 476 patients suspects of having Covid-19 were awaiting test results.