The Taoiseach has announced that the Covid-19 restrictions will be extended for a further three weeks until Tuesday 5 May.
Leo Varadkar made the announcement this afternoon following a meeting of the National Public Health Emergency team.
He thanked the Irish people for their forbearance and sacrifice, in the effort to stop the spread of Covid-19.
Mr Varadkar said that because the vast majority of people have heeded the advice, the spread of the virus has been disrupted.
He said the spread has been slowed but it has not been stopped, adding that too many people had died and that "many more will die and many more will get sick before this is over".
The Taoiseach said "people are wondering when life will get back to normal. We are working toward that, planning carefully, so we get there safely. No one knows for certain when that will be, or how our lives will be different. All we can do is take one day at a time".
He asked people to choose solidarity over self interest.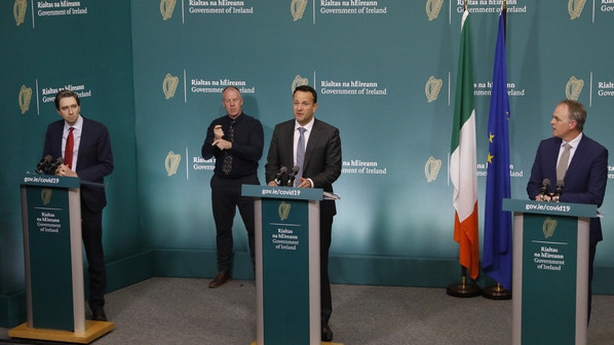 Mr Varadkar said that every sacrifice people make is helping to save lives and making sure our health service is not overwhelmed.
He said it is hoped to unwind the measures after the three week extension, but he said that depended on what the position is then.
The Taoiseach said they would not be eased in one go, that it would have to be done bit by bit, adding that they may have to be reimposed, depending on the number of cases.
Taoiseach Leo Varadkar 'cannot guarantee' that restrictions will be lifted after 5 May, and they 'won't be eased in one go' - they will have to be eased bit by bit. | Follow live updates: https://t.co/rBeqjRImf4 pic.twitter.com/qJ0nMowWQs

— RTÉ News (@rtenews) April 10, 2020
Asked about claims of people coming into the country, the Taoiseach said the number of people coming in by ferry is really minimal and the number coming in on flights is down 95%.
Many of those who are coming in are Irish citizens returning home, he said.
Mr Varadkar said the Government is keeping this under review, pointing to difficulties with imported cases reported in China.
We need your consent to load this rte-player contentWe use rte-player to manage extra content that can set cookies on your device and collect data about your activity. Please review their details and accept them to load the content.Manage Preferences
Taoiseach Leo Varadkar says 'we have to keep going' and 'persevere', announcing that restrictions will be extended for three weeks until 5 May | Follow live updates: https://t.co/rBeqjRqKQu pic.twitter.com/uMJRcyXekx

— RTÉ News (@rtenews) April 10, 2020
---
Read:
Latest coronavirus stories
---
Minister for Health Simon Harris said the last two weeks had been extremely hard but people were doing this to save lives. He said those two weeks had "made a real and meaningful difference".
Mr Harris said a few weeks ago the average number of people a Covid-19 patient had contact with was 20 and this number had been reduced to two.
A previous infection rate of 33% a day was now below 10%, he said, adding "we have to get it lower again".
A person with the virus typically infected about 34 people before the restrictions were imposed and that figure was now approaching one but needed to be lowered further, he said.
"You are making it happen, you are flattening the curve and helping to protect frontline workers," the minister said.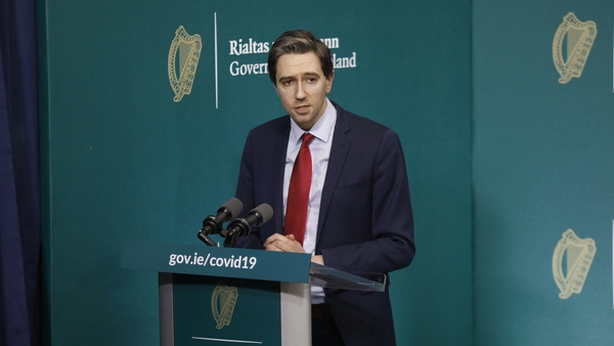 He added that people's adherence to the restrictions was helping to keep the health service functioning and was saving many lives. While doctors could save hundreds of lives, the public could save thousands, he said.
He said certainty was in short supply and there was so much that was still unknown about the virus.
Many of the certainties had been "whipped away" but there was a certainty that could be cleaved together and that was the difference to how the country comes together.
He added that "hard days are worth it for better days ahead".
It is his intention, he said, to extend the regulations giving gardaí extra power to cover the new period of NPHET recommendations.
He said it was always his intention that the regulations would run alongside the measures.

Chief Medical Officer Dr Tony Holohan said a new arrangement for testing and contact tracing would need to be in place before restrictions could be eased.
Chief Medical Officer Dr Tony Holohan says we need to considerably increase our testing capacity | Follow live updates: https://t.co/rBeqjRImf4 pic.twitter.com/CQRBPm0eU2

— RTÉ News (@rtenews) April 10, 2020
Dr Holohan said there would need to be capacity to test and get results either the same day or the next day to enable them to assess if the easing of restrictions led to new cases.

This capacity for "real time turnaround" in testing and contract tracing was vital in the context of contemplating lifting restrictions, he said.

Work on increasing this capacity would take place between now and the end of the month, he said.
Dr Holohan added that the NPHET had not advised the Government "at this particular time" to take any additional measures than those already in place.

He said the team met this morning and agreed that the current set of measures were adequate.
The President of the Irish College of GPs said the decision to extend restrictions around Covid-19 are "not welcome but necessary".
Dr Mary Favier said Irish people are doing a good job and have reduced the replication rate of the virus from 33% to under 10%.
However, she said people need to keep going, adding that the community at large can do the "heavy lifting" by obeying the restrictions.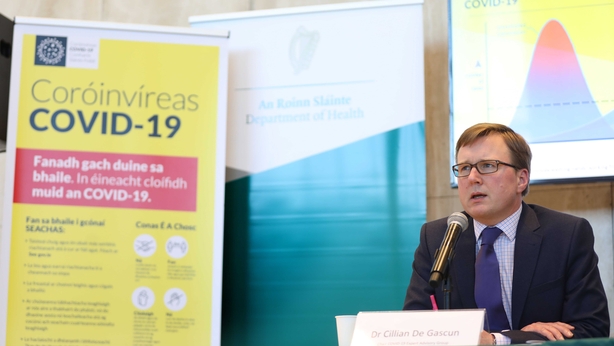 Earlier, the chair of the coronavirus expert advisory group at the National Virus Reference Laboratory said people could not be complacent about the dangers of Covid-19 because "given the opportunity this virus will run rampant".
Dr Cillian De Gascun added: "We are not going to return to a normal state of affairs" soon.
He said the lifting of any restrictions would be gradual but this will not happen until there is more confidence that the virus will not spread further, in which case restrictions would need to be re-introduced.
Dr De Gascun told RTÉ's Morning Ireland that the experiences in Italy and the US show us that "given the opportunity this virus will run rampant" and that we cannot be complacent.
This evening, it was confirmed that the Health Service Executive now has the capacity to process 4,500 tests per day.
There have now been 263 Covid-19 related deaths in the Republic of Ireland, with 6,574 confirmed cases of the virus. 
Northern Ireland today announced 10 more deaths, bringing the total to 92, and 112 new cases for a total of 1,589.
Additional reporting: George Lee, Justin Treacy, Clare McNamara