NGOs working with refugees abroad say they're extremely concerned about an outbreak of Covid-19 in refugee camps.
Moria is Europe's largest refugee camp, and home to some 20,000 people. The refugee camp was built on the Greek island of Lesbos to provide shelter to 3,000 people and has been expanded to fit 4,000, but some 14,000 people live on the fringes of the camp, while 6,000 live in the official camp.
In such overcrowded conditions, the pressure on sanitation services is immense.
According to Dr Claire Dunne, who recently returned from Lesbos after spending ten months there, up to 242 people can share a single shower, and 167 people are using one toilet.
How does that fit with the constant refrain we're so used to now of 'Wash Your Hands'? And how can you do that when you don't even have soap, let alone having to queue for water?
Aid workers describe, and their video footage shows, raw sewage running through the camp, overflowing bins and tightly-packed queues of people.
Dr Dunne, who worked as Medical Activity Manager for Médecins Sans Frontières, says it's unbelievable that human beings are forced to live in these conditions, anywhere in the world, but particularly in Europe.
She described conditions as inhumane, and says vulnerable groups should be moved out of the camp as a matter of urgency.
We need your consent to load this rte-player contentWe use rte-player to manage extra content that can set cookies on your device and collect data about your activity. Please review their details and accept them to load the content.Manage Preferences
After weeks of isolation here in Ireland, people jokingly describe their horror at seeing handshakes and hugs on Netflix or on TV, but the reality of living in a crowded refugee camp is more like a horror film.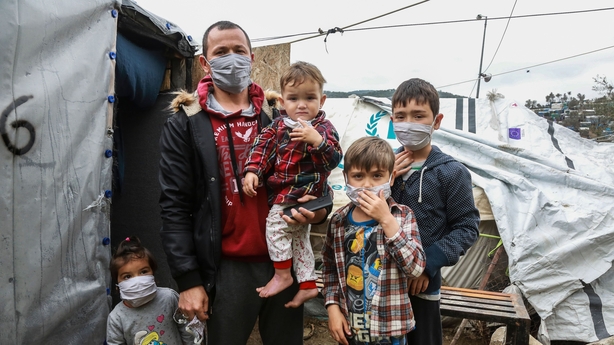 Médecins Sans Frontières (Doctors Without Borders) has been working in Moria for years now, helping the residents with day-to-day illnesses, and those that come with living in close quarters and unsanitary conditions.
But their focus has recently switched to screening asylum seekers for symptoms of Covid-19, as well as providing health information to the camp residents.
MSF says: "We have adapted our facilities and procedures in order to ensure the safety of our patients and our staff, we are increasing the provision of water and sanitation services in the camp and we are scaling up our operations with the recruitment of extra medical, paramedical, support staff and the acquisition of the necessary equipment.
"We are in discussions with the ministry of health to see how we can coordinate action and offer more support."
Dr Dunne says temperature checks are happening but it is not a fail safe method to prevent Covid-19 spreading within the camp, as people can be asymptomatic and still spread the disease.
"If there was an outbreak in the camp, if they did require hospitalisation...the local hospital is very much at capacity as it is... they only have six ICU beds, they very quickly would become overwhelmed. We're very concerned they'd collapse if Covid-19 was to hit."
She says any vulnerable person should immediately be evacuated from the camp to somewhere they could cocoon, and if this cannot be provided on the island or the mainland, it must be provided elsewhere.
Andrew Foley is Director of Better Days, which predominantly works with children in the Moria camp, as well as providing services for unaccompanied minors there.
While the schools they run have had to shut as a result of the coronavirus measures in Greece, their legal programme continues, and they also have ongoing work assisting family reunification.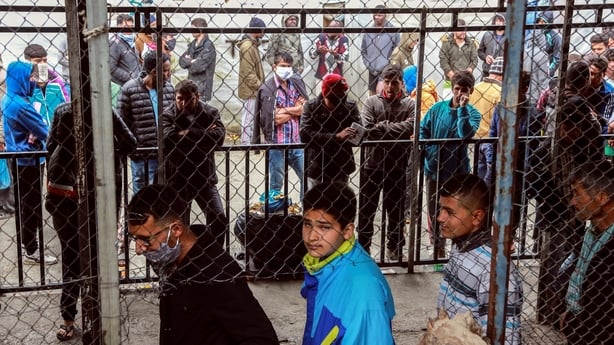 Andrew says he's hopeful that some unaccompanied minors living in Lesbos will soon be resettled as part of EU commitments to move 1,600 unaccompanied minors to European Member States. That work has started this week.
Better Days helps support 650 unaccompanied minors in Moria, and has regular contact with about 250 of them, many of whom are homeless as well as being alone, i.e they don't have proper access to shelter.
Andrew says the work of the NGO has had to pivot due to the coronavirus, and they're now focusing on helping medical NGOs with supplies.
He says a lot of work they're doing is about ramping up preparedness for Covid-19.
He believes an outbreak is inevitable, saying it is not about if, but when it will come.
Andrew says that Moria is so densely populated, the disease would run rampant.
He says the equivalent of 200,000 people are living per square kilometre of space – compared with 10,000 people per square kilometre in New York City, which has been badly hit by the virus.
The International Rescue Committee, which works with people whose lives have been destroyed by conflict, draws an interesting parallel with the crowded conditions in refugee camps, and the quick spread of the coronavirus on cruise ships.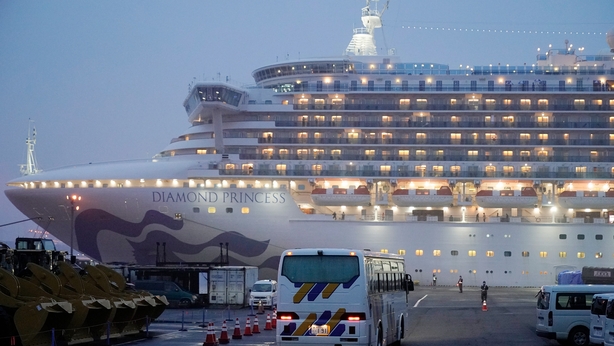 It points out that the population density on the Diamond Princess cruise ship was some 20,000 people per square kilometre, ten times fewer than in Moria.
Clearly the conditions are night and day, but the virus infected around 700 out of 3,700 passengers on the cruise ship, and the IRC says: "The rapid spread of Covid-19 on the Diamond Princess showed how the virus thrives in confined spaces but for millions of displaced people their conditions are far more cramped and poorly serviced and the risks are far deadlier."
Paediatrician Dr Declan Barry has been working in Lebanon with MSF for a number of years, and is currently in a co-ordination role based out of Beirut.
He says there have been effective lockdown measures in Lebanon for a number of weeks, but there is a concern that the level of testing for the coronavirus has been quite small.
We need your consent to load this rte-player contentWe use rte-player to manage extra content that can set cookies on your device and collect data about your activity. Please review their details and accept them to load the content.Manage Preferences
Dr Barry says there are vast numbers of refugees living in Lebanon, including 1.5 million Syrians and around 500,000 Palestinians, who are often living in overcrowded settings.
He says their main concern is Covid-19 taking hold in such settings.
"Obviously coronavirus can hit anyone, anywhere, but if it hits overcrowded settings without good sanitation, it will race through there at a shocking rate."
These are also populations that have poor access to healthcare, he says.
One major project MSF is working on in the Bekaa Valley is the transformation of a 63-bed hospital into a Covid-specific facility.
The hospital will have an intensive care unit, and more than 200 trained staff members on duty.
To better prepare for a potential influx of Covid-19 patients, MSF has suspended elective surgeries for a temporary period but wound care activities are still running, especially for patients with critical wounds in need of regular dressing and treatment.
These patients will be received in a tent set-up outside the hospital, in order to adapt the patient flow in the hospital.