While there has been confirmed cases of animals infected with coronavirus, there is no evidence which suggests humans can get the virus from domestic pets - however people are still being advised to exercise caution.
A spokesperson for Veterinary Ireland says that despite the absence of such evidence, advice from the profession may change should new evidence emerge in the coming weeks.
There are 1.4 million people around the world infected by the novel coronavirus, and authorities in China believe that wild animals sold in a Wuhan market are the source of the pandemic.
It has been widely assumed that Covid-19 originated in a bat species and was transmitted to humans through an intermediary host which has not yet been identified.
Earlier this week, Bronx Zoo in New York City announced that one of its tigers had tested positive for Covid-19. It was the latest confirmation of a case of an animal with the virus.
It is believed the Bronx Zoo tiger contracted the virus from its caretaker who was asymptomatic at the time. Several other big cats at the zoo developed dry coughs and a decrease in appetite but are expected to recover.
The British Veterinary Association has said the headline of an article published this morning on the BBC's website that suggested all cat owners should keep their pets indoors was a mischaracterisation of its advice.
"As a precaution, for pet owners who have Covid-19 or who are self-isolating we are recommending that you keep your cat indoors if possible, during that time," BVA President Daniella Dos Santos said.
Veterinary Ireland agrees with this statement, adding that there is no need to keep cats indoors if the household has been unaffected by the coronavirus.
Dr Alan Rossiter MVB, a Co Wicklow vet and past president of Veterinary Ireland, said that cats should be kept indoors if they belong to a household affected by Covid-19.
"If a person in a household is suffering from Covid-19, is awaiting a test, or is in self-isolation due to a suspicion they may have the disease, they should keep their cats indoors and ensure their dogs are walked on a lead for toiletting breaks only," he said.
He added that dogs should never be allowed to roam at any time and should be on a lead or under full control of their owners at all times.
However, Dr Rossiter said it was advisable to practice distancing from other people's animals as there is a "small risk" that a pet from an infected household could be carrying the virus on its fur.
"Do not pet or hug anyone else's animals. It's no different than not shaking hands or hugging any other people at the moment," he said.
The Covid-19 virus is able to survive on surfaces and theoretically could transfer from fur to a human hand.
"An animal's coat is just another surface the virus can survive on, albeit for less time and not as easily transmissible than on metal or other smooth surfaces," Dr Rossiter said.
The virus has also been reported to be found in a small number of dogs and cats, but the results have been unclear.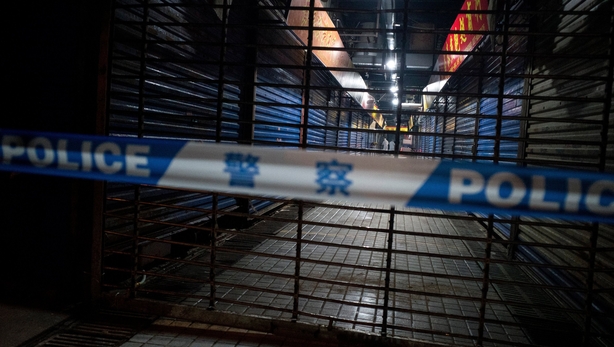 The smaller animals showed different symptoms or were completely asymptomatic, as separate species react to infections differently.
In March, authorities in Hong Kong announced that a Pomeranian dog tested "weak positive" for Covid-19.
The American Veterinary Medical Association (AVMA) says testing on the Pomeranian, which was owned by a person infected with the disease, suggested it had developed an immune response to the virus.
A second dog placed under quarantine consistently tested negative and neither dog showed signs of respiratory disease.
The 17-year old Pomeranian died after leaving quarantine but had ongoing health issues that may have been the cause of death.
Elsewhere in Hong Kong, a German Shepherd owned by a Covid-19 patient tested positive on 19 March but tested negative on 23 March.
Another dog in the residence also tested negative and neither showed symptoms.
Hong Kong also reported that a pet cat has tested positive for Covid-19 using oral cavity, nasal, and rectal samples.
That cat lived in a residence where an individual was confirmed to be ill with Covid-19. The cat is in quarantine and has no clinical signs of the disease.
---
Read more:
Was the pangolin the source of the Covid-19 outbreak?
Latest coronavirus stories
---
In March, Belgium's food chain authority was informed of the detection of Covid-19 in the faeces and vomit of a cat with digestive and respiratory illness.
The cat was owned by a person infected with the virus, but it is not known if the sequences of virus in the cat and owner are similar.
The AMVA says no clear link can be established because there is not enough information about the samples in which the virus was detected.
Still, the US Department of Agriculture recommends that people sick with Covid-19 should limit contact with animals.
Veterinary Ireland President Dr Conor Geraghty said vets are used to dealing with infectious diseases like Foot and Mouth and know what precautions to take.
Dr Geraghty said measures have been put in place to keep veterinary services available. 
"Veterinary surgeons are here for our clients and patients 24 hours a day 365 days a year," he said.
It has introduced rules regarding visits to practices which should be by appointment only.
Owners are asked to wait outside with their pet until they are called. The organisation also advises the use of card payments, social distancing, and correct handwashing.
"Before you go to your local veterinary practice, even if for medications or pet food, you should call first," said Dr Rossiter.
Further guidelines for vets and members of the public are available on practice websites and social media.