Our worlds have grown smaller and more uncertain. We've all had to adjust to a new reality, normal daily routines have fallen asunder.
However, for those with autism and their families, the adjustment has been particularly difficult. The breakdown in structure, as well as being confined to small spaces, can result in great distress or, sometimes, meltdowns.
For ten-year-old Gavin, social distancing is making life harder by the day. School, play and a busy schedule help him to cope with autism.
"He really needs a lot of water play for his Sensory Processing needs," Gavin's mother Ciara explained.
"He would have two to three baths a day. That's now gone to six or seven baths a day.
"He also has to have a different colour shower gel. So we're up to about between 60 and 70 shower gels a week.
"My husband is a taxi driver so we've lost 100% of our income."
With a shower working constantly, increased spending on shower gels and no end to the normal day-to-day bills, like their mortgage, Ciara is finding it harder to cope.
However, the fear of Covid-19 entering the home is what really irks the family.
"Carers don't come in now, we have no respite. We have no help. It's just us inside this house. There's no way out," she said.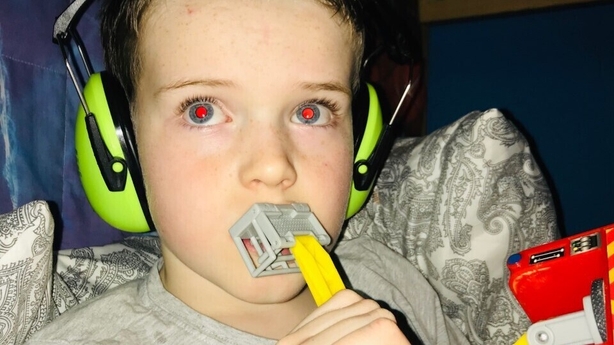 The silver-lining to all of this, for Ciara and her husband, is that they are spending more time with Gavin and their two other children, time they will never get back.
Autism charity AsIAm recently carried out a survey of 300 people through its website to see how people with autism and their families are coping with Covid-19 restrictions.
Outlining the findings, CEO Adam Harris said: "Many autistic people really need to regulate and move around. We saw from our survey over the weekend that 80% of autistic people are finding it difficult to regulate."
The survey also finds that a high level of anxiety and concern exists among people on the autism spectrum and their families.
"78% of people felt that an autistic person would find it very difficult to self isolate if they became sick, this may be because some autistic people may not understand the requirements or might require support while they're unwell," according to Mr Harris.
Of course, not everyone with autism is struggling with the new Covid-19 restrictions. For some, working from home is quite manageable and is a welcome opportunity to slow down.
This is autism awareness month and charities involved in assisting those with autism would usually be busy over these coming days and weeks raising vital funds to help families in need of support.
AsIAm has launched a fundraising initiative, appealing for donations via text.
During this autism awareness month, now more than ever, the charity is asking people to be mindful that not everyone has a full understanding of the social distancing rules, it can be hard for some people with autism to get their head around it.
Many people are trying their best, and they ask that we keep that in mind.