The Director of Critical Care Medicine at the Mater Hospital in Dublin has said the intensive care unit there is full and some patients, who have been ventilated, have been moved to the high dependency unit for care.
Dr Colman O'Loughlin said that most of the patients in the 18 ICU beds are Covid-19 patients.
Dr O'Loughlin, who is President of Intensive Care Society of Ireland, said he is already beginning to get referrals from the wards this morning, where some patients are beginning to deteriorate.
He said that the hospital had been lucky to have a lead-in time that allowed it to build up a number of surge plans and, in theory, an extra 18 beds can be added in the high dependency unit, which is situated beside the ICU.
However, he warned that the biggest challenge in that instance will be staffing levels because ICU has a standard of care that requires a dedicated nurse to every patient.
We need your consent to load this rte-player contentWe use rte-player to manage extra content that can set cookies on your device and collect data about your activity. Please review their details and accept them to load the content.Manage Preferences
Dr O'Loughlin described Covid-19 as a unique disease without a definitive treatment, but pointed out that some patients have done very well in the ICU and have been discharged back to the ward.
He said that one of the hardest parts of Covid-19 was the difficulty in trying to minimise the spread of the disease through social distancing, which made it very difficult for those families whose loved ones died from it.
Dr O'Loughlin said the hospital would do everything it could for families in this very difficult time.
It is offering the opportunity for family members to come in and wear Personal Protective Equipment in order to say goodbye.
He said many families had been reluctant to do this and said that, as best as they can, staff would do all they could to be with a patient when they die.
The well established end of life pathway in intensive care in the Mater, he said, has "gone out the window" because of the difficulties posed by Covid-19.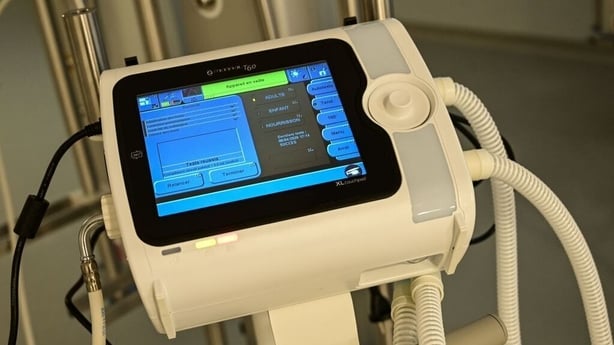 Intensive care facilities remain under pressure and "the public need to continue with the great work that they're doing, to allow ICUs to do theirs," the President of the Intensive Care Society of Ireland has said.
Speaking on RTÉ's News at One,  Dr Catherine Motherway said numbers admitted to ICUs are "steady and creeping," with Dublin especially stretched.
She said: "There is capacity in the system but this should not be taken by the public as reason to be complacent."
The public need to stay at home, especially this weekend, she said, and to continue to obey advice of washing hands and physical distancing.
Dr Motherway said that 14% of people who have Covid-19 require significant critical care.
She explained that the end of life processes within hospitals has change significantly in light of the pandemic and families as well as ICU staff are finding these changes difficult.
Dr Motherway moved to reassure the family members of someone who is approaching end of life in ICU that staff "will do their level best to provide really good end of life care. If we can let them be with them, we will let them be with them, and we will let them know that they were comfortable at the end of life."
The Minister for Health said he noted that a number of the hospitals in the Dublin area, including the Mater, are particularly busy and this needs to be a real reminder to everyone of the seriousness of coronavirus.
He said that hospitals have the capacity to open additional beds and there is access to ICU beds in private hospitals.
The Health Service Executive is continually purchasing more ventilators, Mr Harris added, and all hospitals have plans in place to effectively create additional ICU beds within them.
---
Read more:
Latest coronavirus stories
---
Meanwhile, a number of wards at Cavan General Hospital have been closed to general admissions due to what hospital management has described as an "outbreak" of Covid-19 infections.
According to an internal memo sent to staff and seen by RTÉ News, restrictions were placed as of lunchtime on medical wards one and two at the hospital.
It also confirmed that two surgical wards are now dedicated to Covid-19 patients only.
The moves effectively close off the ground floor of the hospital to patients other than those infected with coronavirus.
The memo said there 38 patients with Covid-19 are being treated at Cavan General Hospital and a total of 87 patients have been treated to date.
Elsewhere, a consultant medical oncologist at Mercy University Hospital in Cork has said oncology day care cases have been moved to the School of Nursing in University College Cork.
It has been operational since Monday and Dr Derek Power said the patient group he treats were particularly prone to infection and the move was all about safety.
He said a huge amount of planning was involved and the Army assisted in the move of the ward over the weekend.