British Prime Minister Boris Johnson has been taken to hospital for tests, ten days after he tested positive for coronavirus.
"On the advice of his doctor, the prime minister has tonight been admitted to hospital for tests," Downing Street said in a statement.
"This is a precautionary step, as the prime minister continues to have persistent symptoms of coronavirus ten days after testing positive for the virus."
On 27 March, Mr Johnson became the first major world leader to announce that he had tested positive. He went into isolation at a flat in Downing Street.
Last Friday, he confirmed he would be staying there and continuing to self-isolate as he still had a high temperature.
"The prime minister thanks NHS staff for all of their incredible hard work and urges the public to continue to follow the government's advice to stay at home, protect the NHS and save lives," Downing Street said.
A Number 10 spokesman insisted Mr Johnson remains "in charge of the government" despite his hospital admission, and he has not handed responsibilities to his de facto deputy, Foreign Secretary Dominic Raab.
Mr Johnson is understood to be in an NHS hospital in London where he will stay for "as long as needed".
The development comes after the Department of Health in Britain said that a total of 4,934 people have died after contracting Covid-19 in the UK following the latest increase of 621.
The department also said that, as of 9am today, a total of 195,524 people have been tested of which 47,806 tested positive.
At a media briefing in Downing Street, the UK Health Secretary urged the "small minority" of people who are breaking social distancing rules to change their behaviour, saying: "The more people follow the rules then the faster we will all be through this."
Matt Hancock, who said he understood how difficult a time the country was having because he has lost two people he was "fond of", added that the government was "not planning any changes" imminently to the rules on exercising.
He added: "Following these rules is mission-critical if we're to protect the NHS, slow the spread and give the NHS time to expand capacity and so save lives."
Earlier, Mr Hancock warned outdoor exercise could be banned if people continued to flout rules, as the coronavirus death toll rose sharply again.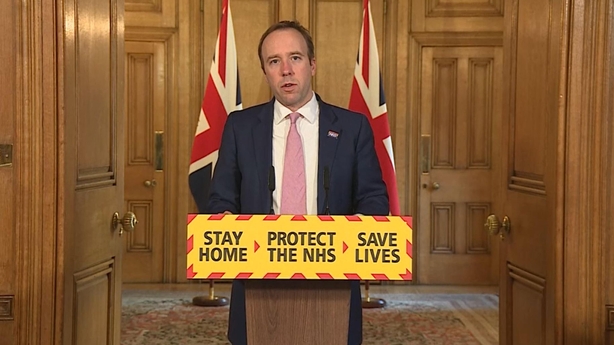 Among the latest UK death toll figures were seven deaths in Northern Ireland, bringing the total there to 63.
Testing has resulted in 91 new positive cases in the North, bringing the total number of confirmed cases there to 1,089.
Meanwhile, thousands of the most vulnerable in society in Northern Ireland are set to receive food boxes.
The new weekly delivery service was announced by the Northern Irish Minister for Communities Deirdre Hargey as they prepare for an expected surge in Covid-19 cases.
The food box delivery service will allow a weekly box of mainly non-perishable goods to be delivered directly to the door of vulnerable people who have been notified to shield by their GPs, who cannot afford food and do not have access to local support networks.
UK coronavirus deaths could reach 7,000 to 20,000
UK deaths from the coronavirus could rise to between about 7,000 and 20,000 under measures taken to slow the spread of the virus, Neil Ferguson, a professor at Imperial College in London who has helped shape the government's response, has said.
"We had an exponentially growing curve of infections which we interrupted at a certain time," the epidemiologist told the BBC's Andrew Marr programme.
"We don't have the ability right now to measure how many people have been infected, that will come with antibody tests,and so we are making statistical estimates of that and those are subject to a certain degree of uncertainty.
"We think it could be anywhere between about 7,000 or so upto a little over 20,000."
Prof Ferguson said experts believed health officials had only managed to intercept and isolated about one-third of the people who had flown into the UK having become infected with Covid-19 abroad.
He said: "We seeded infections in different parts of the country and some countries like northern Italy were very unlucky and clearly had community transmission starting very early.
"Here it did start a little bit later."
Prof Ferguson said it was more important to focus on what is happening to the growth rate of the epidemic than what could have been done.